Southern Conch Beach Cottage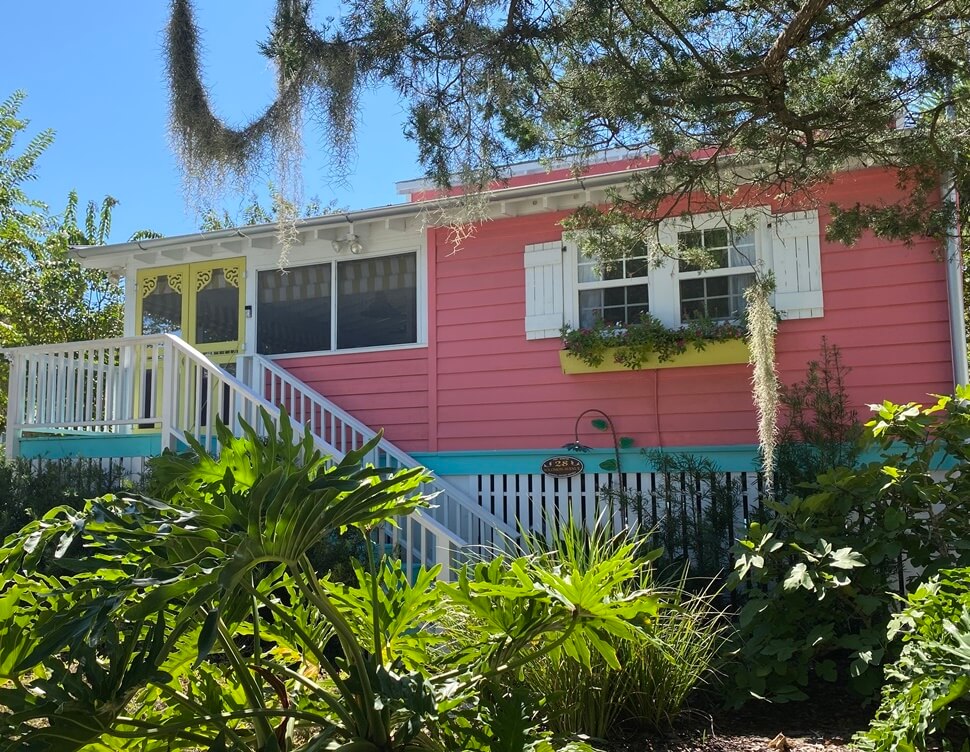 Fun and chic are two of the things I can say about this lovely cottage from Tybee Island. It's called Southern Conch Cottage by the owner (IG @thesouthernconchcottage) and if coastal charm is what you're looking for, this place has it – big time! BTW, this is the same owner as Salty Mermaid beach cottage.

Tropical colors sprinkled around this living area. Wooden flooring for this space, white painted walls, and wooden ceiling to give you that beach house mood. Special mention: those pink throw pillows with palm tree prints. (LIVING ROOM DECOR IDEAS)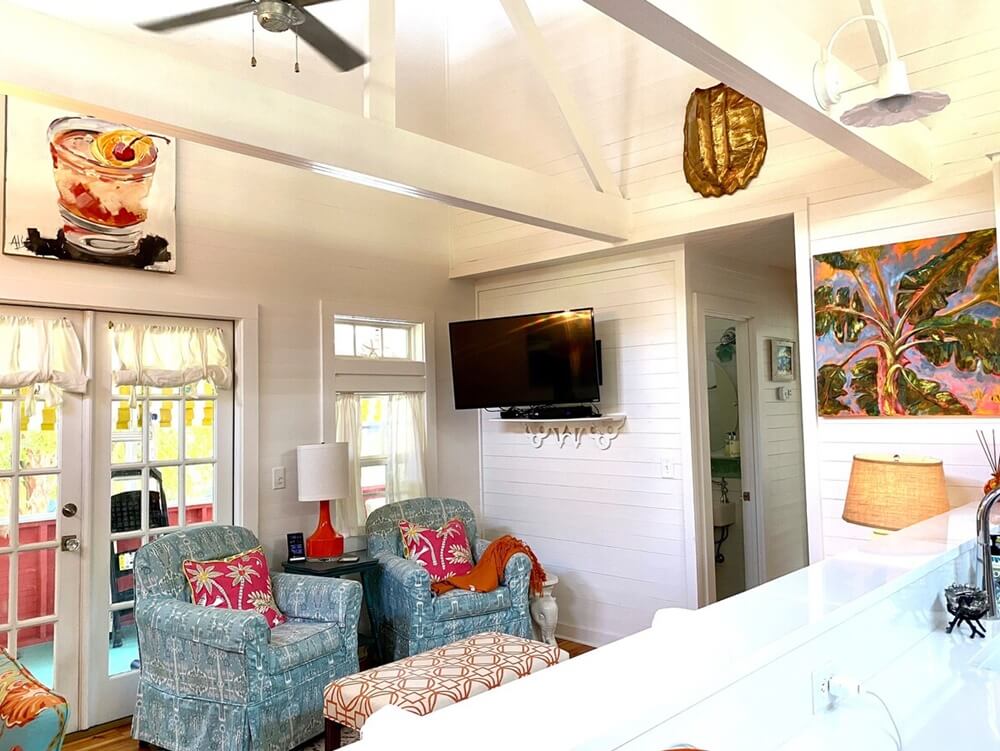 Here's a view of the living room from the kitchen area. Tropical-inspired paintings all around. Those couches look super comfy.

And here's the kitchen space. Really spacious, complete and with high end appliances. White cabinetry in this gourmet kitchen. And my favorite corner here is the one with that painting of two ladies ready for one lovely beach experience. (MORE COASTAL KITCHENS)
Never miss a Beach House Tour!
Delivered to you each Saturday morning.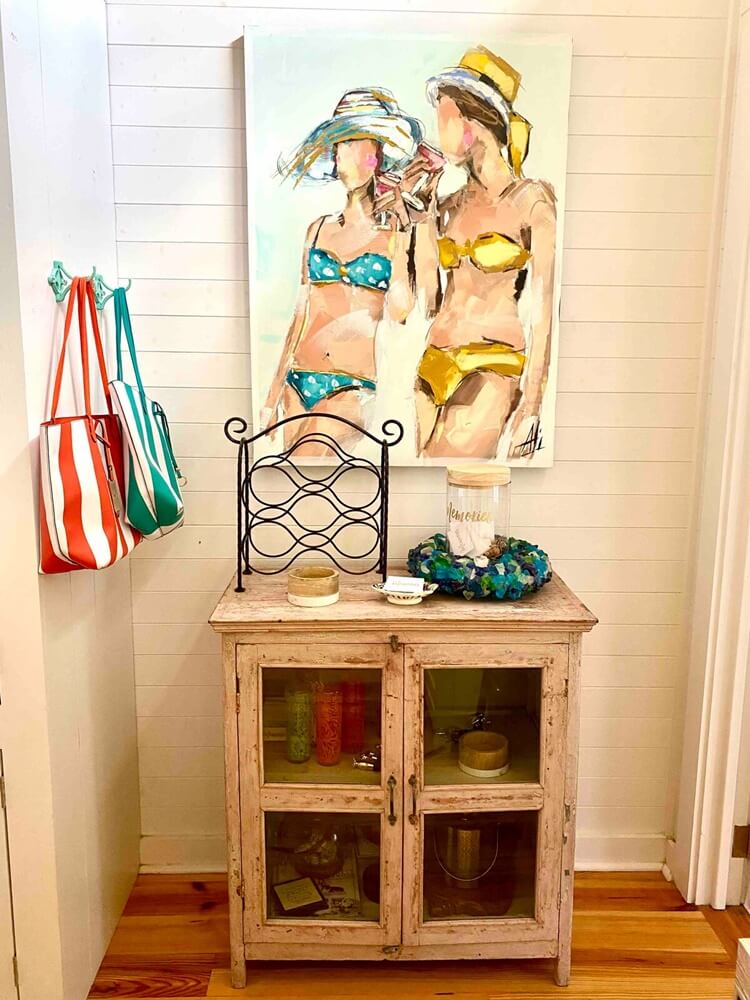 Here's a better look of that beachin' painting! Wonderful artwork. This is a great idea to make a corner interesting: add a rockin' painting then a small cabinet where you can decorate the top part. More storage space, and let's face it, you're maximizing what you can do with your space.

Here's the dining area with the rustic looking wooden table, and indoor/outdoor dining benches. Nice looking painting in the middle of the unique lighting fixtures. (COASTAL DINING ROOM IDEAS)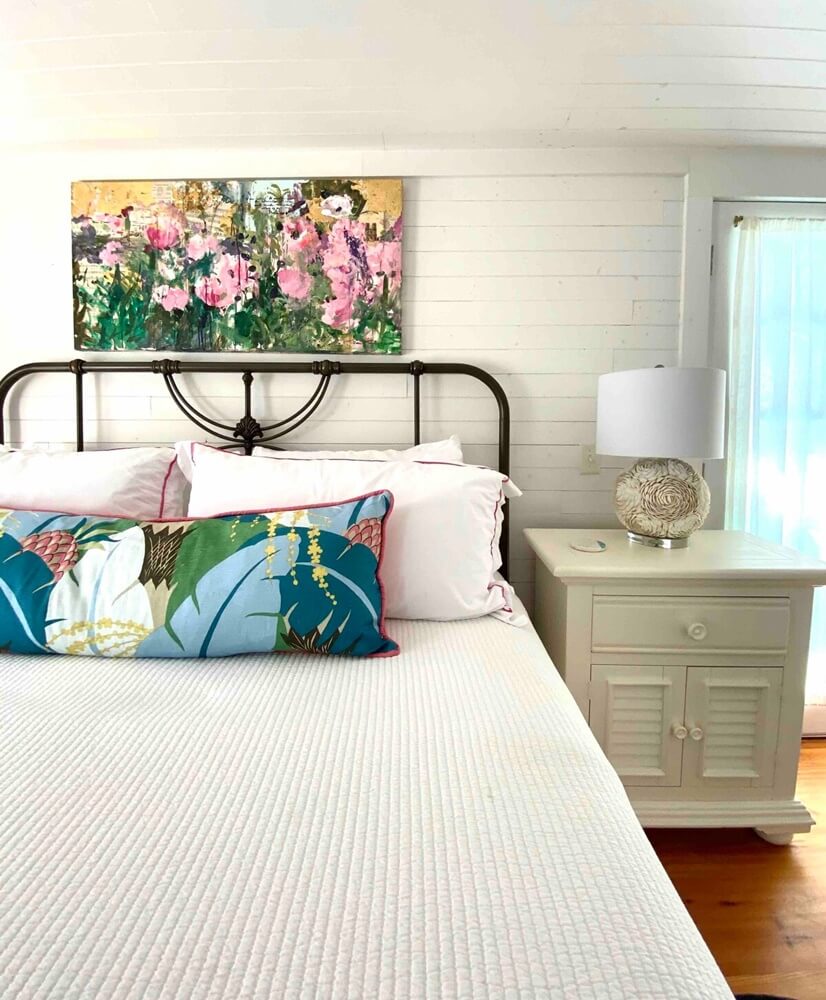 This beach cottage has the most interesting paintings! Just take a look at that from one of the king bedrooms. I super love them all. Wooden flooring here, too. White shiplap walls and ceiling. Looks neat! (BEACH THEMED BEDROOMS)

Here's the private bathroom with that vintage looking green basin. And if you're looking for a coastal-inspired mirror, above that basin is a really pretty one.


And here's the balcony connected to the king bedroom. A nice spot for coffee, hanging out, or just to relax and feel the vacation.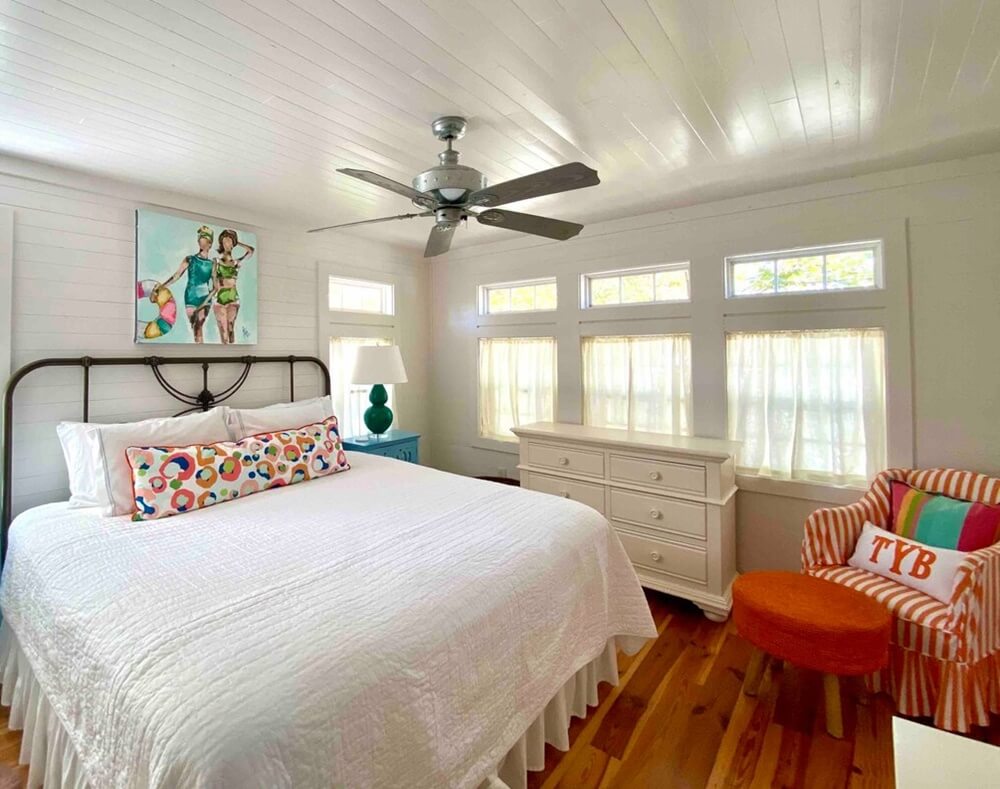 Favorites in this bedroom? That colorful painting of two ladies ready for the beach and the orange and white stripes couch on the side.

Classic white square tiles for the flooring of this bathroom. Beaded chandelier above makes this bathroom really classy.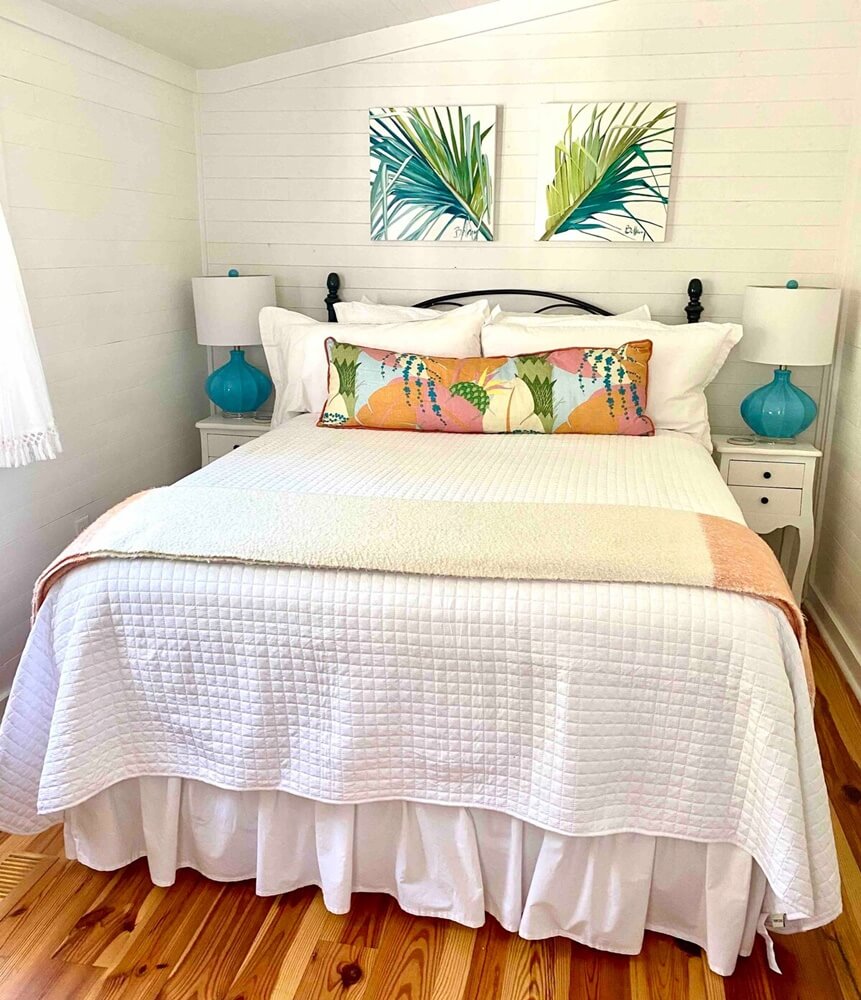 Love the palm trees prints above the headboard. Turquoise lamps on both sides — nice addition to this bedroom. Comfy looking bed, really.
Never miss a Beach House Tour!
Delivered to you each Saturday morning.

Here's another bathroom in this beach cottage. Located downstairs, this powder room looks really cool. Those flower petal sconces are looking good!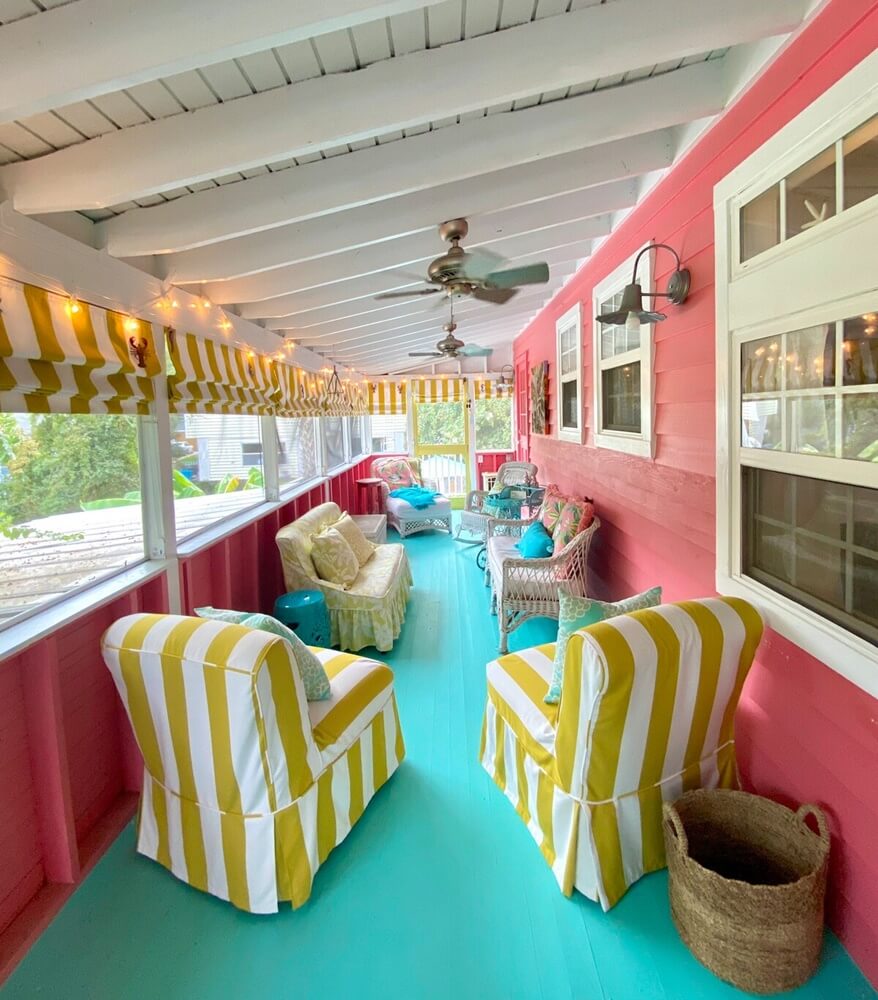 Long screened porch with turquoise flooring and pink painted walls. Yellow green and white thick stripes for the two couches here. The color elements sprinkled around are truly amazing.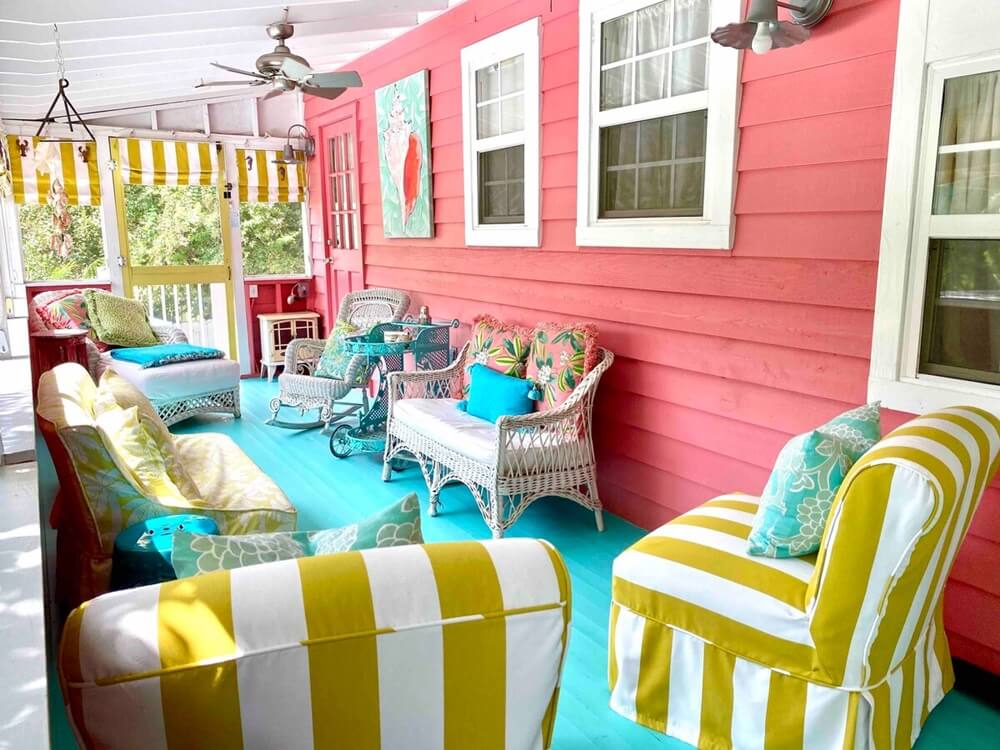 Here's another view of the screened porch. Perfect for huge families staying for vacation or for families entertaining visitors. Lots of memories to be created here, I'm sure.

Here's my most favorite part of the beach cottage — the private tropical pool. Turquoise Adirondack chairs on both sides of the sofa with turquoise cushions. And more seating area on the far side there (yellow green chairs). What a charming and full of character beach cottage in Tybee Island!
LOVE it? PIN IT!
Thank you for pinning! You help spread the word about SugarsBeach & these beach home owners. xo, Darlene