Salty and Happy Beach Outfit
Post may contain affiliate links. SugarsBeach makes a teeny, weeny commission, at no cost to you, if you purchase. Read more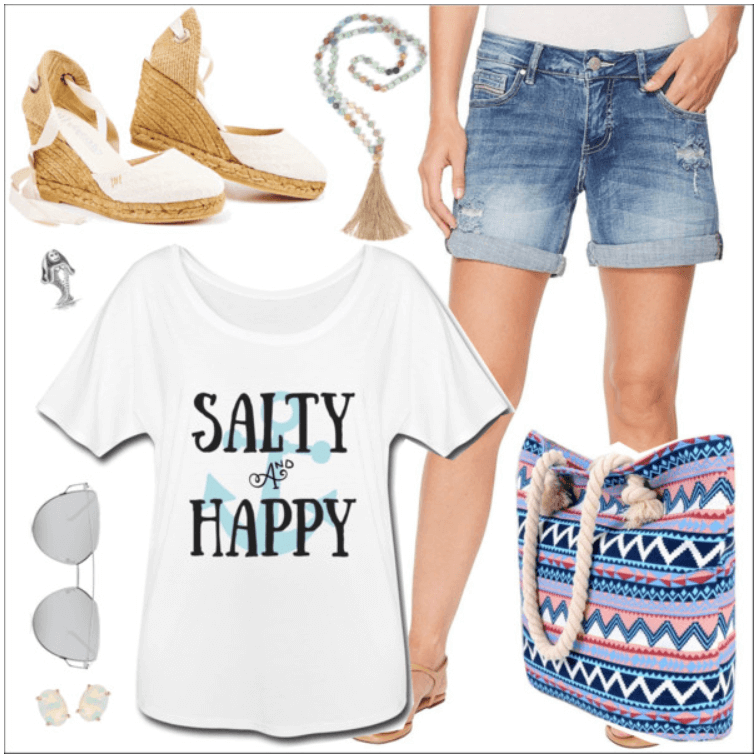 Flowy white tee "Salty & Happy" paired with boys cut jean shorts and sporty beach tote.
Get This Look
Salty & Happy Tshirt // SugarsBeach Shop // This Salty & Happy tee is flowy and feminine. Easy to wear.
Jean Shorts // Amazon // Jag Jeans Women's Alex Boyfriend Short. Relaxed boyfriend short with inseam of 5 rolled and 6.5 unrolled to find your perfect length. Plus structured and contoured waistband.
Espadrilles Heel // Amazon // Soft Cotton Canvas Upper with Leather Lining Handcrafted in Spain. Inspired by the Mediterranean and comes in several other colors.
Canvas Beach Tote // Amazon // Shoulder tote bag for easy summer days. Lots of prints including a wide red and white, navy anchor, red.white.blue and even bright yellow.
Boho Tassel Necklace // Amazon // Mala Beads Necklace Gemstone Chakra Boho Tassel Handmade Statement Long Chain Yoga Meditation Jewerly.
Mermaid Charm // Amazon // Bling Jewelry Beautiful little Mermaid Charm Sterling Silver Nautical Sea Shell Bead for Bracelet
Stud Earrings // Amazon // 14k White Gold Oval Opal Earrings.
Sunglasses // Amazon // SojoS Cat Eye Mirrored Flat Lenses Street Fashion Metal Frame Women Sunglasses.
Never miss a Beach Outfit!
Delivered to you each Saturday morning.

---
LOVE IT? PIN IT
Save