Hello Pineapple Lover
Post may contain affiliate links. I make a teeny, weeny commission, at no cost to you, if you purchase. info
Ohlalah! We've rounded up pineapples decor, pineapple shirts, pineapple swimsuit, pineapple pillow, pineapple cutting board, pineapple kitchen towels for the pineapple lover in you!
If you've ever been to Charleston (Rhett's hometown, btw!) then you know what it's like to find pineapple themed products at every turn. Why? Cuz the pineapple is a symbol of hospitality. Back in colonial times, pineapples were so scarce that only the affluent could purchase them, so when a generous hostess graced her guests with pineapple.. well, that was quite hospitable.
Then there's the pineapple legend: When New England sea captains returned home, they speared a pineapple on a fence post signifying an invitation for friends to visit. Between history and legend, the pineapple evolved into a beautiful way to show hospitality.
Post contains affiliate links.
---
Pineapple Roundup
---
Pineapple Swimsuit – Off-the-shoulder print
Sexy yet modest pineapple swimsuit available in different colors. You know how you're constantly pulling up an off the shoulder top? With this bathing suit, there are tiny black straps to hold you up. You can adjust or remove the straps at anytime. Multiple sizes are available too (Sizes 4 – 16) SHOP AMAZON

---
Pineapple Kitchen Towels
Impress your guests with the lovely pineapple kitchen towels, four to the set. Tasteful stripes. A wee bit of polka dots, and a big fat pineapple! Made of pure cotton so these towels are not only gorgeous, but durable. SHOP AMAZON
---
Pineapple Phone Case
Colorful and cheerful pineapple phone case will brighten up your day. Hawaiian inspired multicolored pineapple printed iphone cover, Samsung, ipad and laptop skin, and even pillows, mugs, totes. SHOP REDBUBBLE
---
Pineapple Shirt | Funny tshirts for Women
This is such a simple pineapple shirt and yet such a cute tee! There are different colors (white and black) but the pineapple design is different so I like this one best. Altho now that I think about it, you might prefer a more understated look that the others offer. Anywho, the full variety of pineapple shirts are on AMAZON HERE.

---

Pineapple Pillow Cover
Summer Beach Decor: Printed pineapple pillow in 18 x 18 size and 12 x 20, which is a fun oblong shape. Natural materials are completely machine washable. Has a hidden slide zipper for easy on and off. I like to pop everything in the washer after the season. Super affordable! SHOP AMAZON

---
Pineapple Shirt | Funny tshirts for Women
---
Pineapple Cutting Board
Gorgeous bamboo pineapple cutting board for entertaining a beach theme party. Or you can actually cut with it. Haha. Beautiful pineapple shape cutting board in easy care bamboo. Even has a pre-drilled hole so you can use as hanging art piece if you prefer. SHOP AMAZON
---
Ceramic Pineapple
Tasteful white ceramic pineapple with a blush/nude stem gives an understated look to your coastal decor. Buy one for yourself, and an extra to have on hand for impromptu gift occasion. SHOP AMAZON
---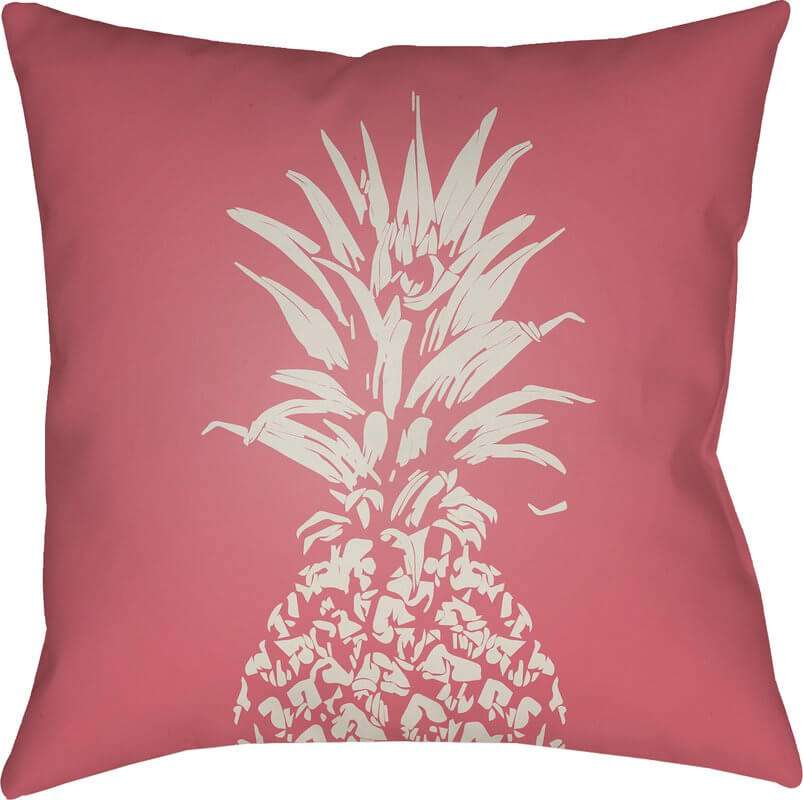 Pineapple Pillow | Coastal Decor

Colorful pineapple pillow comes in the coral/pink color you see here, plus it's available in blue, green and yellow for whatever your beach color theme is. You wouldn't know it but these are outdoor pillows so they hold up in the sun and bad weather with no color fading. Bonus find at one of my fave stores SHOP WAYFAIR
---
Pineapple Phone Case
You will love this Super-bright colors embedded and pineapple printed iPhone case. One-piece, clip-on protective that's slim and lightweight to boot. And if you love the pineapple design, you can get it on a pillow, tote, coffee mug and other products >> SHOP REDBUBBLE
LOVE it?? PIN IT!