Olympia WA Tiny Beach House

Can you see this tiny beach house hiding behind the trees? For beach lovers who relish the simple life, a tiny house might be the way to go. This little beauty is in Olympia, WA, the capital of Washington state, at the southern end of Puget Sound. Take a look and see what a small space can do with your coastal heart. 🙂

Here's the living area with durable looking rattan chairs. Breezy feel from this area. Cozy window seat beside the cute door. Is that a little loft area above the window seat? Vinyl plank that looks a lot like wood for the flooring.

Here's another shot of the living area. It looks big enough, don't you think? Expandable wooden table right there. Tumbleweed Tiny House Company poster on the left. The tiny house plans are from Tumbleweed. As a sidenote, back in the day when Jay Shafer owned the company, my sister and I attended a workshop on how to build tiny homes. (LIVING ROOM DECOR IDEAS)

Here's the tiny beach house kitchen. It has a cooktop, small fridge, and more. Love the wine glass holder at the ceiling. Burlap sacks as curtains to hide the shelves. (MORE COASTAL KITCHENS)
Never miss a Beach House Tour!
Delivered to you each Saturday morning.

Gorgeous and unique kitchen sink from a flea market in Mexico. Twenty years ago, when the Talavera sinks were semi popular (at least in Texas) we used to put them in our secondary bathrooms of our spec homes.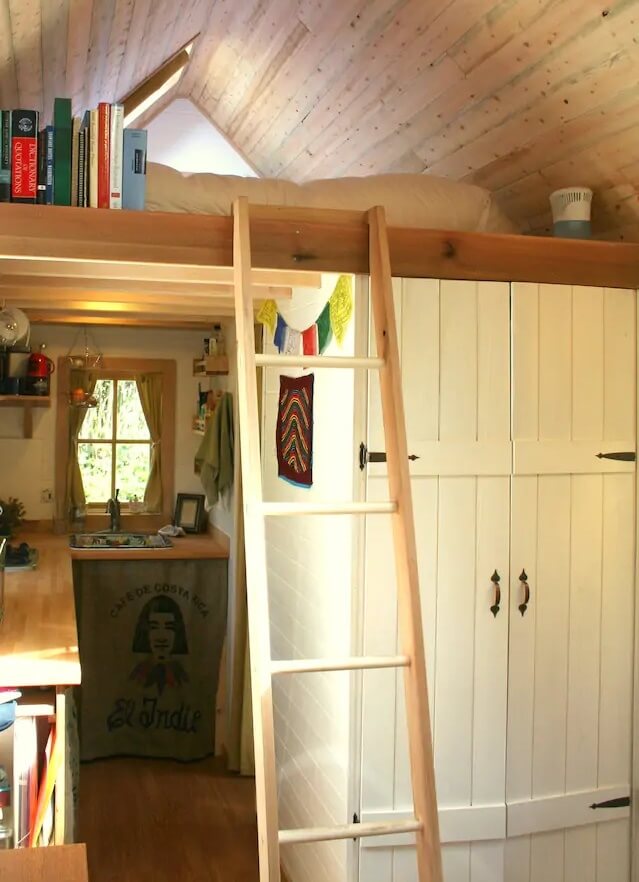 Here's the ladder going to the sleeping loft. Under the sleeping loft would be the kitchen. Closet and bathroom is to the right. I have to say, the one thing I don't like about tiny homes is they always seem to have the bedroom upstairs with a rickety stairs for access.
More Lovely Beach House Tours

Here's the sleeping loft with a full bed. Cute floral sheets on the bed. Skylight present on this area for stargazing. Love that tiny window beside the lighting fixture. Let there be light! (BEACH THEMED BEDROOMS)

The tiny beach house has an economy-sized shower and a compost toilet. Paneled white walls on the bathroom and what a fun antique mirror.

Anyone ready for a little kayaking for exploring around? You can almost just feel the decompression. Peace.

Gable style roofing. So … that's a 19′ length beach house built on an 18ft trailer. And it's unbelievably wonderful inside and out!
LOVE it? PIN IT!
Thank you for pinning! You help spread the word about SugarsBeach & these beach home owners. xo, Darlene