Moving to Lake Worth Beach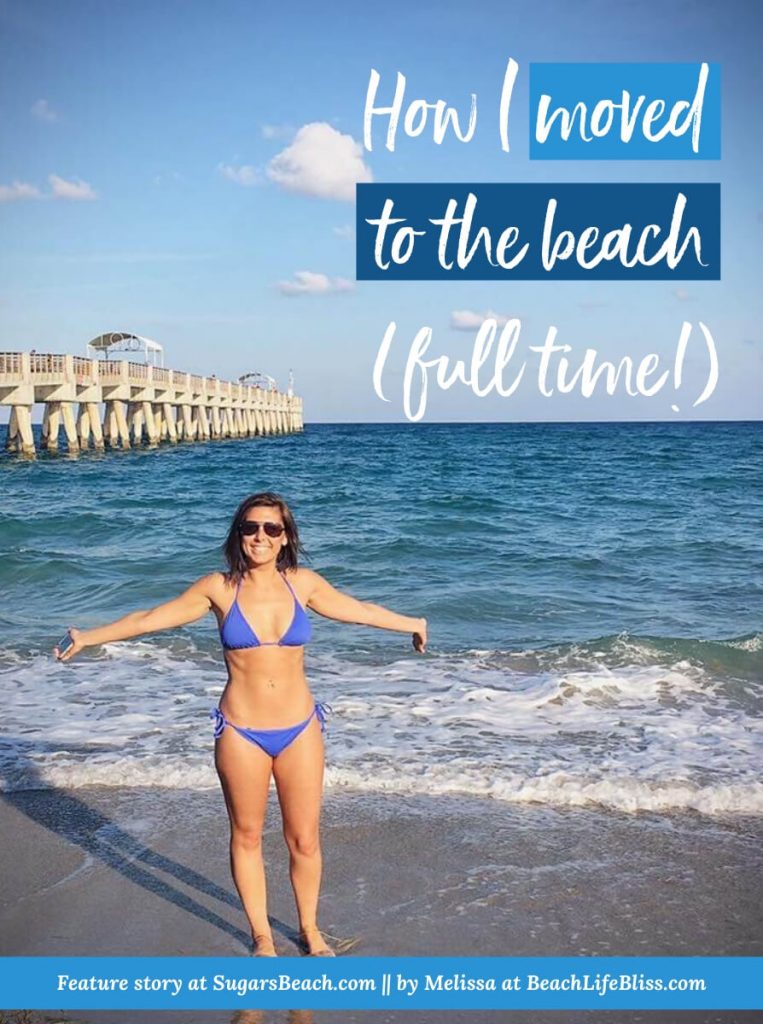 Do you yearn to make the leap and move to the beach? Today's featured story is from Melissa of BeachLifeBliss.com. She shares how she decided to leave her old life behind… and why she chose Lake Worth Beach, FL for her paradise.
Making the decision to move to the beach
Hey everyone! My name is Melissa and I am one of the biggest believers that the beach soothes your soul. The sound of the waves crashing and the sunshine in your face is priceless. I've moved from the cold winters to the warm beaches of Lake Worth Beach Florida and couldn't be happier.
I am originally from New Jersey and after I finished college, I got stuck into a routine of normal life, just like the rest of us. I got a job and was living with my parents trying to save up to move out on my own! Winter after winter, I dreaded the cold and dreary days. There's something about the below freezing weather that just makes you feel blah!
I've always dreamed of moving to a place where it was warm all year round and the sun was shining almost every day. About a year after I graduated college, I got a job offer with a company that was based in South East Florida and knew this was my opportunity! I took that leap of faith, packed up my life, and moved 1000 miles down the coast to live in Fort Lauderdale, Florida.
Was I scared? Yes!
Was I excited? Big Yes!
Was I worried about leaving my friends and family? You bet I was! This was one of my biggest fears…
But it was my chance to chase my dream of year round sunshine.

Moving to the beach changed my life for the best
I was meeting new friends, having new experiences, and getting to enjoy the white sand beach that people vacation at. Every weekend was like a mini beach vacation.
I felt un-stuck!
After a few years of living and settling into Fort Lauderdale, I met a guy. We moved to Dallas for his job, eventually got married, moved to Chicago (again for his job), and wound up getting divorced.
Well, what was I going to do now?!
Move back to the beach of course.
This is when I stumbled upon my new home at Lake Worth Beach Florida … an eclectic and vibrant beach town that I now call home.
I've moved to the beach on my own twice now! And each time it made me feel so happy – no more cold for weeks on end, no more dreary and depressing winter, and the clear blue ocean water right down the street – ahhh – what more could you want!
How I decided Lake Worth Beach FL was for me
After I got divorced, I knew I wanted to live somewhere close to the beach that had a laid back vibe. I started thinking about what would really make me happy and excited in a place to call home.
So, what was I looked for in a beach town to live in?
⦁ Proximity to the beach (ideally within walking distance)
⦁ Amenities like restaurants and shops that were close by
⦁ Somewhere to golf year round
⦁ A sense of community and charm
I decided to take a house hunting trip with my mom to look at locations and see what my options would be. My friend lived in Boynton Beach (about 10 miles from Lake Worth Beach) and my mom and I decided to look for an AirBnb to rent for a few nights. We stumbled upon an adorable historic looking house that was only about a mile from the beach!
They must have just listed it – the price was cheap and there were no reviews yet but we decided to just book it. It was in Lake Worth Beach – a town I had never heard of or even seen on the map before! My mom and I got into town and headed over to our AirBnb where we'd be staying for a long weekend. My first thoughts pulling up to this house was "wow where are we, why is this so cute, and how come I've never been here before??"
This is when I discovered Lake Worth Beach
The quaint character of the house and the street that it was on caught my attention immediately. There was a feeling of welcoming and a vibe that I could feel just from being here for such a short time. The first night we were here we needed to find somewhere for dinner – we pulled up Yelp and realized that there were tons of Lake Worth Beach restaurants just a few blocks away.
We headed into town and I was mesmerized by the quaint and quirky downtown we had just run into.
Could this be my next beach town to call home?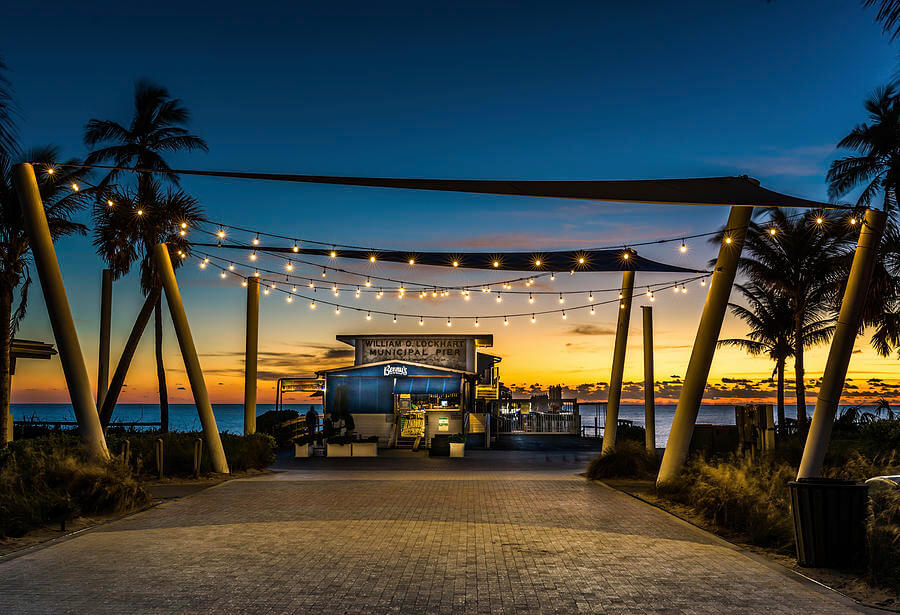 What's so fun about living Lake Worth Beach FL
3 months after my house hunting trip, I had purchased my very own Lake Worth Beach Cottage and could not be more excited to get to know this town.
Life in Lake Worth Beach make me feel like I'm on a permanent vacation every weekend. Whether I'm enjoying a relaxing day at the beach, planning a sunset beach picnic, or kayaking to the sandbar at Peanut Island, there is always fun in the sun. Things to do at Lake Worth Beach >>
Lake Worth Beach shines with historic charm, great energy, and a friendly atmosphere. From the colorful historic cottages to the vibrant downtown to the festivals and parades throughout town, it is amazing having so many amenities within walking and biking distance.
The beach… less than 2 miles
The downtown… less than 1 mile
The closest airport… less than 7 miles
The local Publix… less than 1 mile
The golf course… less than 1 mile
How can you beat this location?!
Advice for moving to the beach
If you are thinking about moving to the beach, I hope you found my little story as a sign that maybe it's time to make that move!
Moving away from family and friends can be tough. But what I have found after moving away from everything I knew was that your true friendships will not fade. In fact, they may even grow into something more beautiful.
The # 1 piece of advice that I can offer is to choose a location that fits your personality.
There are so many awesome little beach towns – some big, some small… some busy, some more laid back… some quirky, some upscale and modern. Find what is right for you and it will soothe your soul that much more. I don't know where I would be without stumbling upon my home of Lake Worth Beach because it really is the best!
Wrap up
Lake Worth Beach is the first place in a long time where I really feel at home.
After living here for 2 years and seeing the growth and potential for this town to be something like a mini Key West, I started looking into investing in another house here! It has been a dream of mine for a while to own a vacation rental AirBnb (I already have another long term rental).
Lake Worth Beach clicked with me like no other place I've lived before and I knew it was the right time to start my very own AirBnb. A few months and ton of research later, The Beach Life Bungalow (it is a beach rental, btw) was born.
Sooo.. is it time for you to move to that beach town you've been dreaming of now? I hope so!
Thanks for allowing me to share my journey with you.
"The biggest adventure you can take is to live the life of your dreams" – Oprah
Cheers Beaches! Melissa