7 Mood Boards Pinterest
Beach decor mood boards Pinterest are a fun way to get design inspiration for your remodel or next decorating project.
But first, you might be wondering just exactly what a mood board Pinterest is?! They are boards that a blogger has put together to give inspiration on a particular subject. Since scouring Pinterest is literally part of my job (yep, tough work. Haha!) I constantly come across coastal decor inspiration that my readers will love. Trouble is, where to put it?
So today, I've collected a group of mood boards Pinterest to showcase for you. I'll update this post, so you want to subscribe to BEACH BLISS to stay in the know.
The other cool benefit to you, is the opportunity to find new bloggers you might enjoy visiting. I only knew of two of the bloggers in this first group. I clicked on the other beach blogs and thought, how have I never seen them? I think you'll really enjoy the fresh beach theme ideas.
SOURCE: Sand and Sisal Coastal Kitchen design board
You can thank me later for featuring Kim's mood board Pinterest because if you haven't stumbled upon her beach themed blog yet, now you can! Here she breaks down all the steps when renovating her kitchen into a haven of cool blues and greens, coupled with crisp bright white.
We are getting ready to build our house and trying to decide the perfect blend of colors for the cabinets. I think I may have found it here with Kim's mood board. White upper cabinets with a soft grey for the bottoms. Her tile backsplash looks like I tile I already have bookmarked, so 'great minds think alike.' Haha
---

SOURCE: Sweet Teal Mood Board Pinterest
With this mood board, Jenny welcomes you into her ideal coastal living room. She goes for a bohemian- yet simple look, with lovely antiques and a beach feel about it.
The color palette is a soft grey/light tan neutral with pops of color in the wall art. She has links to some of the products for ease, plus you'll love her blog.
---
SOURCE: House Full of Sunshine Kitchen Mood Board
Here we have a modern coastal kitchen design with a Hampton vibe. There's actually a blend of modern and traditional (in my opinion.) I do love the tile backsplash done in a herringbone pattern. Truly classic. This is also a good look if you're laying brick. I did my farmhouse bathroom with brick tiles laid on the floor in a herringbone pattern.
There are many things I like about this kitchen. Number one, it has a window! I cannot stand the trend for like the last 20 yrs to have interior kitchens. Give me a window..or two..or even three. I also like that it's u-shaped. Everyone thinks they want an island, but I think it can get in the way. It's hard to bump into each other in a u-shape kitchen layout.
---
SOURCE: Elizabeth Burns Design Sea Spray Condo
Definitely no doubt this is a coastal kitchen with this Pinterest mood board. Muted seaside colors with whites and neutrals. Notice how the big bouquet of pink flowers gives a delicious pop of color against the soft color palette.
I agree with Elizabeth's beach decor way of thinking: "You are already at the beach. Less is more! Let the pretty surroundings shine." and "Colors alone can exude a beachy look."
---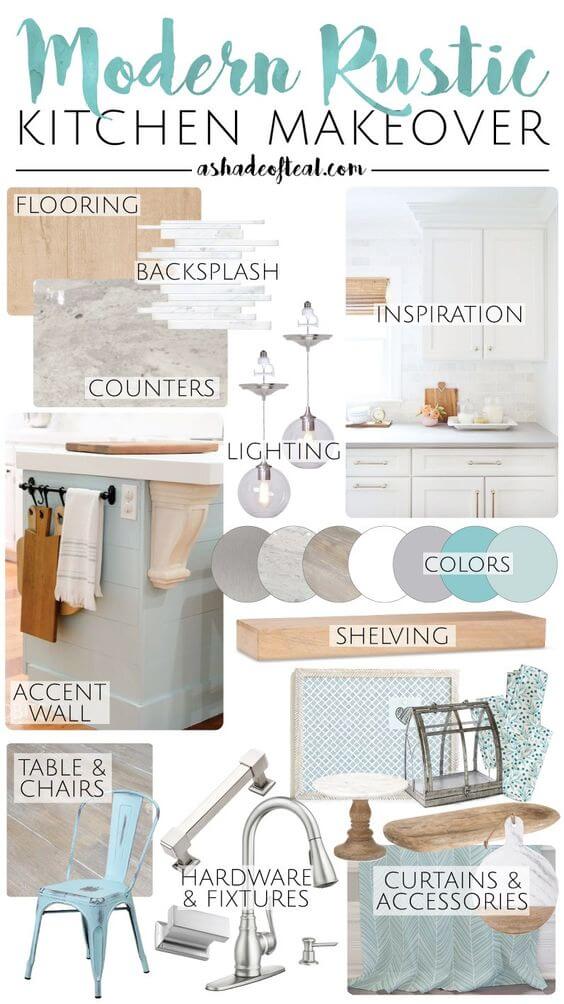 SOURCE: Shade of Teal Kitchen Makeover Mood Board
Katy describes her kitchen makeover as "modern rustic." Here in Texas that seems to be a trend right now. More accurately "modern farmhouse" is super popular. Anyway, I digress. Back to this inspirational kitchen redo. You can't see it here (you'll have to click over to SOURCE) but they did my favorite design element under the bar. Shiplap walls.
---
SOURCE:Creativity Exchange Coastal Mood Board
With this coastal decor mood boards Pinterest, Cyndy gives us a choice in selections of beach theme rugs, pillow and color palette. Again, it just goes to show you don't have to be over the top with beach decor. It's possible to get the ocean life feel without traditional coastal pieces like fish, mermaids, and such.
---
SOURCE: Grayston Beach Reno
Jane and Sonja blog about home decor and crafts. With this Pinterest mood board, they detail a Grayston Beach renovation of a little 2-bedroom cottage along the shores of Lake Huron, Ontario. They go into a lot of detail so you're not just looking a coastal decor ideas, but also where to source the products. Remember they are a "craft" blog so of course some of the products are DIY for the do-it-yourself lovers.
Also, I noticed the picture of the armoir, the photo came from Miss Mustard Seed so I've provided link to her blog as well.
---
Do ya love it?! Then please PIN it!