Modsy Review – Inside scoop to home designer interiors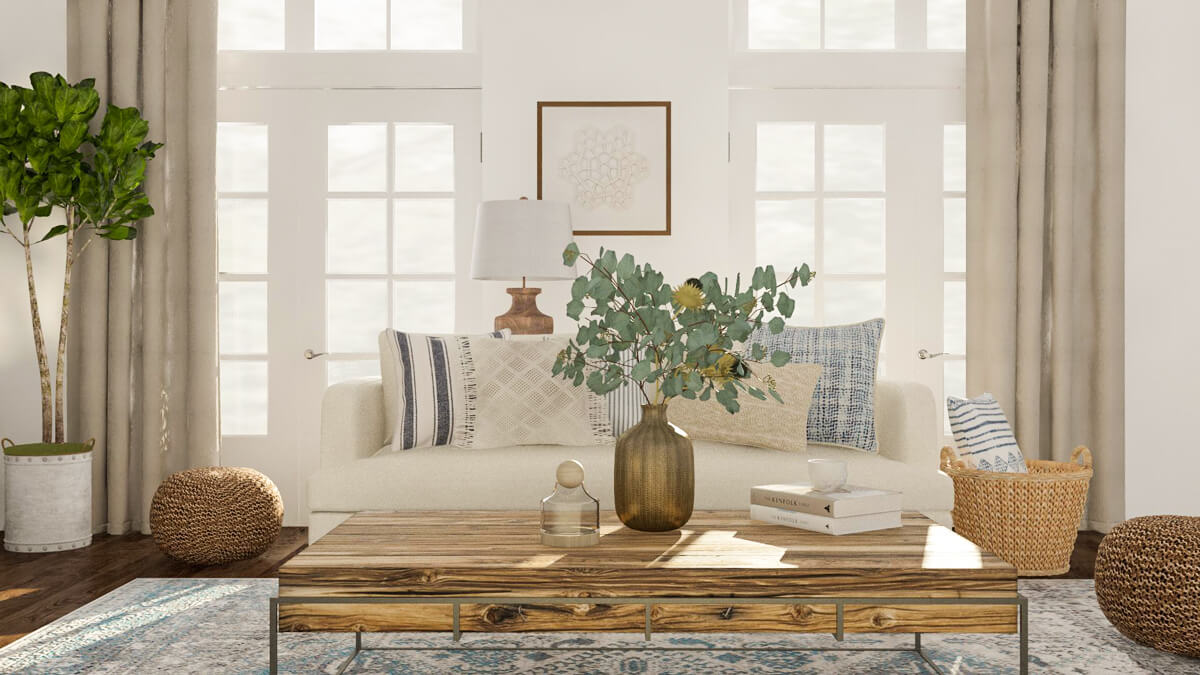 Home Designer Interiors
I am thrilled to bring you this Modsy design review.
Why?
Because number one, I know you love decorating your home. Or your beach vacation home.
Second, even tho I can design a houseplan in my sleep, and build a house with total confidence..  I get stuck when it comes to figuring out how to get that "model home" look with the interior.
Enter your very own "pocket" interior designer: Modsy. (Take 15% Off with code: MODSYSAVE15)
---
Home Decor Dilemma
Let's face it, it's much harder to design a coastal space than it first appears. No amount of pinning on Pinterest and scouring Google images will show you how specific design elements will look in YOUR house.
Are you sure that post-modern sofa matches your coastal coffee table?
Decorating your beach home should be fun, but if you're overwhelmed by all the choices, it's great to have a little help.
You'd like to hire an interior designer! Great, but who do you use? More importantly are you prepared to spend thousands of dollars to hire a professional? Hiring a local interior design typically costs $2,000 to $5,000, excluding the cost of furniture and all the other coastal decor design elements.
So you know you need some design help. You want help designing interiors online. Hence this Modsy design review.
Online Interior Design Services
Happily, there is a middle ground between cutting images out of magazines and an expensive interior designer! Online Interior Design Services are a great alternative if you could use a little help designing your space.
There are a few different services available and they all have their pros and cons, but Modsy is by far the market leader.
I did a ton of research (as always! LOL) and they seem the closest to having your own personal interior designer come to your home…but without the exorbitant cost. Plus it's more convenient to work with an online design service, and if you're like me, you're all about convenience.
Modsy service is affordable, easy and the designs are simply stunning. Plus they make sure you're are 100% satisfied with the results.
Online Design Process
How exactly do you work with an online designer if they never get to see your space? Well, it's actually a very simple and painless process.
You answer a few questions to get an idea of your design style, provide Modsy with some photos of your room and then they get to work and design the perfect space for you. Simple, right?
Let's go into a little more detail about the process.
SEE MODSY FOR YOURSELF
Take 15% Off All Design Packages with code: MODSYSAVE15
Step 1: Your Style Quiz
Before you can start working with a Modsy designer they need to understand a bit more about your design ideas.
They have a fun and simple quiz that you take to start the process (it's a free quiz, btw) and it figures out exactly what your design style REALLY is!
When I took the quiz it told me that my style was Rustic Warmth, described as "Rustic Warmth combines Transitional and Rustic with a touch of Eclectic."
I'd say that's about right.
Step 2: Photos and Measuring
This next step does require just a little bit of work on your part. But it's really not hard.
You need to photograph your room from 8 different angles. Yes, I know 8 angles of one room sounds a lot, but it's really not. You stand it each corner and take a photo and then stand against each wall and take a photo.
They need a photo from each angle because they are going to use these to make a three dimensional design of your room.
The photos don't need to be great quality, so just snapping them with your cellphone is enough.
You also need to provide Modsy with measurements of your room. All they ask for is the length and width, but there is an option to provide a drawn floor plan. If you have time, I recommend doing this and it will help with door and window placement etc.
Step 3: Your Design Ideas
Next, Modsy will ask you about your design vision.
What you want from the space
How you're going to use the space
What your budget is for furniture
If there's an brands you would like to include
Which pieces of your existing furniture you want to keep
There are different package levels  so if you have picked the Premium or higher package, then you can talk one-on-one to a designer at this point if you need a bit of extra help.
As you can see, they work with some of my favorite designing interiors online like WAYFAIR and ALLMODERN. This means you can pick your fave online designers and ask to include their pieces. That saves you the hassle of trying to track down a design element you love. I'm constantly asked on Instagram, where to buy a certain piece of furniture or lighting, or what have you. This saves you from that.
Step 4: Your Design
This is the exciting part! You've done all the work on your end, Modsy has received all your photos and measurements. So now you wait to receive your designs!
It can take up to 2 weeks for you to get your first 2 designs, but normally it's much quicker.
Modsy will provide you with 2 initial design options. These are based on all the information you have provided to them in the previous steps.
The designs will be three dimensional representations of your room from different angles. They also provide an overhead floor plan. There's even the option to view the room in 3D and "walk" around the space!
GO TO MODSY
Take 15% Off All Design Packages with code: MODSYSAVE15
Step 5: Revisions
Based on your initial 2 designs you then provide feedback for the designer and they will make revisions to the space.
They provide UNLIMITED revisions! Yep, can you believe that? You can edit and redesign the room as many times as you like until you are 100% happy!
They also have a cool 3D Style Editor where you can work independently and swap out particular pieces of furniture to find your perfect look. Or move things around to get the floor plan just how you want it.
Step 6: Purchasing Your Furniture
Modsy isn't just about giving you ideas for design, they actually suggest the exact pieces of furniture that would suit your room the best.
They provide you with a list of furniture and decor items so you can recreate their design in your own home. All the items are available from online retailers like Wayfair, Crate & Barrel, West Elm and Potter Barn.
Below is perfect example of why I enjoy Wayfair decor. Such a clean, streamlined coastal decor look, don't you think?
And you don't need to worry about ordering for loads of different websites. You just place one order from within your Modsy profile, and they take care of the rest. They check the prices, order it and arrange the shipping.
The team at Modsy also checks numerous online retailers to make sure you are getting the absolute lowest price for each item! Kinda like having your own personal shopper!
And that's it! It really is that simple to have a professionally designed space without spending a fortune!
Modsy (FAQ)
How much does Modsy cost?
Packages start from $79, which includes 2 initial designs and unlimited redesigns.
CLICK FOR MODSY
Take 15% Off All Design Packages with code: MODSYSAVE15
What kind of rooms can Modsy design?
Modsy currently offers design services for the following types of rooms:
Living Room
Bedroom
Dining Room
Office
Kid's Bedroom
Nursery
Entryway
Open Living/Dining Room
Studio (Open Bedroom/Living Room)
Multi Purpose Rooms (ex. guest room that doubles as an office)
Does Modsy suggest lighting?
Currently they will add table and floor lamps, as well as pendants and chandeliers to your room designs, but not track lighting.
Can I use the furniture I already own in the design?
Yes, you can definitely include your existing furniture. You have 2 choices for this. Modsy can either find similar items to include in your design or you can pay an additional $15 per item for them to make a digital rendering of your exact piece of furniture (useful for Grandma's antique sideboard!).
What if I don't like my designs?
No problem! Your first 2 designs are just a starting point. After that you will work with your design to fine-tune the space until you are 100% happy!
SEE MODSY FOR YOURSELF
Take 15% Off All Design Packages with code: MODSYSAVE15
---