Modest Swimsuits for Women (21 and counting!)
Swimsuits that are modest… Modest swimsuits, yet flattering swimsuits at the same time, right?! When looking for what to wear to the beach without showing everything… you can pick a one piece swimsuit, but there are super cute (and modest) two pieces swimsuits for women too.
In fact my fave looks are the two piece swimsuits. Specifically, a two-piece bathing suit with boy cut short and a cute top.
It really doesn't matter what your weight is or if you think you look good in a bathing suit (or not!) If you're like me, you just don't want to show so much of your body to the whole world. Shoot, I remember as a teenager with the perfect body of youth, I still felt shy taking off my shorts and top to reveal a skimpy bikini. Even my daughter who has the most gorgeous body ever, goes for boy shorts bathing suits.
On that note, when searching for flattering yet modest swim suits, I only included the ones that are available in a variety of sizes. Some even as small as a two, but also up to larger sizes… so whatever your size, if you're into modest swimsuits, you'll find the perfect one here.

TWO THINGS:
1) This post contains affiliate links which means if you purchase, I'll get a teensy, wheensy referral fee. You pay the same, but I get a little something for referring you.
2) I'll update this page as I find more modest, flattering swimsuits so if you want to be notified sign up for Sugars Beach Bliss!

Modest Swimwear for Women Handpicked for You

I can see why this one piece swimsuit has almost SIX thousand (practically 5-star) reviews! The ruched torso pattern accentuates your curves while covering up any imperfections you might perceive. High neck design with a padded push-up bra provides support and shaping. I always like the style where you aren't falling out of the top but you don't look like a prude either. The see thru mesh style does just that! This modest suit comes in oodles of colors.. OH! and almost forgot, you MUST see the plunge back.
---
I LOVE the pattern and color of this swim dress. It's a one piece tummy control swimsuit with cute black bottoms underneath. You really wouldn't even need a tie sarong when walking around because the skirt takes care of that for you. Slimming style comes in every size – from 2 to 2XL altho I will say they frequently sell out of this modest bathing suit, so if you see your size, go for it!
---

Now with this two piece bathing suit, you will want a Sarong Wrap for when you're walking around the pool, or in the dining on your cruise. Flouncy top makes this suit both flattering and modest.
---
Once again a flattering bathing suit with perfect swim top for the modesty we crave. Padded bra top with adjustable shoulder straps design is super cute, attractive and stylish, making this bathing suit more charming, flirty and chic.
---

Do you absolutely LOVE the color and print?! Notice the little ruffle along bottom edge. Wire free molded bra cups with adjustable straps for full support. And get this: shirred side detail for super flattering look WITH tummy control. It even has a little built in swim brief. It comes in a variety of prints. If you look at the solid colors you can get better idea of how it's shirred. The only thing I don't like is (at time of this posting) they don't carry the smaller sizes, but they do have from medium to large. //AMAZON//
---

Vintage one piece slimming swim dress. No underwire and soft removable cups. Sexy back crossover design and tummy control. You can get this in four other colors including a super fun red and white, orange and teal, crystal blue and white,  and navy and white. You can also get the same black and white pictured here but in a wider stripe. It has a cute boy short bottom which is exactly the coverage I prefer! It even comes with a replaceable cup pad pack for versatility in the best padding for each bra size. Who knew?! //AMAZON//
---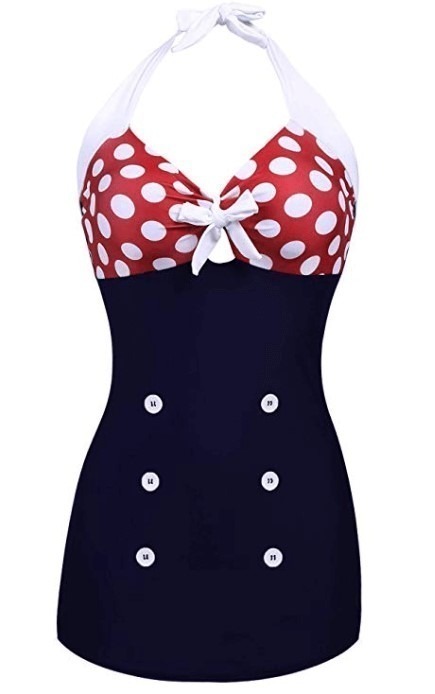 Women's Vintage Retro bathing suit "pin up" style. It comes in more than ten different fabric prints if you like the style but not necessarily my choice. The halter top is one of the easiest to wear whether your busty or flat-chested or somewhere in between. You can adjust the tie around the neck as well as the tie between your breasts. You might need to buy a boat (LOL) if you wear this swimsuit cause it definitely has that "ships ahoy" feel. Comes in every size on the planet, and if you love the retro bathing suit look but not the skirt so much, they do have it with a regular swimsuit bottom //AMAZON//
---
This black and white racerback with boy swim shorts makes sporty comfort look ultra cute! Built-in bra padding (that is conveniently removable) gives support if you're uncomfortable with underwires. The black and white zigzag pattern is slimming and trendy. This is the style I was talking about earlier where you have a modest swimsuit that flatters all sizes. You can find it all the way from a size small (4-6) -xxx large (22-24) //AMAZON//
---
This trendy Skechers swimsuit is so cool! The high neck styling with adjustable straps (thank goodness, and they are straight down the back) is my favorite detail here. Well, next to the keyhole detailing in front. That's one thing, I think, that separates it among the rest of modest swim suits for women. Simple yet elegant design. The pull on closure certainly adds that chic look. Get it on different sizes (Small – X-Large) //AMAZON//
---
Trina Turk high neck halter one piece modest swimwear for women. Could this swimsuit be any prettier? The style is simple and classic…but the print! The print is a whole other story. They blended a black and white pattern (that is never out of style) with bright pops of color. Pink. Teal. Orange. Blue. Green. Yellow. This would actually look gorgeous with a sheer long, black skirt.. and then just untie the skirt right before you pop into the pool. Haha. This modest bathing suit for women is ready in all sizes. //AMAZON//
---
One of my fave modest swim suits for women. The grey and white diamond design with the empire waist cut, is super appealing. (There are a variety of other patterns to choose from too.) I even like the solid grey band just under the bust. Then of course the boy cut swimsuit bottom looks great.  This could be the one you're looking for. With a padded bra, minus the underwire & adjustable straps, I think you'll like this two piece bathing suit. Sizes S (4-6) – 3XL (18-20). //AMAZON//
---
Vacation mode yet? I am lovin' this palm leaf print in this modest one piece swim suit. As one of the flattering full coverage bathing suits existing out there, this one, I think, the most festive. Check out the little pom poms edging the top flounce. If you like the shoulder flounce, but not the print so much, this bathing suit comes in lots of different prints. For me (just being honest here) I'd pull on a pair of boy cut swim shorts… but obviously it looks amazing without! Find it in different sizes (X-Small – XX-Large). //AMAZON//
---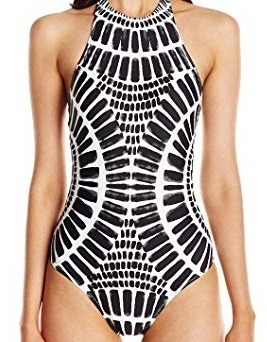 When looking for modest one piece swimsuits for vacation or for beach parties, you should always consider three things. Flattering prints or color, cute detail, and one with soft cups. This Trina Turk high neck halter swimsuit has all of those things. Flattering black and white prints which will look awe, nice and cute strappies details at the back, and of course, with removable soft cups. Sizes 4 – 14 here. //AMAZON//
---
Pineapple patterns, anyone? Swimsuits that are modest, this Maxmoda women tankini two piece set is one to lookout for. It's eye-catching, trendy. BTW, there's another pineapple bathing suit on our pineapple page. But back to this one: It has a high neck design with padded push-ups. And the cutest thing here would be the back of the neck hook closure, which also means a little backless. Sexy but not too sexy, if you know what I mean. Truly one of the modest swim suits for women. You may find it in different sizes from small to doubleX large. //AMAZON//
---
Looks a bit like a flirty dance dress… and this is one of those cute modest swimsuits that any body shape can pull off. SHEKINI one piece skirt swimsuit. A v-neck style holds up large busts while flattering smaller ones. I can remember as a teenager, liking this style because it covered me nicly even when swimming or playing volley ball on the beach. Under the swim skirt you'll see a bathing suit bottom. Sizes are Small to XX-Large. //AMAZON//
---
For an effortless beach look, this Seafolly tankini swimsuit top is definitely worth a try. Taylor Swift wore a similar piece (I'm not saying it's this brand, but it's pretty similar) twice. The adjustable halter ties on this one makes comfort possible. And have you seen the gathered ruffle in front? That detail is so timeless. Swimsuit top is available in so many different prints I can't even count… look at the prints with the vertical solid stripe for slimming effect. Also available in a few solid colors. You can add a boy short for more modest swimsuit look. US Sizes 4 – 14. //AMAZON//
---
Floral prints are always pleasant to look at. Take a look at this floral tankini with boy shorts! Pink and black are chic so the prints would really look cool on you. Most tankini bathing suits that I see nowadays are padded but without the painful underwire. So, I would like to say that yes, this is suitable for swimming, beach parties, and more. Cute modest swimsuits in different sizes. //AMAZON//
---
Truly a modest bathing suit that also looks fab! Feminine yet sporty, this modest swimsuit brings a trendy look with a unique crisscross back design and floral pattern that will definitely catch some attention and compliments. Both sides of the bottoms have drawstrings for adjustable comfort. Available in sizes small (4-6) – XX large (22-24) //AMAZON//
---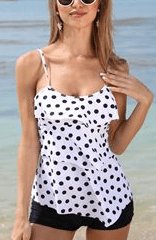 Who doesn't love a black and white polka dot swimsuit?! The ruffle down the front enhances a small busted women. This two piece polka dot bathing suit comes with the boy shorts that I like so much. If you get a swim suit that already includes a pair of boy swim shorts, then it's easy to buy an extra swim top (or two) to give a lot of looks. This particular bathing suit also has different colors and prints. I went ahead and placed a screenshot of the assorted prints below. But if you're just lovin' on this polka dot bathing suit, just click //AMAZON//
---
The candy striper vintage look is ultimately playful and perfect for some volleyball on the beach, long jogs along the water's edge, and all joyful summertime activities that include that sand, water, and sun. Made with quick-dry ability you won't be stressing about putting on a wet swimsuit the next day. The multi-cup fit also adapts to body differences offering you the perfect comfort (and sassy!) fit. Find it in Black, Navy, Light Blue, and Pink in sizes X small (0-2)- XX large (16W) //AMAZON//
---
Fun blue and white print two pieces swimsuit. Who says swimsuit skirts can't be flattering? However I do want to mention, that when swimming, the skirt kinda floats up… making it not particulary flattering in that moment. It looks better as you're walking along the beach or pool. Includes a sexy crisscross strap on the back of the swimsuit top. The straps are adjustable with foam cups for bust support. The swimsuit skirt has attached bikini bottom for full coverage. Comes in small (size 4-6) all the way up to XXX-large (size 22-24) //AMAZON//
---
OK! I know this probably cannot be classified as a modest swimsuit but please forgive me! I stumbled upon it as I was searching for cute modest bathing suits and simply had to show it to you. I love it! Becca by Rebecca Virtue one piece swimsuit is stunning. Don't you think? The crochet detailing on the neckline and the middle (front) is different and delightful. Reminds me of a formal dress (I bought for a cruise) that had the fabric like this in the middle. We called it my Shania Twain dress because remember how she used to wear dresses like that?!  This black one-piece swimsuit  also comes in white and pink. Sizes are from small to x-large. //AMAZON//
---
BOY SWIMSUIT SHORTS
I love this swim shorts available for women. It's one of the most popular bottoms for women nowadays. Not just because it's certified UPF 50+ (although I'm sold with that already) but because it's so versatile and fitted but flattering. It's for swimming, yes, but you may also use it for hiking, or just going to the gym. This one's made with high quality materials to guarantee the extra coverage and comfort. Get it in several different colors. Sizes are from x-small to 4x-large. //AMAZON//
---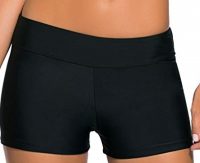 This SherryDC women's swim shorts looks really cute and comfortable. It's exactly the boy short I like because not only does it look great, but you can find lots of cute swim tops to go with it. Stretchable for added comfort plus it should go well with all the tankini tops we've been talking about above. This cute little boy short also comes in bright pink and orange. Sizes range from small to 3x-large. //AMAZON//
---
BATHING SUIT TOP IDEAS
Speaking of cute modest swimsuits, this Gabrielle-Aug tankini top swimsuit surely is one of them. Blue and green tropical print. This one doesn't have an underwire but it does have soft molded cups (not removable) for extra comfort and shape. With the polyester/nylon material, it's certainly good for pools and beaches. Sizes 8-16 available, and if different colors and prints. //AMAZON//
---
This is one of Gabrielle-Aug's vintage-y tankini tops. I personally like the color and the spirally thing details going on. This one has adjustable straps, which is very important when it comes to tankinis. It has soft molded cups that are actually removable with no underwire so it doesn't give you that pain under. If you're looking for modest swim suits for women or just the top for this matter, this could be the one. Only drawback as there are limited sizes but you can find more Gabrielle-Aug designs here. //AMAZON//
---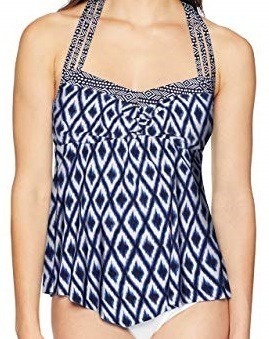 This Coastal Blue women's tankini top shows a smaller busted model. It features a halter v-neck, strappies, and a design created to give that 'slim' effect. No matter if you're a tiny size or plus size, this is a fun print to wear. Plus it comes in lots of other choices like a solid black, wavy blue and black, navy, and more. Awesome swimsuits that are modest too. Sizes are from x-small (0-2) to XL (16-18). //AMAZON//
---
Love it?! Pin it
You help us tremendously when you pin…so thank you! xo, Darlene 🙂