Manhattan Beach CA House Tour

Manhattan Beach CA House Tour: When I first heard "Manhattan" I thought THE Manhattan… but then I realized that this divine blue and white beach house is actually in Manhattan Beach CA. Geez, even the flatwork in front of the garage is gorgeous. Is it my imagination, or did they stain the stripes blue? Step inside to be delighted.

Beach themed living rooms: Seriously!  Who wouldn't want this beachy living room with high ceilings and hardwood floors. I think it would be impossible to have a bad mood in this room with the bold teal sofa. Love how the doors fold completely open to bring the outdoors in. (LIVING ROOM DECOR IDEAS)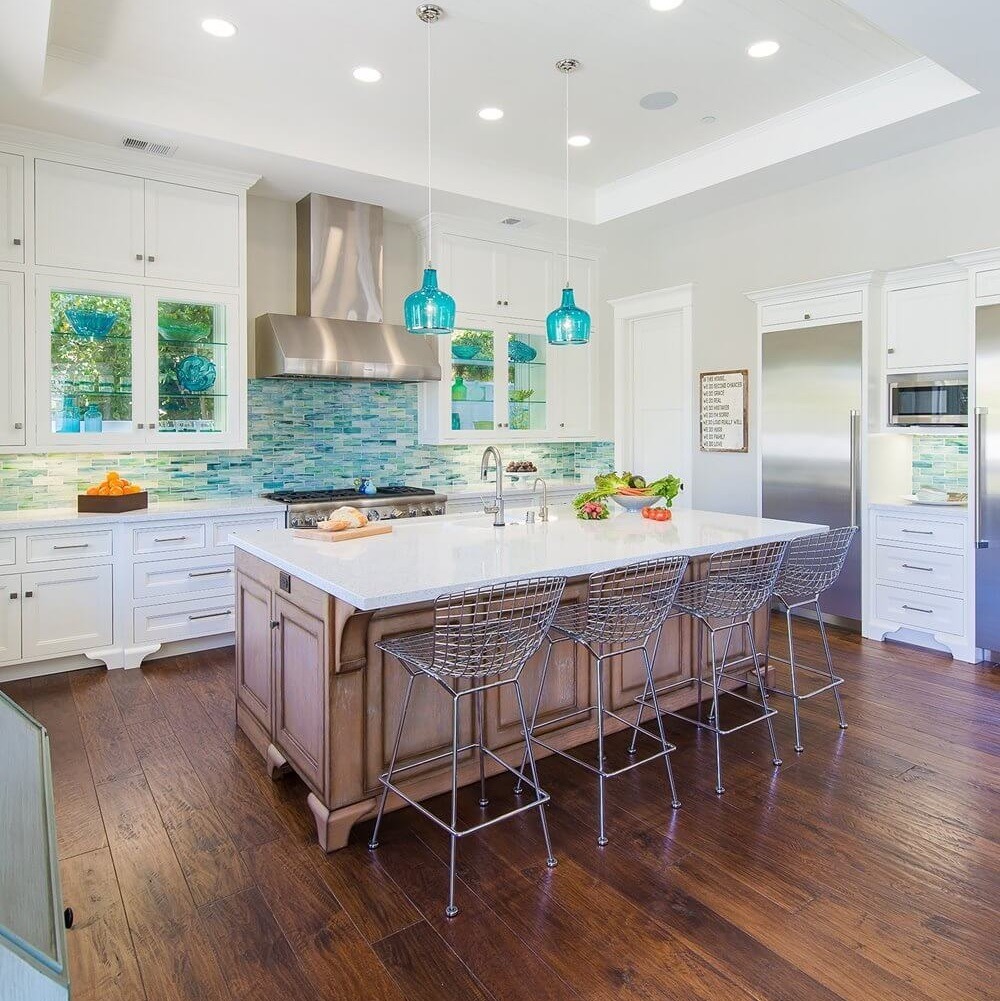 This kitchens decor is timeless. A mix of modern (Bertoia bar stools) and traditional cabinetry and floors. BTW, the Bertoia counter height stools are kinda hard to come by, so you can also find the bar stools here.. The turquoise tiled backsplash is some of the prettiest I've seen.  There is something very unusual with the kitchen cabinets. Have you noticed yet? One both sides of the range, the upper cabinets are see through. I've only seen that once before. Don't have room for windows? No problem! Haha

Stainless steel appliances and a close up of those gorgeous turquoise tiles. They coordinate perfectly with the white speckled countertop, white cabinets and hard wood floor. (MORE COASTAL KITCHENS)


Breakfast alcove tucked off the kitchen. Love the built ins. You just scoot around to make room for more. Three sides windows! Swoon. Let the sun shine in!
Never miss a Beach House Tour!
Delivered to you each Saturday morning.

Chairs with the neutral and just a hint of teal print look fabulous against the warm hardwood floors. I can't stop looking at this chandelier. The turquoise accents are definitely winning here. (BEACH DINING ROOMS)
More Lovely Beach House Tours

"Good Friends. Good Wine. Good Times." Fun and funky bar area for casual entertaining. Looks like you can just step right outside.

Rustic, coastal living decor in this beach bedroom. Brown walls and medium hardwood flooring for the master bedroom, along with upscale fabrics. Notice how the beach pillows pull in the seaside vibe..

Mosaic tile accents on the walls and floor are superb here. I like duplicated details for continuity. Lovin' the large bathroom mirror here. We often do this in our spec houses and it really makes the bathroom look spacious. So as not to compete with the mosaic tile, they went for a solid surface countertop.

Here's another bedroom inside the house – blue-green themed and all. It's a nautical themed kids room – for girls. Not sure what to make of the velvet headboard; to be more specific, the color. Hmmmm… (BEACH THEMED BEDROOMS)

Fun and festive coastal bath decor with blue subway tiles lining the bathtub walls, and blue-green mosaic tiles for mini backsplash at the sink. Look at the knobs on the vanity.
Never miss a Beach House Tour!
Delivered to you each Saturday morning.

Now here's a nautical bedroom if I've ever seen one! Red, white and blue all the way… all the way to the proud American flag. I almost didn't notice that Spiderman pillow case.

This coastal bath gets the beach feel from the tiled rectangle framed wall mirror, and twin light fixtures.  Also seashell soap dispensers.
They managed to turn their patio into a mini resort feel with the waterfall and spa. Hubby and I are getting ready to build and we've been talking water feature. I'll have to show him this.
LOVE it?? PIN IT!