Lake Worth FL Beach House

Lake Worth FL Beach House Rental: Welcome to one of Lake Worth's historic cottages! This little 1942 cottage-style bungalow has beachy vibes all around. Step inside this Lake Worth FL airbnb and stay awhile.
Does this bright blue front door look inviting or what? How about the convenient hooks outside for wet towels. Creative, plus it looks good.
Photo Credit/
Airbnb.com
where you'll find all the info about Melissa's AirBnB Lake Worth FL just minutes to the beach and Lake Worth Casino Building and Beach Complex | Post contains
affiliate links
.

A view of the open living room. A mix of neutrals and bright colors in it. Blue rug with interesting patterns. (LIVING ROOM DECOR IDEAS) 'The ocean is calling and I must go' mermaid sign is so cute. I couldn't find that mermaid sign, but I did find 'The Sea Is Calling and I Must Go and Sunshine & Salt Water' wall art at Wayfair you see below!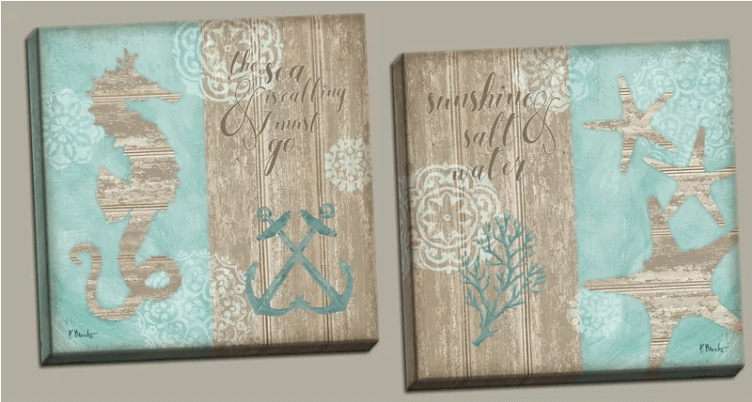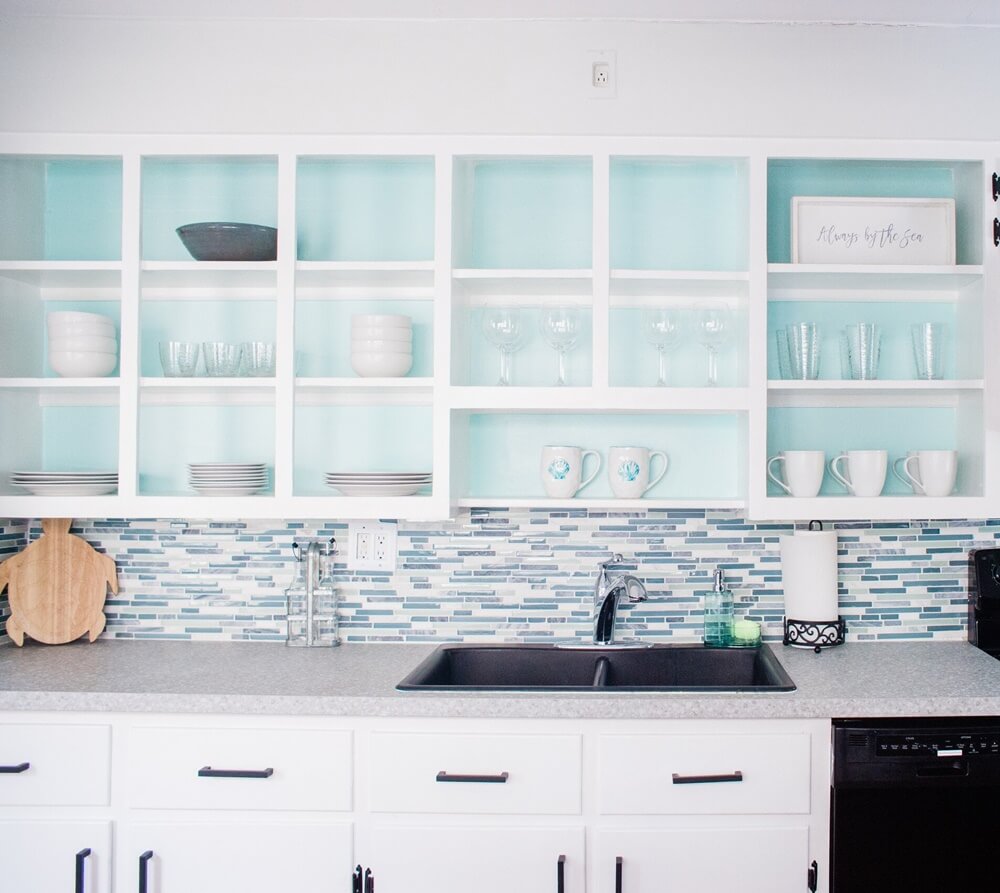 Blue green tile backsplash really works in this kitchen with the white open shelves and turquoise painted background. Just goes to show, oftentimes "simple" is better. How about the turtle-shaped cutting board on the side there?
I also like this bamboo turtle cutting board where the outline of the turtle is carved in the wood. Love the classic white kitchen cabinetry. (MORE COASTAL KITCHENS)

Can't you just see yourself in this little airbnb lake worth fl, ready for a breakfast of fresh fruit and cereal… in anticipation of a day at the beach? The blackboard on the wall with 'But first … Coffee' writing on it is a nice touch.
The best part has to be the wooden dining table set next to a bright big window. Notice the whale planters. Light blue color for the traditional wooden chairs mixes well with the dark blue cabinetry. (COASTAL DINING ROOM IDEAS)
Never miss a Beach House Tour!
Delivered to you each Saturday morning.

Flamingo themed bedroom in this beach bungalow. Queen size bed with classy bedding for additional comfort. Love the flamingo wall art and the flamingo with a swimming ring on one of the side tables. And of course the Flamingo Pillows. What a welcoming beach bedroom. I love when the home owner even thinks of something as simple as making sure the nightstands have a little drawer for convenience. (BEACH THEMED BEDROOMS)

Here's another bedroom in this cottage-style bungalow. Beach themed wall art pieces give a serene feel. Dark blue upholstered bed frame and headboard. Love the rug with turtle prints on it. I'll take windows on two walls any day of the week. Give me that Florida sunshine.
More Lovely Beach House Tours

Enough space (and maybe more) for the bathroom. Double vanities dedicated to be used by the whole family. The lights steal the show here. I must remember to ask melissa where she got them. Simple oval mirrors complete the look.

Outdoor seating hangout for the whole family. OUTDOOR FURNITURE at WAYFAIR. (Constantly updated) The area rug with pineapple prints looks awesome here. And a nice privacy fence so you can lounge in the backyard. Hand me a glass of sweet tea and my Kindle, and I'm set.
There is also an outdoor dining table for six, and a gorgeous grill for steaks and sizzling burgers.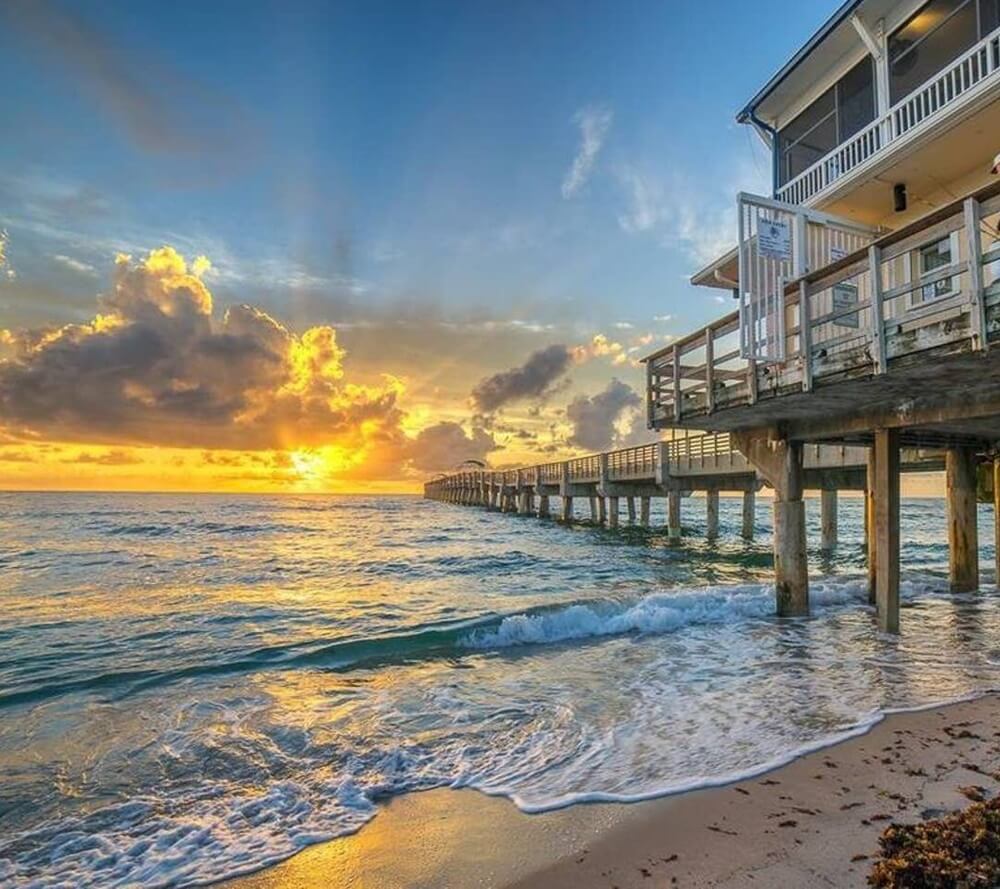 Just look at view at the beach in Lake Worth Fl. Magnificent, right? This was taken from the Lake Worth Pier, just two miles from this Lake Worth FL airbnb.
If this ocean view doesn't make you yearn for a fun beach vacation, I don't know what will 🙂
LOVE it? PIN IT!
Thank you for pinning! You help spread the word about SugarsBeach & these beach home owners. xo, Darlene