Whale it's a great day to be alive! (free printable)
Post contains affiliate links info. SugarsBeach makes a teeny, weeny commission, at no cost to you, if you purchase.
I created "It's a great day to be alive" free printable for you early 2020.
I know. I know. Sometimes I get sidetracked and don't deliver (in a timely fashion) the amazing things we create here at SugarsBeach.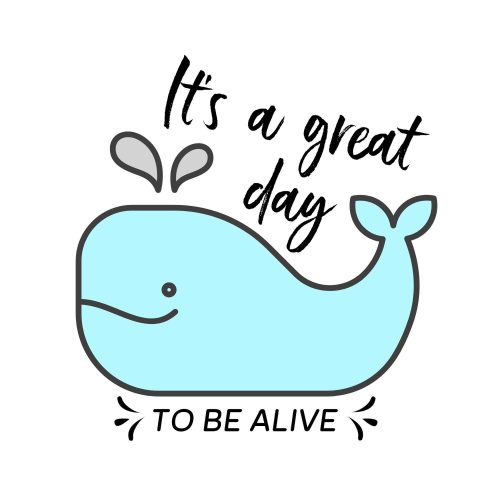 Last week when I finally decided to start offering free wall art printables to you, the first one I wanted to post was this adorable whale with "It's a great day to be alive."
I'm just gonna level with you.
With most of the world in lockdown over Covid-19, and so many people worried and stressed, I doubted if this was the right sentiment to offer at this time..
To be totally honest, I wondered if it was a bit rude when many people might not feel this is such a great time to be alive.
But, wait a minute.
It IS a great day to be alive!
Every day we wake up, it is.
Regardless of what is going on in our lives or in the whole wide world, it is a blessing to wake up each day… to be alive.
So with that, I offer you our very first free printable… our gift to you.
psssttt.. don't miss the other goodies below 'download' button!
"WHALE" Instant Download Printable
---
Lovin' our whale and his message?
He's everywhere!
You can find him on throw pillows, coasters, coffee mug, and more. Water bottles, tees, stickers, totes, buttons, etc.
---
---
---
---
You don't have to enter your email address to enjoy, but if you want to be "in the know" with all SugarsBeach goodies:
1) Download "Whale, It's a Great Day".
2) Enter your name/email below and join our family.
SugarsBeach Magazine delivered to you!