Four Winds Vacation Home (Budget series #3)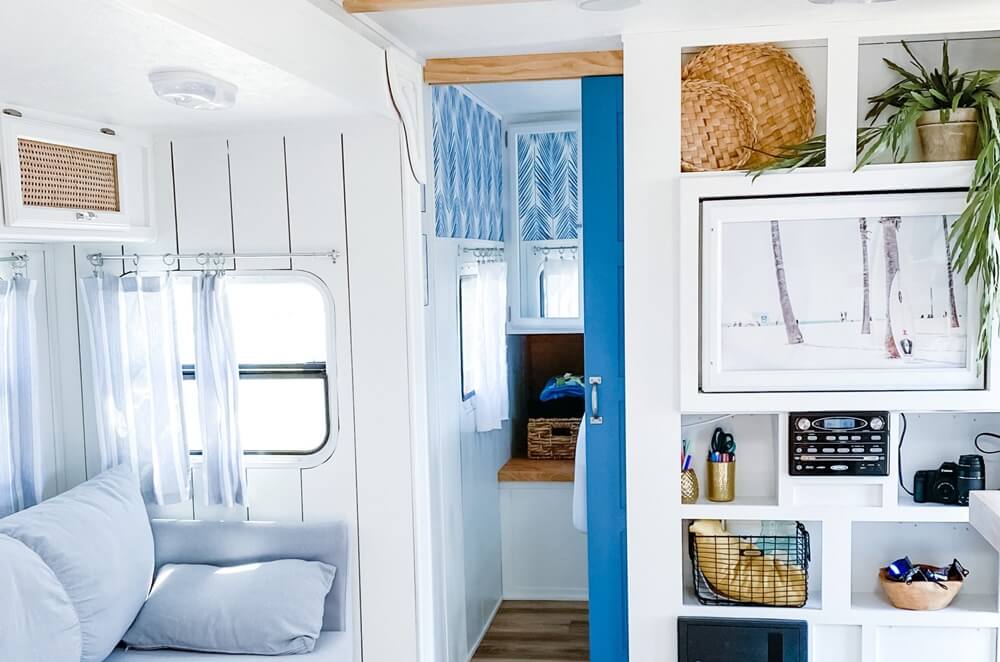 These budget series vacation homes are truly some of my faves. White and blue surely makes the room brighter and wider. If you take a look at it closely, it looks to have a lot of space.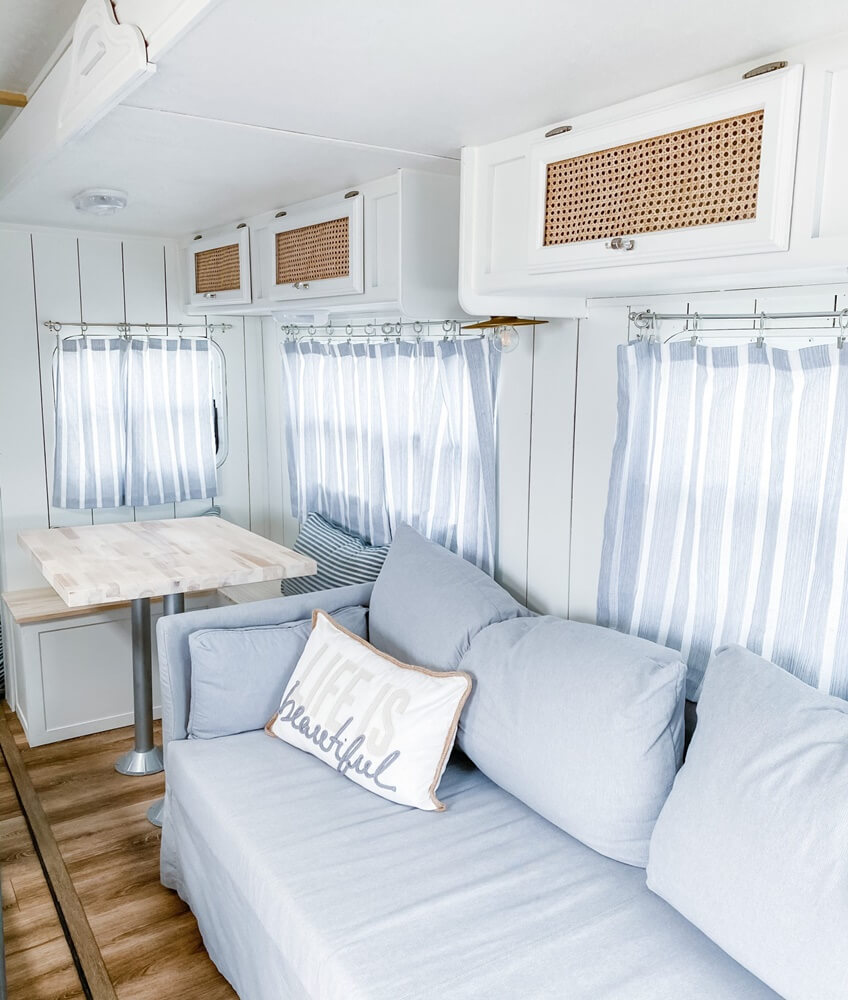 Here's a closer look of the comfy looking couch. 'Beautiful', indeed. The wooden floors look so natural here.


Here's another shot of the main space – white and blue colors surely make the whole area appear bigger. The kitchen sink on the right shows you a bit of the tiny (but efficient) kitchen.

The dining area with the bolted table just makes sense here. Everything has to be bolted to the floor so things don't move around when you're traveling from one beach town to another.
Never miss a Beach House Tour!
Delivered to you each Saturday morning.

Blue palm leaves design on the wall creates a vacation-like ambiance. The indoor plants brings more life in this budget home.


Here's the bedroom (one of the areas behind the cute blue doors) where the palm leaves wall design continues. Not spacious looking but that's expected — but the bed looks comfy.
More Lovely Budget Vacation Home Tours

Yup, it looks really comfy. The headboard looks cool here. Notice the white cabinets / storage spaces on top of the bed? Clever way to maximize the tiny space.

Here are the bunk beds with wooden frames. Looks cozy enough for a really good night sleep. We have loads of bunk bed ideas here.


More spaces created from the not so big space inside this budget trailer. Can you imagine having all this space? The bathroom looks clean and tidy with the white paint. And look, there's even a space for a houseplant or two.

I don't know about you but this bathroom sure looks classy. Just goes to show that with the right paint color, design, and decors, you can turn a teeny tiny bathroom to a world class one.


Great looking faucet and just the white bowl-shaped sink's just the right size. A waterproof looking countertop so it's easy to clean.
LOVE it? PIN IT!
Thank you for pinning! You help spread the word about SugarsBeach & these beach home owners. xo, Darlene