Easy Summer Salads

Post contains affiliate links. SugarsBeach makes a teeny, weeny commission, at no cost to you, if you purchase. Read more
Easy Summer Salads
Beach picnic salads roundup of easy (as in 30 minutes or less) summer salad recipes. I haven't tried them all, but I'm going down the list one by one. YUM!
As I was thinking about writing this post, I realized how much I like efficiency. What does that have to do with beach food?! Well… I'll tell ya. It's taken several family beach vacations to get meal planning down pat. In the beginning we did a combination of grocery runs and restaurant meals. I LOVE to eat out, but if you have a house full of people, it can get expensive, fast. Running to the grocery store during our beach vacations wasn't the answer either. Aside from the hassle, the receipts seemed to add up to practically as much as if we'd all gone out to eat.
If you're driving to your beach house rental, or simply having friends and family over during the summer, I have the answer with easy summer salads.
Make several beach picnic salads ahead of time and pack them up! I do this with several meals, but for this post, we'll just do the summer salad recipes. Aside from saving money and having on hand delicious eats, you won't be stuck in the kitchen. You, too, can be out enjoying the beach.
Easy Summer Salad – Sweet and Spicy
Healthy summer salad that's super simple and fast to make ahead of time. You have a cucumber base with black beans (or kidney beans) and corn added. Throw in two large avocados, cherry tomatoes, green peppers and cilantro, and you have a refreshing salad that is perfect to take along to your next beach vacation.
---
Easy Summer Salad – Lemon Poppy Seed Fruit Salad
I'll warn you right off the bat, you have to scroll thru a bunch of ads and other stuff before you get to this fruit salad recipe, but once you get to the pin, you're there! The fruits in the recipe are strawberries, mixed berries and kiwi. Lightly toss the fruit and then add the lemon, poppy seed glaze. SUGGESTION: Cut the glaze recipe in half. It's nice as a subtle touch, but with all that heavenly fruit, why not do a light toss of the glaze? But then I'm the person who prefers my cinnamon rolls without a glaze at all. LOL
---
Beach Bliss for You!
Delivered to you each Saturday morning.

---

RECIPE HERE
My Healthy Dinner Salad Recipe
Here we have my very own Healthy Salad recipe for Dinner. I eat it 5-6 nights a week. It's refreshing. It can be low calorie because of my secret technique where you need practically no dressing.
---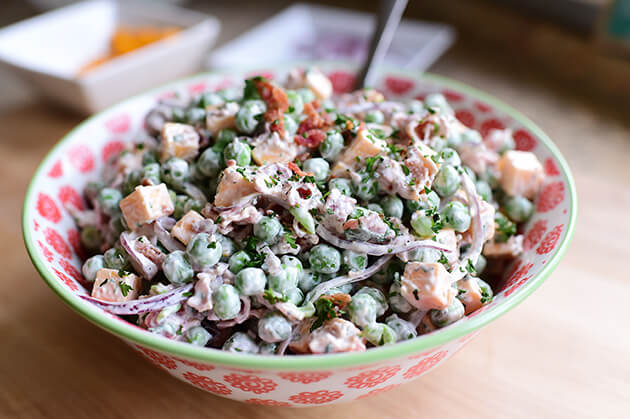 Easy Summer Salad – Cold Pea Salad
Believe it or not, I tried my first Pioneer Woman's recipe just a year ago. I was looking for something close to my Mom's mac and cheese, and I made Pioneer Woman's recipe. I won't lie, it wasn't as good as my mom's southern style cookin' but it was divine. SO! …when looking for a delicious pea salad recipe, I knew where to go. Shall we just mention right here that there's bacon? Enough said, right? You start with frozen peas, add crispy bacon, and then toss in purple onions (or Vidalia onion for milder flavor.) Add mayo, parsley and nice chunks of cheese, and it's ready.
---

RECIPE HERE
Easy Summer Salad – Italian Pasta Salad
Talk about the perfect beach picnic salad, this Italian pasta salad might be the one. It can be used as a stand alone meal. A snack. Or it can accompany a sandwich. You start with a nice firm pasta like fusilli or penne. Add summer sausage or salami cut in chunks. You'll want fresh mozzarella cheese balls. Other salad ingredients are: cherry tomatoes, black olives (ah. yeah!) red onion, crumbles feta cheese, Italian dressing. There are ways to make this summer salad low cal. Just cut back on the cheese and meat, and add extra veggies like blanched green beans, artichokes, hearts of palm, spinach. You can double up on cherry tomatoes, too.
Easy Summer Salad – Classic Potato Salad
Now what would summer salads roundup be without a classic potato salad? Sometimes I make potato salad to eat as a meal (especially if you sprinkle a little bacon on top!) This particular potato salad begins with large russet potatoes. I like to peel about half of the potato but it's pure preference. Boil plenty of eggs. Add a little celery for crunch and color. Also, sweet onions, onion powder, dash of sugar and sweet pickles. To bring it all together, blend mayonnaise, mustard and apple cider vinegar. I use Organic Braggs Cider (AMZ aff link) Garnish with paprika. Serve warm or refrigerate.
---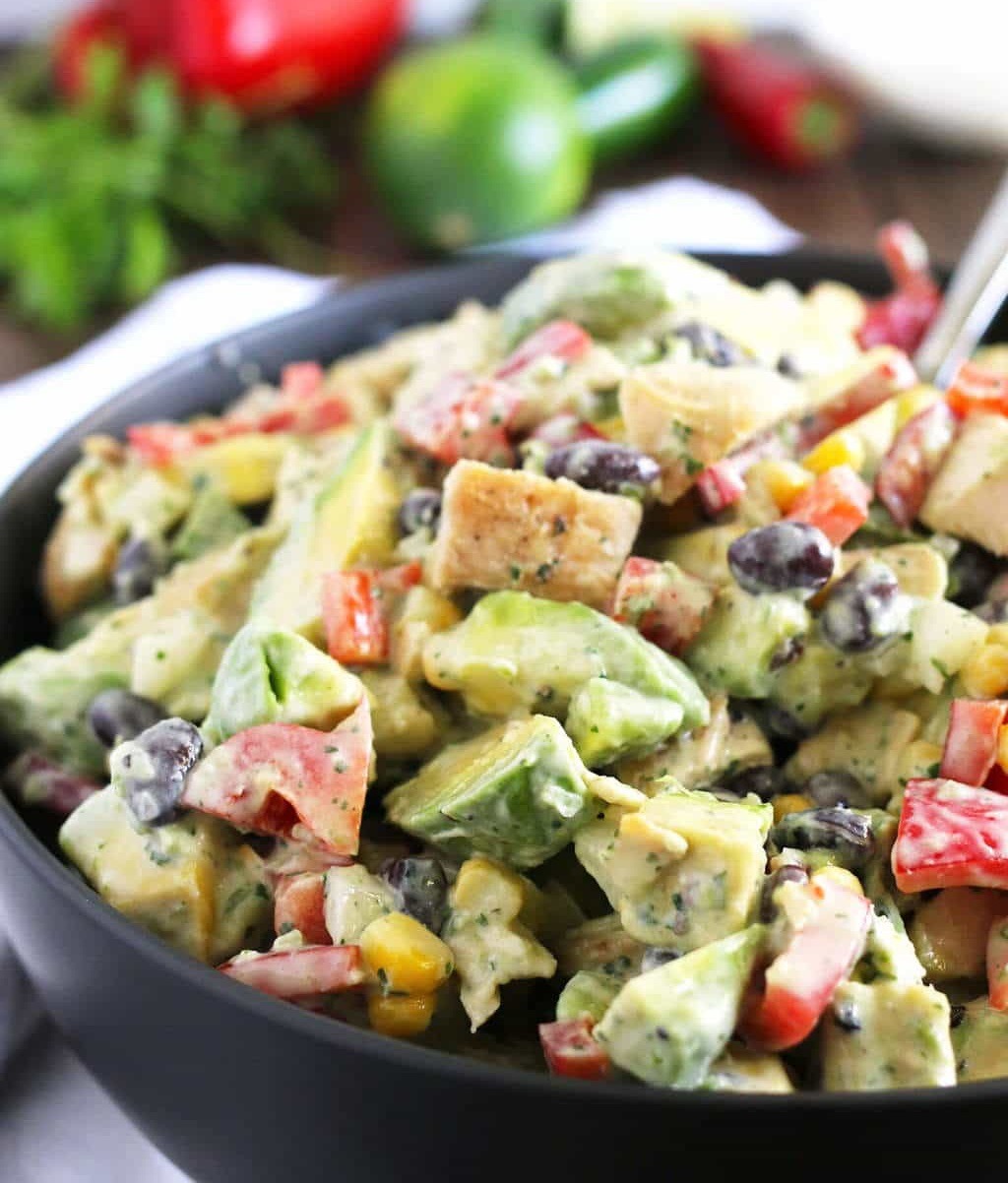 Easy Summer Salad – Grilled Chicken Avocado Salad
Now I promised you summer salads in 30 minutes or less, so for this grilled chicken avocado salad, the way to do that is to purchase the chicken already grilled OR do a quick sear/fry in the pan. Other primary ingredients are: Avocados, black beans and corn. You'll add red bell pepper, fresno peppers, onions and the Jalapeno Cilantro Dressing. I won't list all the items that go into the dressing, but greek yogurt is one! You basically toss all the dressing ingredients in and blend so it's quick and easy to make. Personally I think this grilled chicken salad would taste awesome with pasta. The pasta would absorb the yummy cilantro dressing. I like to make a picnic salad recipe "as is" and then experiment a bit. 🙂
LOVE IT?! PIN IT