Dunmore Town Renovated Beach Home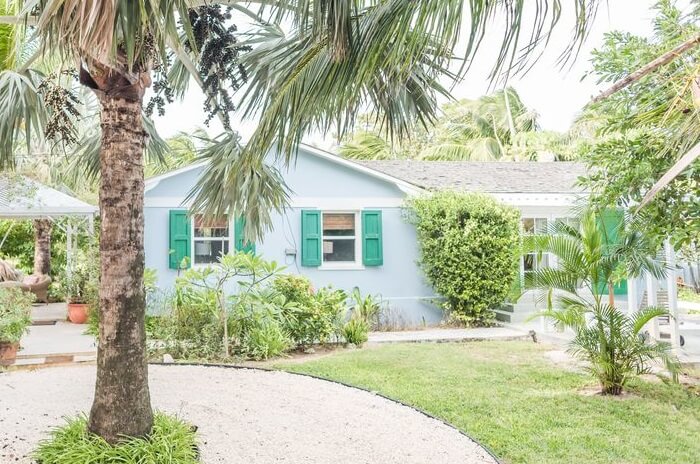 Ever been to Dunmore Town, Bahamas? Today's house tour features a newly renovated beach house on a 1-acre property located there. We've gathered some insta-worth shots below, credits below. Let's have a look!

How cute is this area in the main room? Lovely framed artworks and that yellow surfboard stationed on the side really bring character to this room. Beach towels are easily accessible right on the side, too!


Here's a view of the coastal-inspired kitchen. I'm lovin' the hand-painted Cuban tiles that's all over the beach house. I also like the wooden materials all around like the cabinets, chopping boards, decor, bowls, and more.

Here's the dining area with the round and white-painted wooden dining table, and six chairs to match. But I'm eyeing those bottles. Let's take a more closer look, scroll down.
Never miss a Beach House Tour!
Delivered to you each Saturday morning.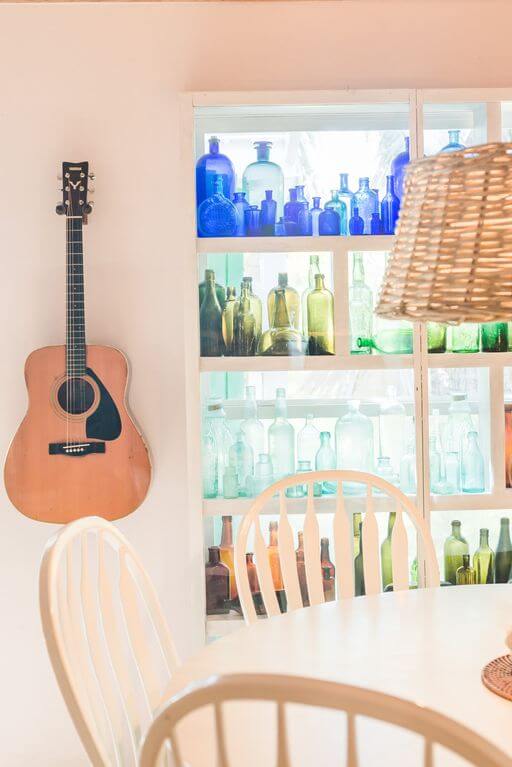 Yup! Those are antique bottles all found in the Bahamas. What a great collection! And an inspiration to all of us thinking of things to do with our bottles. There ya go.


Here's a look at the master bedroom. White painted walls and side tables. Are you looking at those bottle lamps? Me, too!
More Lovely Beach House Tours

I like this side of the master bedroom. The wooden framed mirror and coastal decors found on the rustic table surely brings 'seaside' vibes.

I think this is my favorite part of the master bedroom. The wooden desk and the artwork that's functioning as one of the table's decor. What a brilliant idea!

This is the second bedroom with three twin beds. Two of them could be converted to the one you're looking at – a king sized bed. Smart, eh? Yes!

Here's the other twin bed located in another area of the bedroom. Rope framed map decor, the globe, and the throw pillow covers, this room is dedicated to all the travelers out there, or to all of us (or maybe some of us) who wish to travel more.

Here's the front patio with a wicker sofa and those comfy cushions. And that noticeable colors for the throws work!

And here's the back patio with the wicker sofa set, upholstered cushions, partnered with those decorative throws. All in all – this is one great beach house found in Bahamas. So…. where to next?
LOVE it?? PIN IT!
Thank you for taking time to pin! It helps spread the word about SugarsBeach & the owners of these beach homes. xo, Darlene
FUN READS
Coastal Kitchens – Great beach kitchen decorating idea.
Beach Dining Rooms – Gorgeous beach decor tips for your dining room.
Beach House Rentals – Plan your next beach vacation.
Beachwear – Look like a million bucks at the beach.
Want more beach time? – Start a blog! It is hands down THE best way to make money & build your biz around the lifestyle you want. 🙂