Beach Dining Room Ideas
Post contains affiliate links info. SugarsBeach makes a teeny, weeny commission, at no cost to you, if you purchase.
Beach Dining Room Ideas: As much as you enjoy looking at Beach Home Tours, sometimes it's fun to get coastal design ideas for specific rooms like dining rooms, coastal kitchens, etc. Especially if you're doing a remodel, the individual beach photos can help you plan. Enjoy! xo, Sugar 🙂
---
Never miss new dining rooms added (plus other awesome coastal decorating ideas) delivered each Saturday morning!
---
No shortage of natural light in this dining area. Long wooden table paired with white wishbone chairs. Also, can't take my eyes off of the Global Lighting light pendants there. Visit the full beach house tour here >>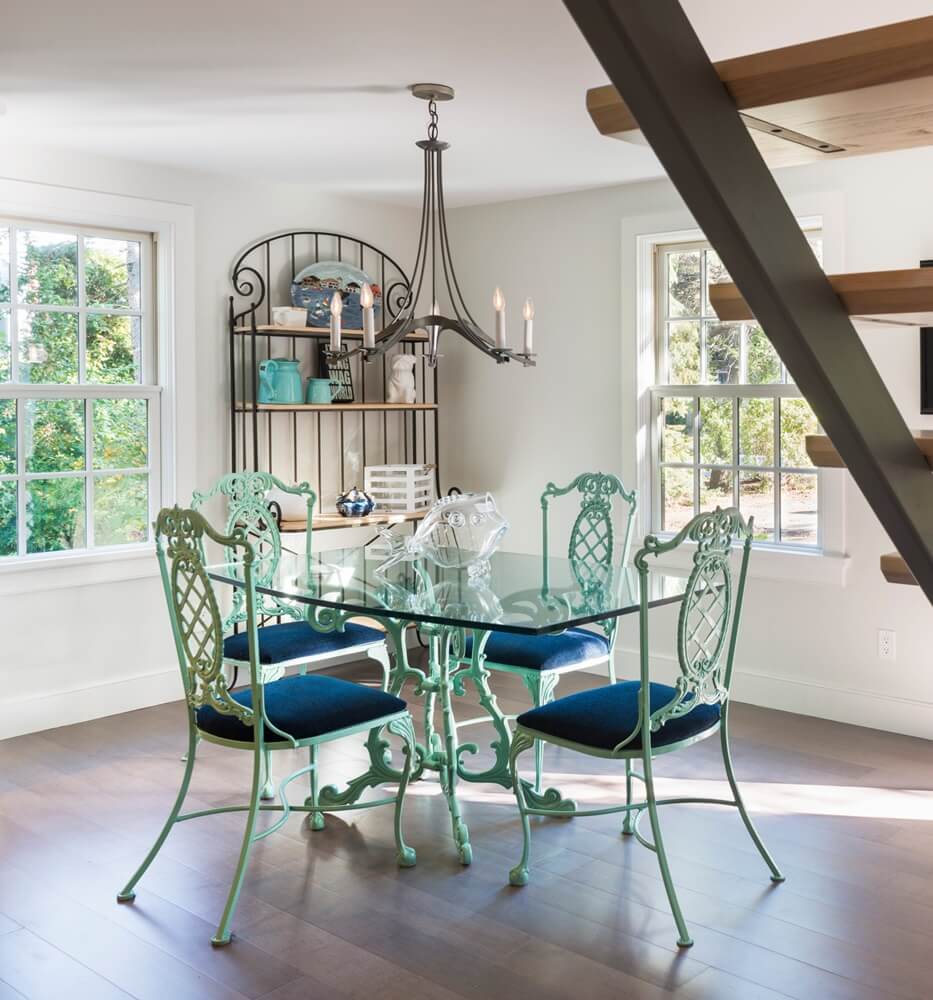 Wrought iron dining set indoors. Turquoise colors set the tone here. Classic chandelier with candelabra light bulbs. Visit the house tour for this Rhode Island beach house.
Foldable dining table to save space – recommended for guest cottages or small beach homes. Take a peek inside this cozy cottage in Martha's Vineyard.
A dining area with happy vibes. Sweet coastal setting. Colorful artwork that's definitely the highlight in this area. Happy colors from this beach house tour!
Intricate details all around – starting with the chairs and tables. Patterns. Patterns. Patterns. If you want to see more, visit this classic and historic Laguna beach home.
A coral chandelier is featured in this dining room inside a wonderful beach house in Naples. Huge wooden dining table and a large beige area rug look really good in here.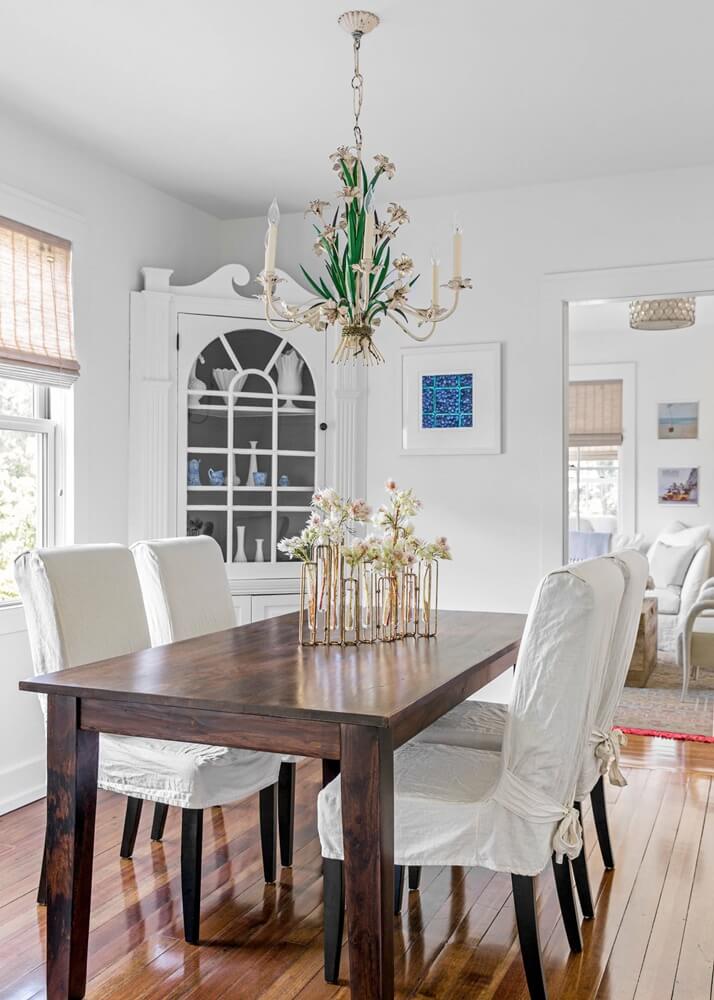 Traditional setup and a lot of coastal vibes on this dining room. Adding the cabinet in the corner proves to be space saving and neat-looking. Visit this beach cottage here.
I like the nature colors of the elements displayed in this dining room. They really go well with the nude tone that's going on around this room. Check out this lovely vacation home.
Crate & Barrel wooden dining table. Wooden bench sitting and white covered dining chairs. Framed artwork displayed on the shiplap walls. Boston MA Beach house tour here.
Nice looking chandelier on top. White wooden chairs and benches to complement the wooden dining table with glass top. White painted shiplap walls and windows, windows, windows! Visit this lovely beach home tour >>
Upholstered dining chairs in blue color for this dining area. Simple dark wooden dining table with a light-colored wooden tray in the middle. Check out this Corona Del Mar Beach House.
A custom-made chandelier that's made out of 1930's car headlights is featured in this beach house in East Hampton. Lazy Susan on the dining table.
Moooi lighting fixture featured in this dining area. Wooden table and benches complement the flooring. Check out this beach cottage in San Diego.
The dining chair covers complements the Oushak area rug in this dining room. Love the rustic vibes coming from this room. Very inspiring beach house tour here.
If you're looking for a contemporary beach house dining room, you'll be happy to see this one here. The sea green globe chandelier surely adds to the modern design of this room. Take a look at the full beach house tour here.
These turquoise dining chairs are definitely FAB! Turquoise glasses and pillows to stay true with the beach theme here. Modern lighting fixture adds to the mood of this room. Visit this beach cottage here.
You'll find plenty of dining room decorating ideas in this breakfast nook found in Newport Beach, California. Colorful throws to give life to the comfy cushioned seats. Artsy wallpaper found on the ceiling. More from this beach house tour.
Dining room decor idea: White woven rattan dining chairs to complement the simple and rustic wooden dining table. This room sure has a wonderful view. Come and visit this beach house tour.
Coastal dining room found in this lovely beach cottage in Maine. Bistro style chairs. Wooden dining table. Beach tones all around. White painted wooden side cupboard to house glasses, cups, bowls, and more. More from this historic beach cottage.
Modern and popular lighting pendant (Darlana large linear lantern) featured in this awesome dining room found in a pretty coastal cottage in Hobe Sound. The vintage farmhouse table featured here is actually from Belgium. More beach home decor inspiration from this lovely beach cottage tour.
Funny thing about this light fixture… my husband just finished a custom home and they picked the same island pendant light fixture. I must say, it did look fab.
Can't take my eyes away from those custom upholstered rose colored chairs and the uniquely printed curtains. The Ro Sham Beaux beaded lighting fixture surely belongs to this mix. More pretty coastal decor inspiration from this beach house tour.
White beaded chandelier that probably looks elegant at night above that vintage-looking dining table and blue painted bamboo dining chairs. You can see all the coastal decor ideas at the beach house tour >>
This Bead Chandelier dining room pendant light fixture might be the exact same beaded chandelier as you see in the coastal dining room above. What do you think?
Classic lighting fixture in this dining banquette. A clever use of space, this area looks really cool. Green-blue prints on the throws and cushion for the banquette. Wooden shiplap walling. More from this beach house tour >>
Lovin' the modern chanderlier above that long dining table and wooden dining seats. Home-y vibes from this dining room found in a beach home located in Santa Rosa, Florida. Get more inspiration from this beach house tour here.
Perfectly upholstered dining chairs around the round hardwood dining table. Natural wood color for the kitchen side cabinet. Blue and white details on the kitchen curtains. More from this beach house tour.
Awesome view from the dining area. Swedish style dining chairs, rustic look for the beaded chandelier, and wooden dining table. Roman shades to add more elegance in the dining area. More beach themed rooms here.
Cyan-colored upholstered dining chairs plus those unique rattan side dining chairs. Custom-made patterns for the floor. White lighting fixture above the dining table and some really great artwork on the wall beside the kitchen. Get some coastal decor inspiration in this beach house tour.
Huge and nice floral prints for the carpet. A combination of different colors, mostly teal. Elegant chairs for the glass dining table. Wooden side cabinet on those wooden floors. Get more beach decor inspiration here.
Neutral and teal prints for the dining chairs. Round and wooden dining table looks good on those hardwood floors. Turquoise detail on the huge round chandelier. Great beach decor ideas here.
Mediterranean-inspired dining room for a beach house. Clean looking dining chairs and two master dining chairs on both ends. Gold tones for the unique looking chandelier. Get more beach dining room decor ideas from this beach house tour.
Rustic style for the ceilings with those white painted wooden beams. White shiplap walls in between those white framed French doors. Thick and sturdy-looking wooden table partnered with the skirted chairs. Awesome chandelier hanging above the table. More from this beach house tour.
Sunbathing. Seaside. Boardwalk. Beach. Life. Yes, please? More photos of this coastal beach cottage here.
Grand chandelier above the wooden dining table for six. Wooden floor for the whole area. Neutral color for the dining chairs. More from this beach house tour.
Majestic and comfortable beach house dining area right here. Let's all take a moment … You ready to find more inspiring shots from this beach house? Go here.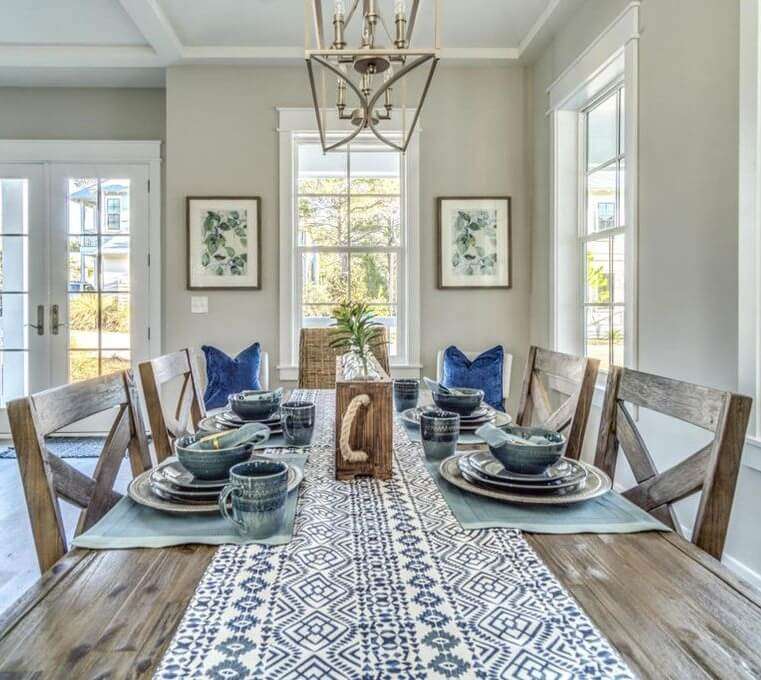 Shades of blue and brown when decorating work. Mental note. More photos from this beach house tour >>
Are you in love with those chairs, too? I am! More of this artwork style and photos of this beach house here.
Sputnik-like chandelier is the big winner here, really. More photos here: Beach House Rental
Starburst mirror in this dining room. Check out more photos of this beach house here.
Serious tone for this dining room right here. More from this beach house here.
Dining nook with those lovely candles. I love the whole beach house tour here.
Cozy, coastal dining room and stylish beach vibes right here! Check out more photos from this charming beach house.
Love to have shiplap walls in my beach dining room. Light adjustable dining tables with wicker chairs. See more of this beach cottage here.

See the entire house of this New Jersey beach dining room at Bay Head New Jersey Beach Cottage.
This grand chandelier definitely gives out the fancy vibe in this dining room. Check out the rest of the house here.
Wooden dining table for this lovely beach house. Lovin' the clam shell centerpiece here. One of my fave house designs where you float the living room, dining room…and then I assume the kitchen. Lends an open feel.
Beach Bliss for You!
Delivered to you each Saturday morning.

Fun beach dining room idea (or should I say breakfast nook?)… Built-in bench with additional free standing dining room chairs. See the entire home tour.
Candle chandeliers are timeless, right? This one's the adjustable kind (notice the rope.) See the island cottage here.
When you like artistic kind of stuff for your beach dining area, just look at this one! More beach decor ideas at this beach house.
Unique design for this chandelier here. I love those green chairs on wooden floor. More coastal decor tips with the whole beach house here.
Beach Bliss for You!
Delivered to you each Saturday morning.