Coca Cabana Beach House Tour

Blue but not gloomy! This beach house in Santa Rosa looks simple on the outside but just wait and see what's inside.
I love the blue throw pillows located on the sofa and the sitting area near one of the windows. The room is well-lighted with the help of those magnificent fixtures. Notice the unique shape of the center table, too!
Here's a royal blue velvet throw pillow case *set of two* on Amazon. If you want to add something beautiful that will be noticeable right away from your neutral-themed living room, this is something you should consider adding.
The shades of blue all over the house are essential, I believe. Take a look at the dining set right there!
Never miss a Beach House Tour!
Delivered to you each Saturday morning.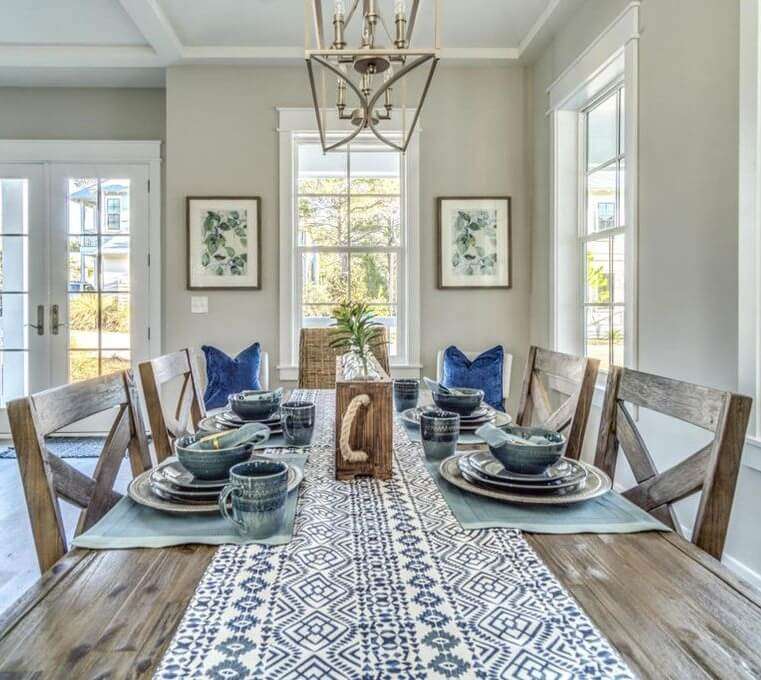 Blue and brown. Yes, it makes sense. When you're decorating, you're not always sure if certain stuff will jive quite perfectly. In this instance, the dining set surely looks good with the wooden table and chairs. Add the center table cloth, it works really well.
Farmhouse style lighting on your beach house. What a promising combo. This one's suitable for kitchen or dining room. It also comes with an adjustable hanging chain.
Here's another look at the kitchen and dining area. I would like to highlight the lantern hanging over the dining table. Looks really modern, right?
And yet another shade of blue for the master bedroom. I like the starfish decor on the wall and on the sheets. And of course, another shade of blue for the bedside lamps!
Create your coastal bedroom retreat with starfish, sand dollars, coral and scallop shells quilt set. Blue teal atop an airy white ground. Starfish pillow here.
I like how the bathroom also has the crisp wooden floors. The lighting fixture there says 'This is a beach house bathroom but no reason not to be elegant.'

LOVE it?? PIN IT!