How to Get a Coastal Look for the Holidays on a Budget

Post contains affiliate links info. SugarsBeach makes a teeny, weeny commission, at no cost to you, if you purchase.
How to get a coastal look for the holidays on a budget? Luckily for us, beach-themed holiday decor has become quite popular over the last few years. So many choices!
However, it can get a tad expensive to achieve that coastal holiday look so I thought it would be fun to seek out ways to add a beach holiday flair on a budget.
---
Color Theme
---
When you start planning any holiday decor the first thing you will want to think about what color palette you want to use.
If you picture a beach in your mind, you probably see different shades of blues and aquas, but there are also the neutral tones of the sand, driftwood and stones. These are the shade that you will want to incorporate into your beach-themed decor. These aren't the traditional holiday colors, but you can still create a beautiful and festive space with these colors. If you want to add a bit of glitz to your decor, then you could include a rose or matt gold too.
If you are looking to get a coastal look on a budget, then you will want to look for generic holiday decor items in your color scheme.
As soon as you get more specific with beach-themed holiday decor items, the price goes up!
Like the Willow Tree hand painted "Angel of Friendship" ornament. Sometimes it's worth paying a little extra for special pieces.
That said, let's get back to sprinkling holiday goodness in different areas of your home… while sticking to a budget.
Once you've picked your color scheme, start to look for ribbons, plain ornaments, baskets, boxes, and fabric that fit your scheme. Look around your home too, there might be items that you can re-purpose for the holidays.
---
Texture
---
A key part of a successful coastal holiday decor is to include different textures. Using natural textures of driftwood, stones, coral, reeds and more will help bring that beach feel to your room without spending a fortune.
Here are some easy ways to bring coastal texture into your room:
Put a wicker basket under your tree to hold gifts
Use burlap ribbon on your centerpiece or tree
Try jute or burlap table runner, napkins or napkin rings
Add fairy lights to willow branches or reeds. I love this!
---
Christmas Tree
---
A key part of holiday decor is often the Christmas tree. I know that not everyone will want a Christmas tree, but these same design ideas can be applied to other holiday decor items, such as garlands or wreaths.
For a while it was trendy to decorate palm trees (fake or real) instead of a traditional Christmas tree. If that's a little to over the top, you can go for something a little more conventional but still with a coastal-twist. Perhaps a white or white tipped Christmas tree instead.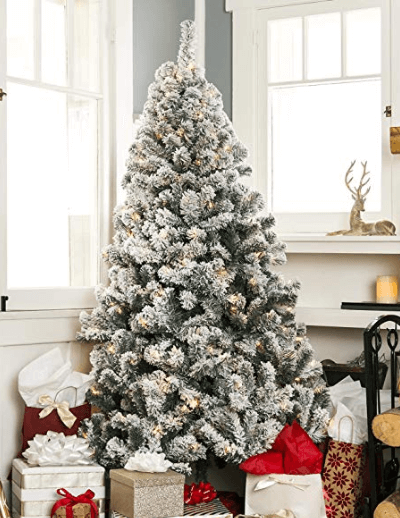 How about a white flocked tree that looks like it's snow-kissed? From Amazon, 7.5' tall and pre-lit with 550 white lights. As with all artificial trees, it will take some time to 'fluff' it the first time you use it to get a full look. I can almost smell the snow!
If you have less space and want a more compact tree, then consider a pre-lit thin white Christmas tree. It will take up a lot less space, but still bring a festive (and coastal!) vibe to your room! We had a skinny trees for years when the kids were at home. We had such a narrow spot for a tree, that it was perfect.
The height and size of the tree that you select will depend on your room and space available. But don't always assume that bigger is better. In beach themed holiday decor you don't necessarily need a massive Christmas tree in the corner of the room!
Maybe consider having a smaller tabletop tree instead. They bring the same festive look while taking up a lot less space. Bonus – if you have small children or pets, a tabletop tree might be more practical too! I found a 36″ Carmel Pine Tree with cones and burlap base.
---
Ornaments
---
First off, ornaments aren't just for Christmas trees! You can make an impressive and easy centerpiece by just filling a large glass vase with a bunch of ornament balls. Or arrange them on a tray with a candle or other focal item in the center.
To keep costs down you will want to look for bulk packs of generic ornaments in the colors of your choice. It's very easy to find packs of ornaments that are color coordinated at local super stores or online. Amazon has literally hundreds of options, so take a look for sets like these delightful ornaments (24 to the set!) that has different textures of aqua blue.
As you can see "budget" does not have to look inexpensive. It's a matter of being selective, and perhaps blending the less expensive pieces with a splurge or two.
Below is a coastal themed Christmas tree by Lindsey at repuroseandupcycle.com. She uses just generic ornaments (no shells or starfish!) but still has a strong beach vibe. Aside from the coastal look decor, I want that distressed barn door!
If you would like more of a coastal look, then once you have a base of ornaments, you can then add more specific beach-themed ornaments.
Once again Amazon has masses of coastal ornaments to pick from. I compared the prices of the beach themed ornaments in local stores and online and found that for the most part, Amazon was much cheaper. Plus you can't beat the convenience, that's for sure.
Here are some of my favorites:
Anchors
Add a nautical flare with these set of 3 anchor ornaments. When you click that link, they also offer set of 3 stars. They would look great on a tree or garland, or as an accent on a centerpiece.
Or wooden anchor ornaments set of 2 like below.
Shells, Starfish & Seahorses
Nothing sayings "beach" more than shells, starfish and seahorses! This set of 30 ornaments is great value. If you don't like them white, you could always paint them to match your color theme.
Or how about the starfish above which are already painted and would look amazing nestled among other holiday items in a coastal inspired centerpiece. You can also get them in plain white. Notice the little holes at the top so they can double as tree ornaments. I just wanted you to see alternative uses.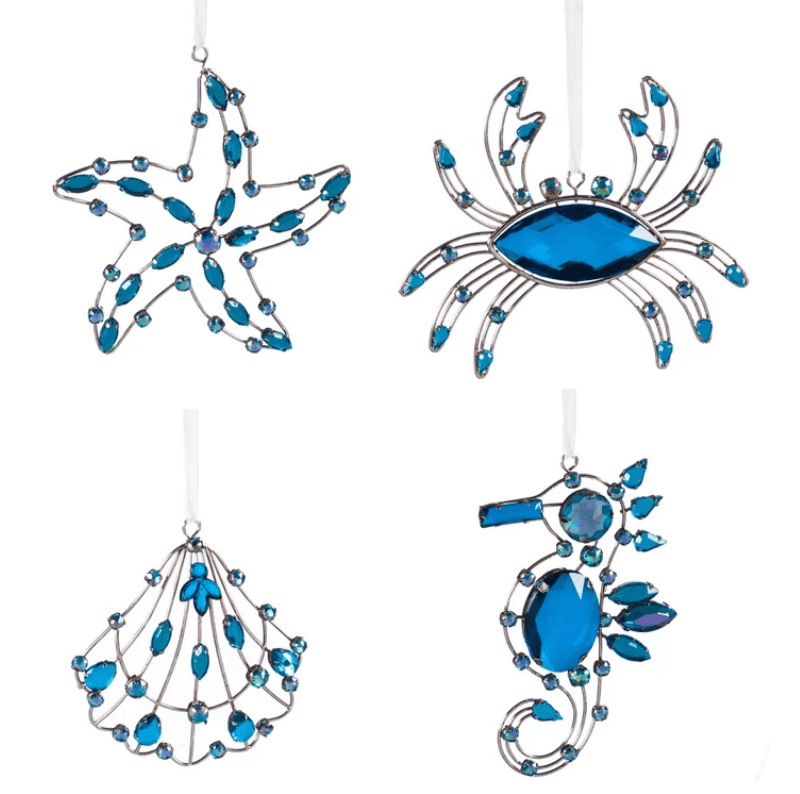 Don't you just love these?! Bejeweled metal starfish, seahorse, shell and crab 4-piece ornament set. They are right about 4″ x 3.5″ but check description for exact. You get all four pieces so I think this is excellent price.
Fish & Sand Dollars
Sand Dollars are an easy way to add a beach feel without breaking the budget! I found a set of good sized sand dollars that you can put strings on for tree ornaments… or get creative and add to table decor, wreaths, etc. So, hang them on your tree, attach them to garlands or wreaths, or string them together for a cute coastal trim.
Battery-Powered Lights
These aren't technically an ornament, but they are an easy way to add a beachy feel to your tree, garland or wreath.
Battery-powered string lights are EVERYWHERE now and there are so many different choices. I love these beach-themed lights as I think they look like seaglass too. They also look great wrapped around a wreath on the front door!
Aside from the seahorse and sand dollar you see in the image, that company has other beach themed lights (on the same page) like Ocean Curtain String, Turtles and Whales.
---
Accent Pieces
---
Holiday decor isn't just about the tree and ornaments. You can add a coastal feel to your holiday decor by using adorable accent items too. There really are so many to pick from, I couldn't possibly mention all the options here. But let's look at a few (budget-friendly!) items.
Wreaths
Wreaths aren't just for front doors! They can look awesome over a fireplace, above a mirror or even on your kitchen door!
Pillows
Adding festive pillows to your sofa, chairs, or even beds are a perfect way to decorate for the holidays.
I love fun pillows as they can add a little bit of whimsy to a space without being over the top.
There are my favorite beach holiday pillows from Amazon:
Table Runners
If you want to add some coastal flare to your holiday table, then what better way, than adding a table runner.
Exactly which table runner you pick will depend on your color theme etc. But if you've decided to add some natural texture to your room, then this burlap table runner looks great and will go with almost any decor.
Signs
The last accent items I'll talk about are signs! During the holidays it's nice to add a bit of fun into our rooms (kids and grandkids love it!), and it's easy to do that funny and festive signs!
You could consider making your own by painting on a blank wooden sign, if you have the inclination or time. But if that's not your cup of tea, there are plenty of ready-made signs to pick from.
I hope this article has given you some ideas of ways you can use beach-themed items to decorate for the holidays… without spending a fortune! After all, you want to save extra cash for buying your dream beach home.