Coastal Kitchens: Get Beach Themed Kitchens Decor Ideas
Post contains affiliate links info. SugarsBeach makes a teeny, weeny commission, at no cost to you, if you purchase.
Beach Themed Kitchens Decor: When you think about beach decor for house, one of your first thoughts is kitchen decorating. What kind of cabinets, counter-tops, backsplash. You definitely want to consider the layout. We've taken best from our beach house tours and put them all in one spot.
We update our coastal kitchens monthly, so sign up for our BEACH BLISS Magazine.
---
Don't miss out as NEW kitchens are added! Plus awesome coastal decorating ideas delivered to you each Saturday morning!
---
The coral-colored framed windows look very noticeable in this kitchen. The designer made sure that the coastal appearance is met. I like the simple kitchen bar stools here, too. Tour this historic beach cottage >>
Spic and span look for this beachy kitchen in Hobe Sound, Florida. White and glossy subway tiles backsplash. The white covered wooden island chairs complement the large kitchen island. Be inspired in this beach house tour >>
Bamboo cutting boards are must-haves in your coastal kitchen. This one's made of thick bamboo that's eco-friendly. (Amazon link here) It's a 3-piece set — wow!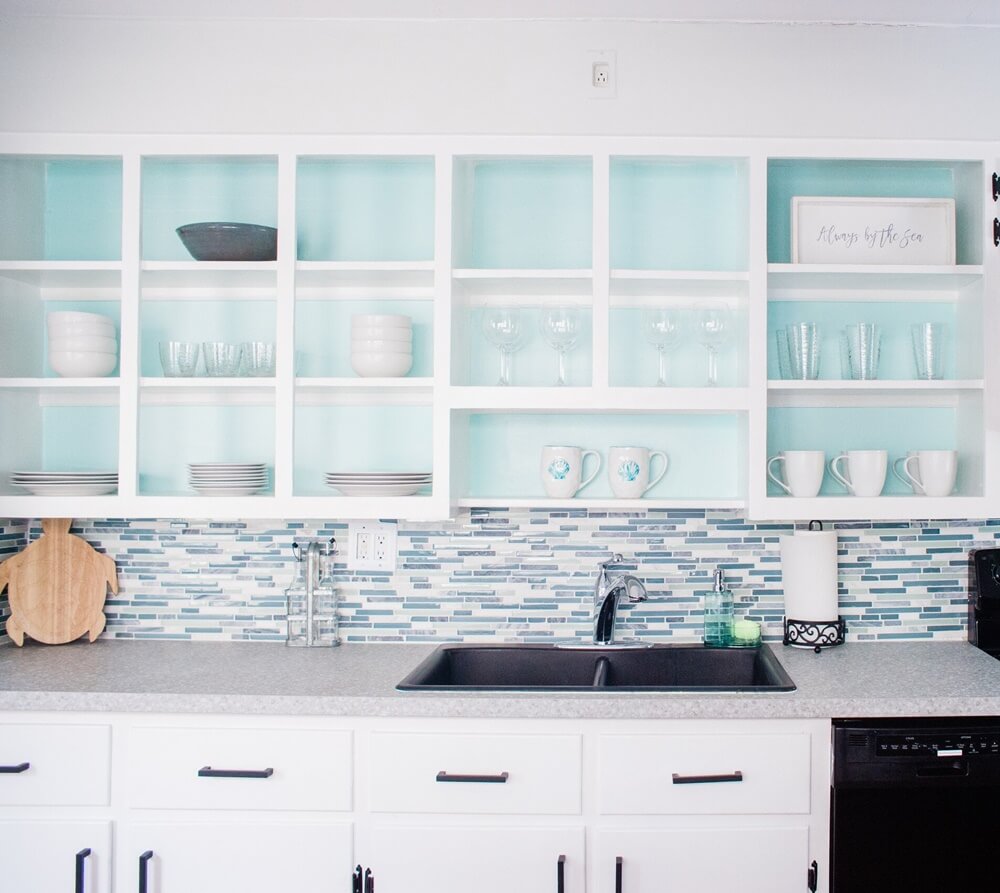 White open shelves but background is light green / light blue which complement the blue-green-white tiles backsplash under it. White cabinetry with black handles. And my absolute favorite cutting board – the turtle shaped cutting board! Awesome beach house tour here >>
Glossy subway tiles/bricks for beach house kitchens like this one. Lovin' the floating wooden cupboards. The silver colored lighting pendants offer a timeless look for the kitchen. Get more from this Ponte Vedra beach house tour.
Here's a similar metal pendant light fixture with brushed nickel finish for kitchens that's attractive and clearly, timeless. It's versatile and perfect for a beachy kitchen.
White subway tiles or bricks seem to be a popular backsplash for beach house kitchens. This kitchen from Kiawah Island features one, too. Thick wood countertop on top of the white kitchen island. Get more design ideas from this beach house designed by an award winning designer >>
---
Beach Bliss for You!
Delivered to you each Saturday morning.

---

What better way to start out beach themed kitchens than with this one at Newport Beach CA. You can see whole house tour here. Wild kitchen backsplash sets the tone for a beautifully decorated beach house. Blue cabinets. White farmhouse sink and lovely white granite (or marble) kitchen countertops.
Superb kitchen decor ideas found in here. Wooden beam ceiling found in this kitchen. Dark colored countertops on white kitchen cabinets. Gray colored floating cabinets on the side. Metal backsplash behind the range adds a unique element. Step in to this inspiring beach house from Montauk.


White subway tiles backsplash found in this kitchen with white and blue theme going on. Lovely kitchen bar stools that complement the Calacatta by Ann Sacks countertops. More from this beach house tour that's owned by a celebrity.
Carrara marble kitchen countertops in this coastal kitchen. White and shiny tiles backsplash and white cupboards. Kitchen counter stools are from Serena and Lily. Get more kitchen decor ideas here.
Gourmet kitchen with custom-made countertops in this beach style kitchen found in a Florida vacation rental. Famous white tiles bacskplash. Elegant lighting fixtures above the kitchen island. See entire beach house tour.
---
Beach Bliss for You!
Delivered to you each Saturday morning.

---
Coastal kitchens fun: Get ready for some hometown cooking coming from this kitchen found in 1930s beach cottage in Florida. White tiles backsplash and light shades of blue-green as wall paint. Get more cottage decor ideas here.
Here's a tiny beach house kitchen with this unique kitchen sink that was purchased from a flea market in Mexico. Check out this beautiful kitchen and more decor kitchen ideas in this tiny beach house.
Beach themed kitchen all in white. White kitchen island and white cupboards in this kitchen… yes pretty much every component. Window nook on the side; maximized storage. More beach house decor ideas from this beach cottage.
I tend to like a classic style. These white bar stools (on AMZ) are perfect addition to a beachy kitchen. They come in a couple of different colors too.
White cabinetry on beach house kitchens is popular these days. Going for simple, elegant, and clean look? Then this is the way to go. Love the bar chairs and the ceramic backsplash tiles. Get more coastal decorating ideas from this beach house in the Bahamas.
White and brown cabinetry with silver handles. Two different finishes on these beach kitchen cabinets. Wood panel flooring. Breezy-looking artwork on the left. Lovely kitchen from this Texas beach house.
Casual kitchen with great details. Clean looking custom-made kitchen counter chairs. Neutral colors all around but oozing with elegance. More decorating ideas for a kitchen in this beach house tour.
Lots of kitchens decor ideas! Nautical blue for the gas range. White cabinets all around. Shade of blue for the backsplash. Sprinkle of blue tones for the decor arounnd. Mercury Glass light pendants from Serenity Design. Get more beach decorating ideas in the beach house tour.
Zigzag design for the area rug in this kitchen. Wooden floors look good here, too. Marble countertops and low-key tones for the backsplash. Awesome beach kitchen ideas. See entire beach house from WaterSound Florida.
Wooden island bar stools on that marble countertop with blue painted cabinetry. White cabinets all around. Medallion style for the backsplash. More beach decorating tips here.
---
Beach Bliss for You!
Delivered to you each Saturday morning.

---
Green painted wooden bar stools partners great with the white painted wooden cabinets under the kitchen bar. 'X' details on the backsplash. White painted walls and ceilings. Interesting floor tiles. Take a look at the full beach house tour here.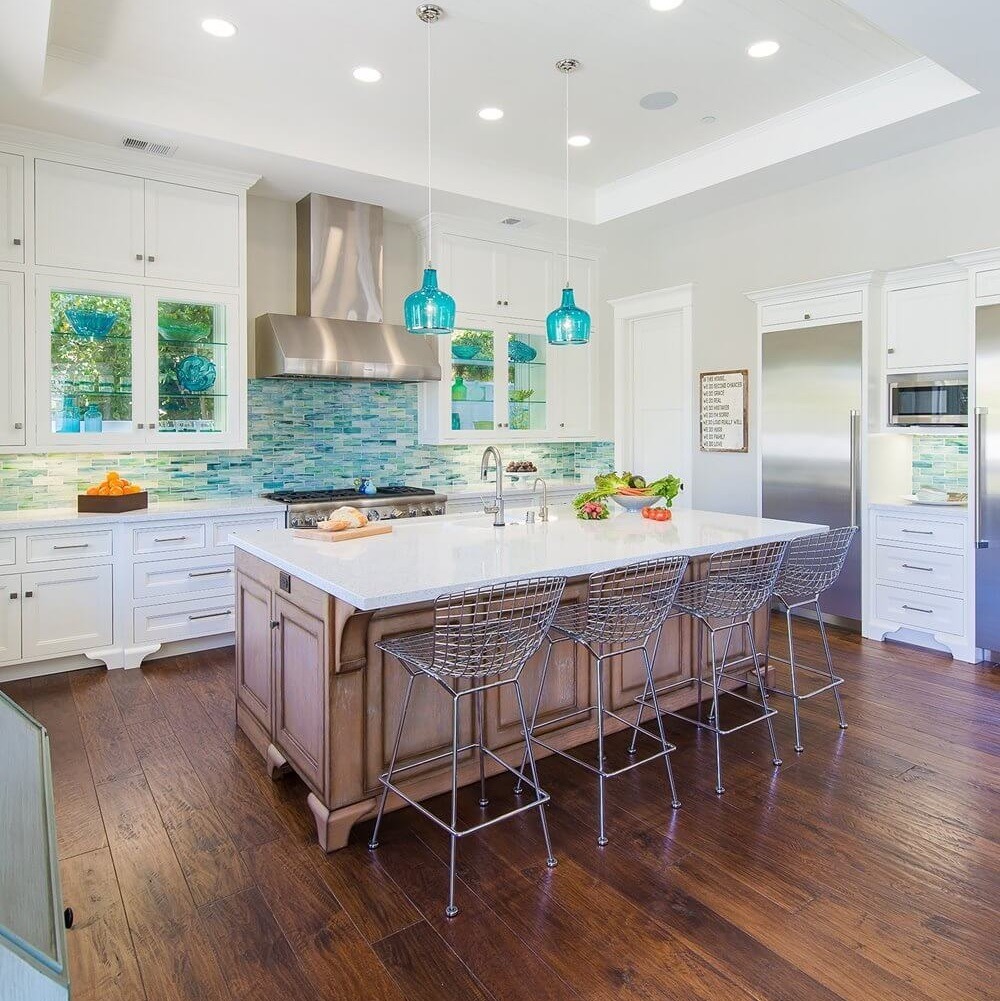 Bertoia bar stools on those wooden floors. Wooden look under the kitchen bar. Turquoise tiled backsplash partners with the rest of the white and turquoise colored decor. Take a look at this beachy kitchen in this beach house tour.
Hammered glass light pendants for the kitchen bar. Comfy kitchen bar stools on those wooden floors. Great details under the kitchen bar. Dark tones for the floating cabinets on both sides. Check out this Newport Coast California beach house.
Quartzite countertops for this beach themed kitchen. White painted cabinets and windows to add to the brightness of the room. Two simple light wall scones in between the windows. Check out more beach decor inspiration in this beach house tour.
Simple but elegant beach themed kitchen. Modern with a touch of 'old school' for the light pendants. Marble countertops on the kitchen bar which is popular in beach house kitchens. White painted wall and rustic wooden beams in this coastal designed kitchen. More from this beach house tour.
---
Beach Bliss for You!
Delivered to you each Saturday morning.

---
Cool beach kitchen ideas: What do you think about that sisal runner and farmhouse look cabinets? Loving the shiplap walls and ceiling. Check out this beach house tour located in a historic town.
Cozy coastal kitchen with wooden countertops and shiplap backsplash. Painted floor in a fun green color to remind you of the sea. Simple white kitchen cabinets with blue cabinet knobs and white ones! Fun nautical style kitchen decor. See the entire 1950s island cottage.
Coastal theme kitchen decor with solid white countertops and a black and white geometric design backsplash. I've noticed in the model homes around Austin, the geometric look is coming back. If you're not ready to do your backsplash, try the laundry floor or secondary bath floor.  Check out this timeless beach house tour.
We have a mermaid in the house! Whimsical beach house decor in this coastal kitchen. Open kitchen shelving give a casual look. Personally I'd like another window or two, but at least there is one.  Wonderfully restored beach cottage.
---
Beach Bliss for You!
Delivered to you each Saturday morning.

---
Coastal kitchens delight. Not one but two floating islands. If you look closely, the  island closest to the cook-top, sports two sinks. Yep, they face each other. Wow! How nice is that if you're into entertaining big crowds? Lots of great beach theme kitchen decor ideas here. See the whole beach house tour.
Absolutely adore the shape of the island for this coastal theme kitchen decor. Notice the bar stools have slipcovers. White beach cabinets with timeless glossy subway tile backsplash. Get more beach house decorating ideas at the beach hous tour.
Lovin' the marble countertops in this kitchen. Visit this beach house rental here.
Photo Credit and more beach theme decorating ideas at  SabrinaAlfinInteriors.
Traditional white coastal kitchen. More coastal decor photos at the complete beach house here.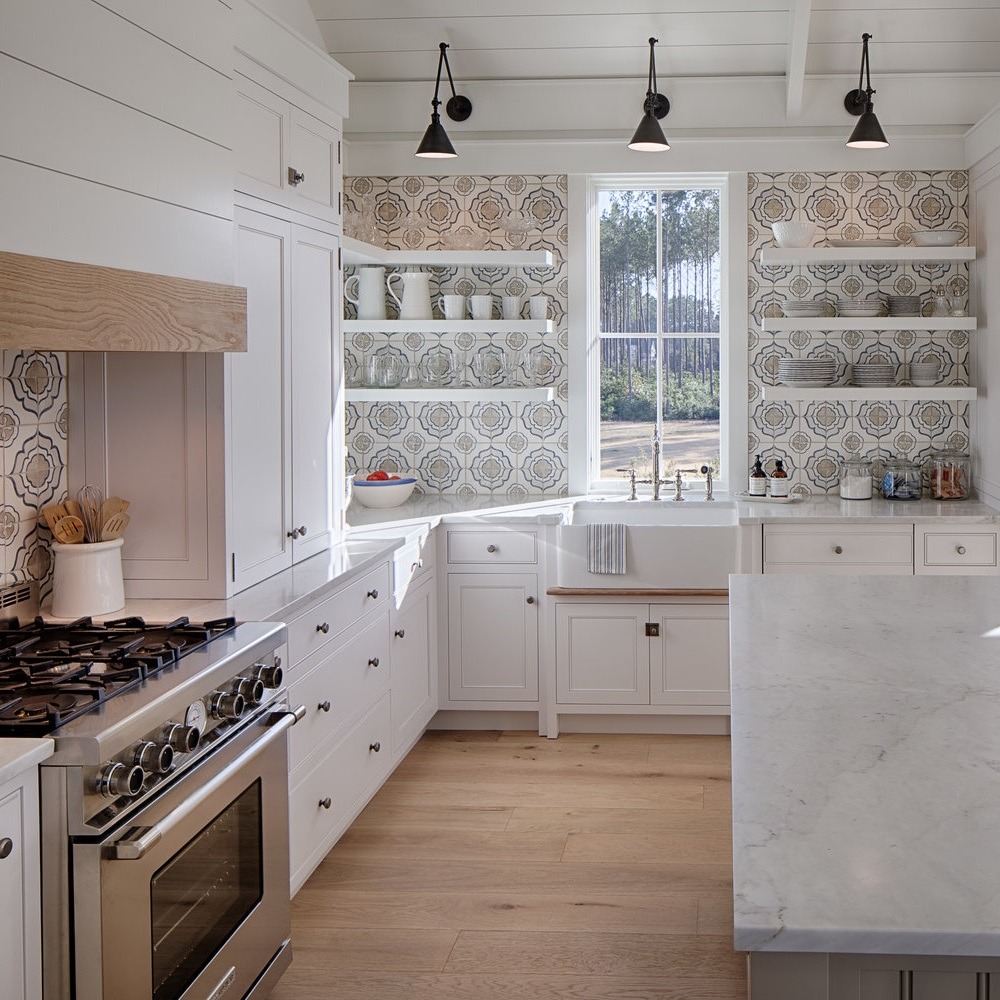 Give me a white kitchen every time! What do you think about the geometric backsplash? Classic. More low country (Bluffton to be exact) photos at LisaFureyInteriors.
---
Never miss new coastal kitchens added (plus other awesome coastal decorating ideas) delivered each Saturday morning!
---
White walls and blue chairs for this coastal kitchen. See other beach theme decor at the home tour.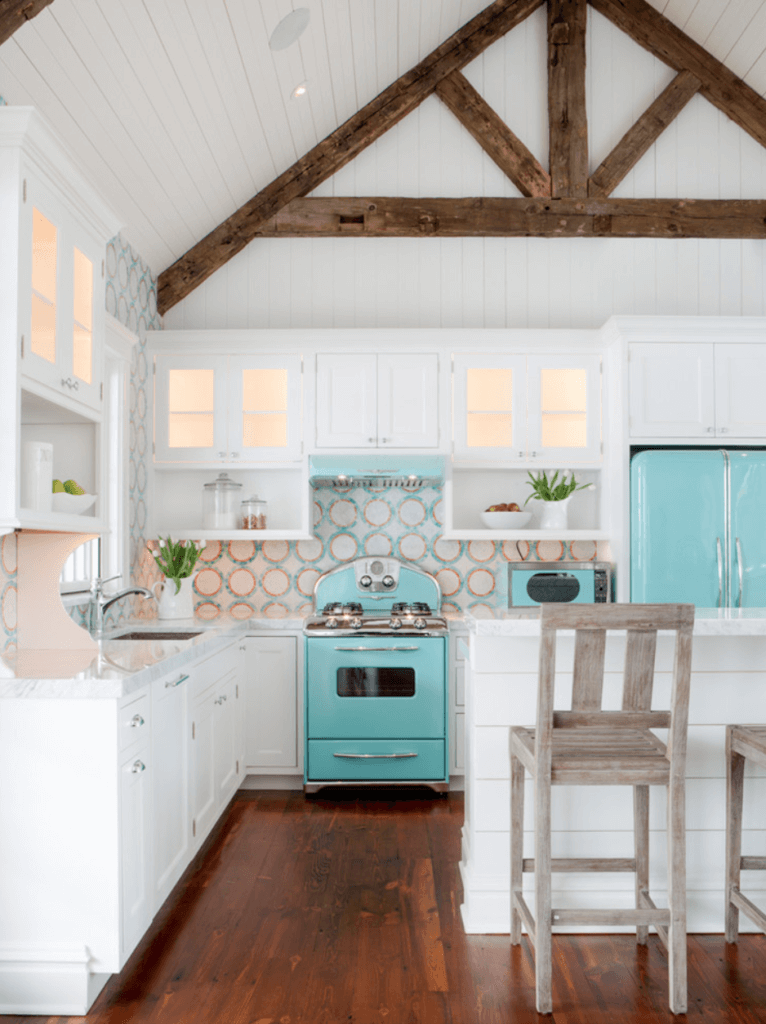 I swoon for a white kitchen with hardwood floors, but this Jenny Rausch design (Denash Photography) takes the cake for a coastal theme kitchen.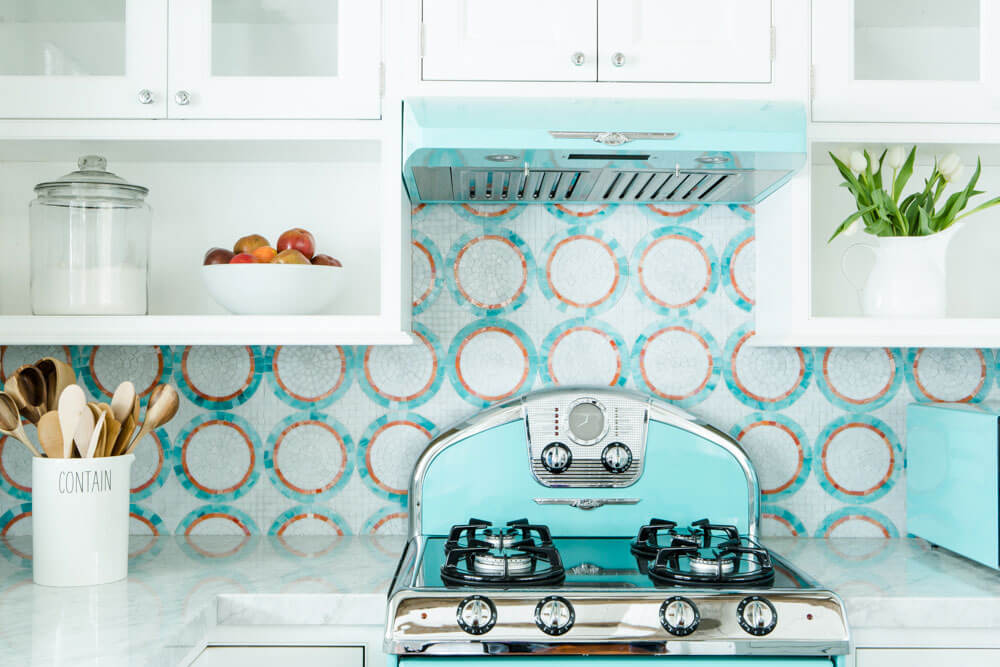 The colorful kitchen backsplash is SO amazing in Karr Bick Kitchen that we had to do a closeup!
Beach Bliss for You!
Delivered to you each Saturday morning.

Beach decor at it's best with sophisticated pendants hanging in this kitchen. Dreamy beach house photos here.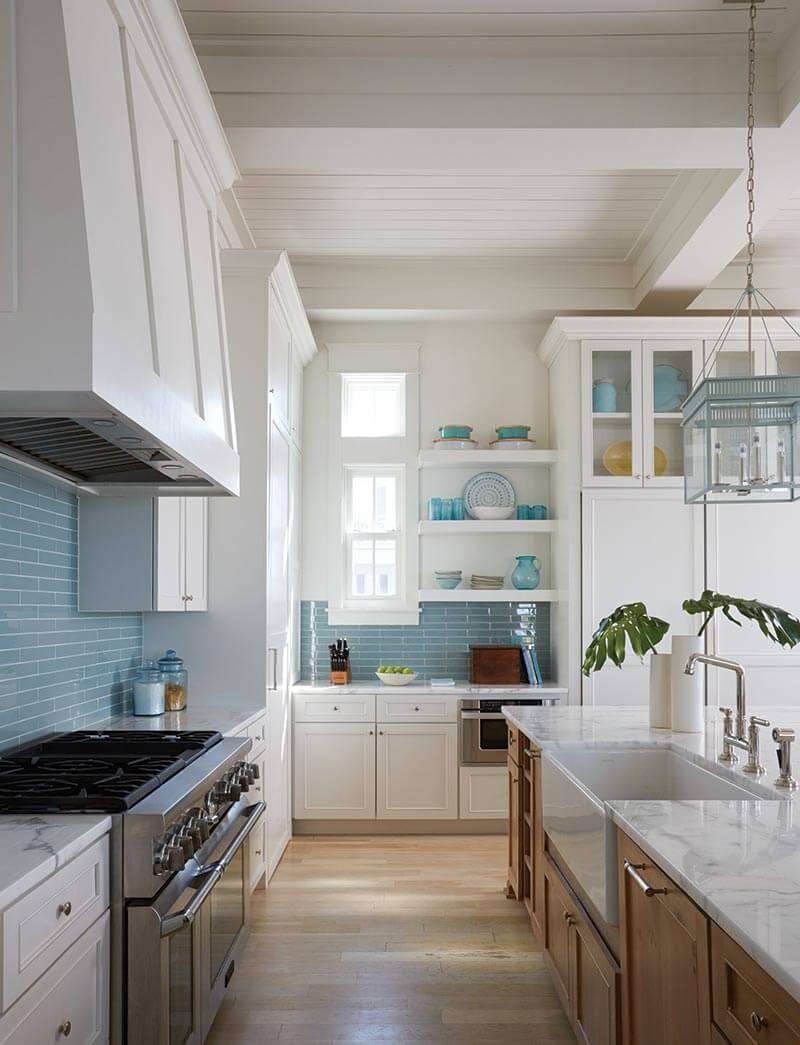 I can't take my eyes off of that blue tile backsplash! White kitchen cabinets and marble countertops compliment it, don't you think? See the whole house for more coastal decor ideas.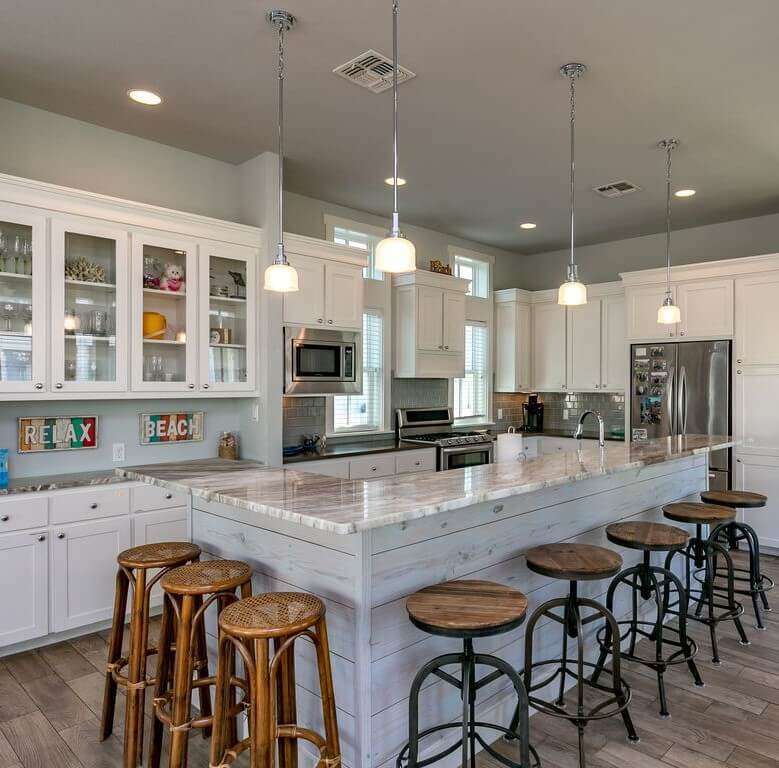 Relaxing and spacious beach themed kitchen. We've done vertical wood planks surrounding our bars, but never the horizontal. More beach decor eye candy when you view this whole house here.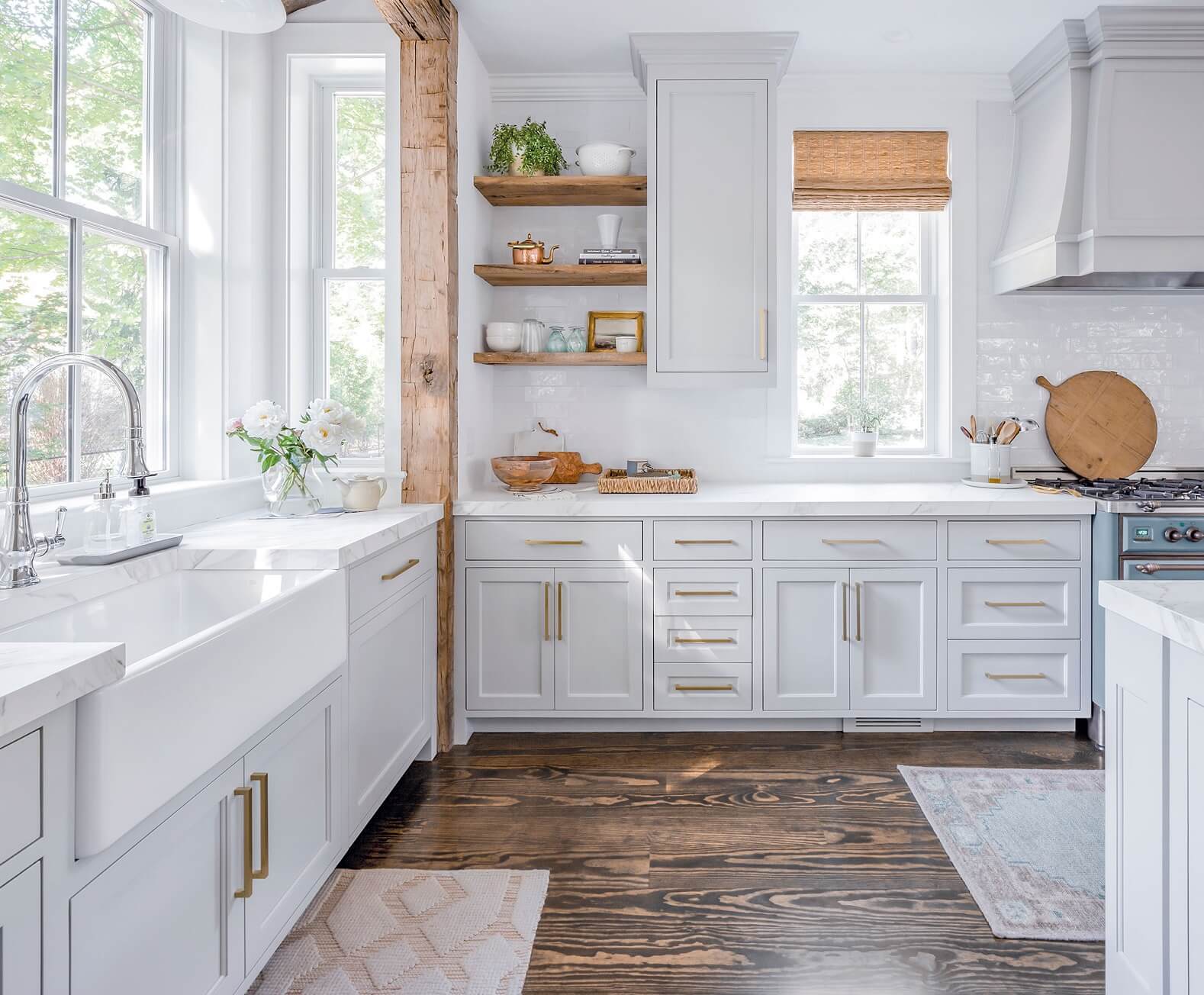 Hands down this has to be one of my fave white kitchens. I love the white kitchen cabinets, the white glossy subway tile backsplash, the door pulls, the farm sink, the windows!! More photos at ThinkCuttingEdge.
1950s vibe, anyone? What a fun coastal kitchen. Check out the rest of this amazing beach house.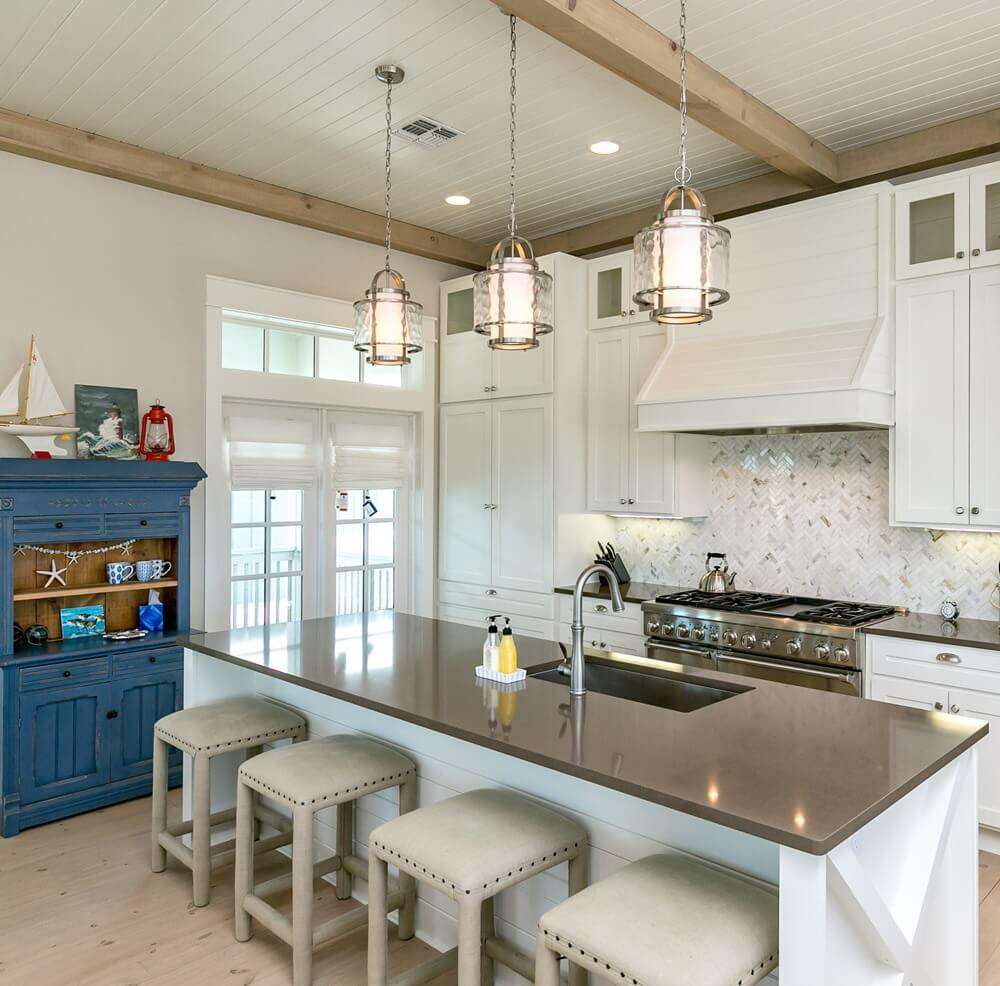 Sophistication with a touch of country takes beach themed decor to a whole new level. Yes, I'm looking at you, blue cabinet! Get more beach decorating ideas when you tour the entire house.

Loads of coastal decor ideas (aside from white kitchen!) at the full house tour.
Beach Bliss for You!
Delivered to you each Saturday morning.