Coastal Kitchens Beach Decor Ideas
Photo Credit and more beach theme decorating ideas at  SabrinaAlfinInteriors.
Traditional white coastal kitchen. More coastal decor photos at the complete beach house here.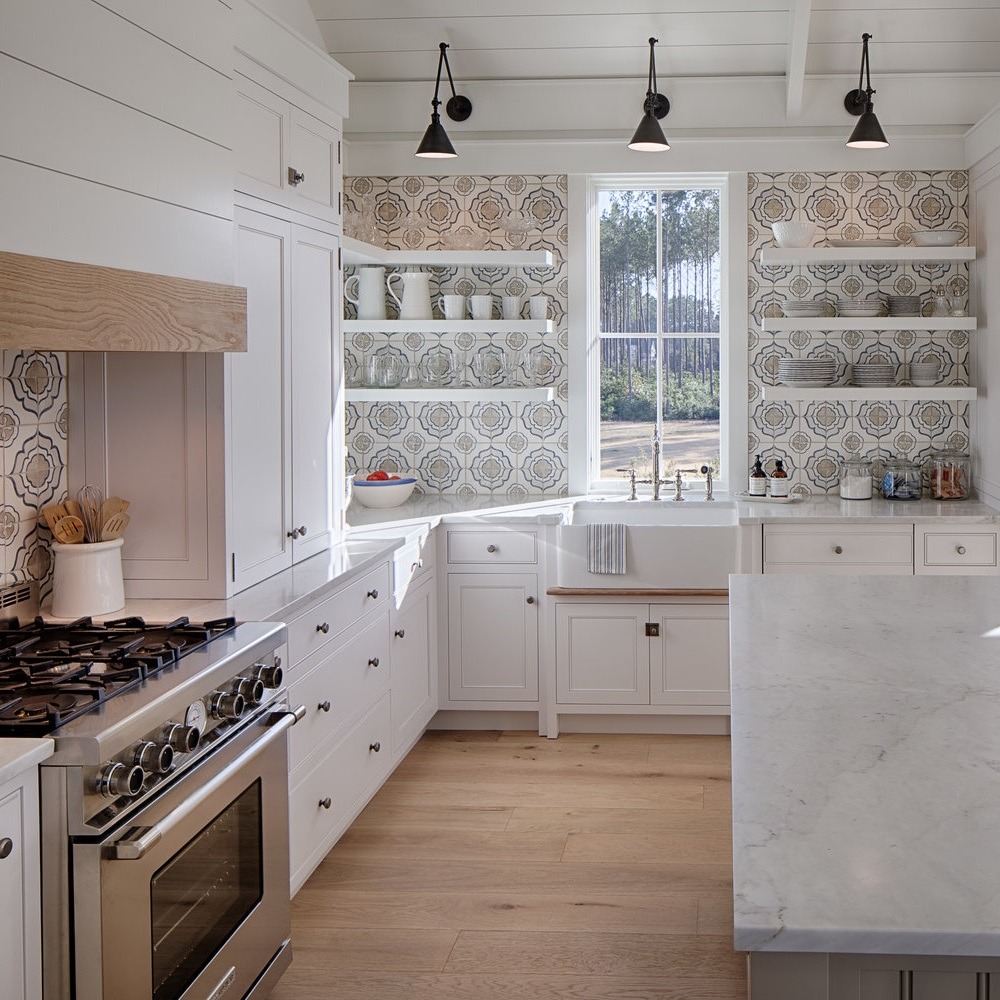 Give me a white kitchen every time! What do you think about the geometric backsplash? Classic. More low country (Bluffton to be exact) photos at LisaFureyInteriors.
White walls and blue chairs for this coastal kitchen. See other beach theme decor at the home tour.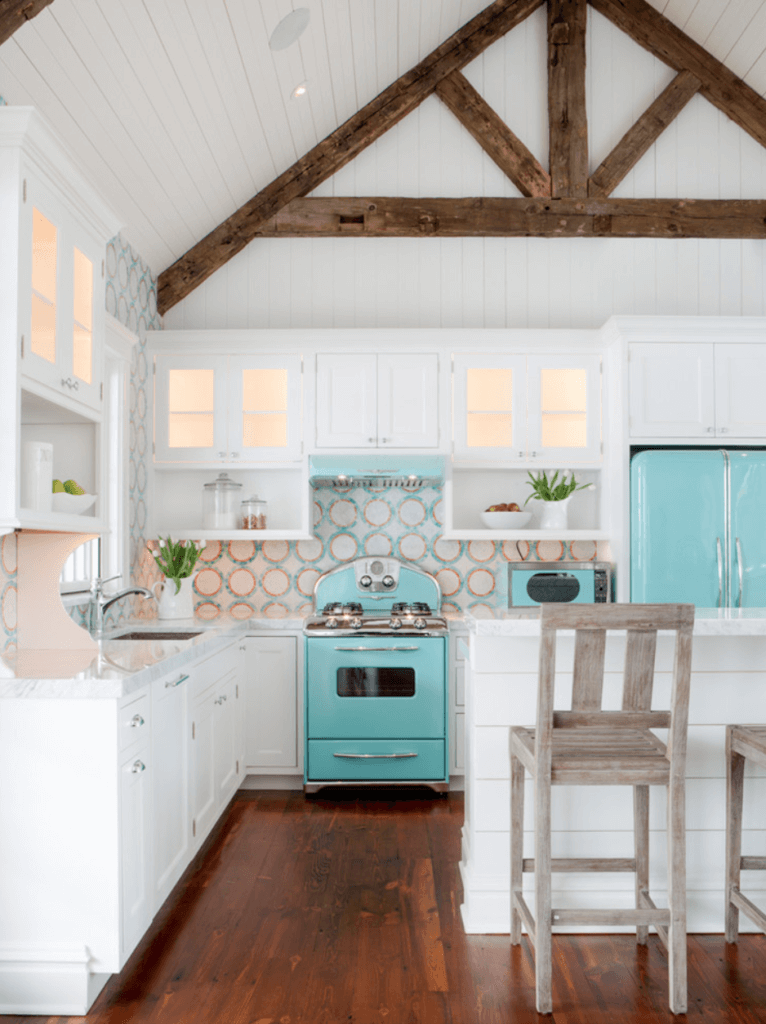 I swoon for a white kitchen with hardwood floors, but this Jenny Rausch design (Denash Photography) takes the cake for a coastal theme kitchen.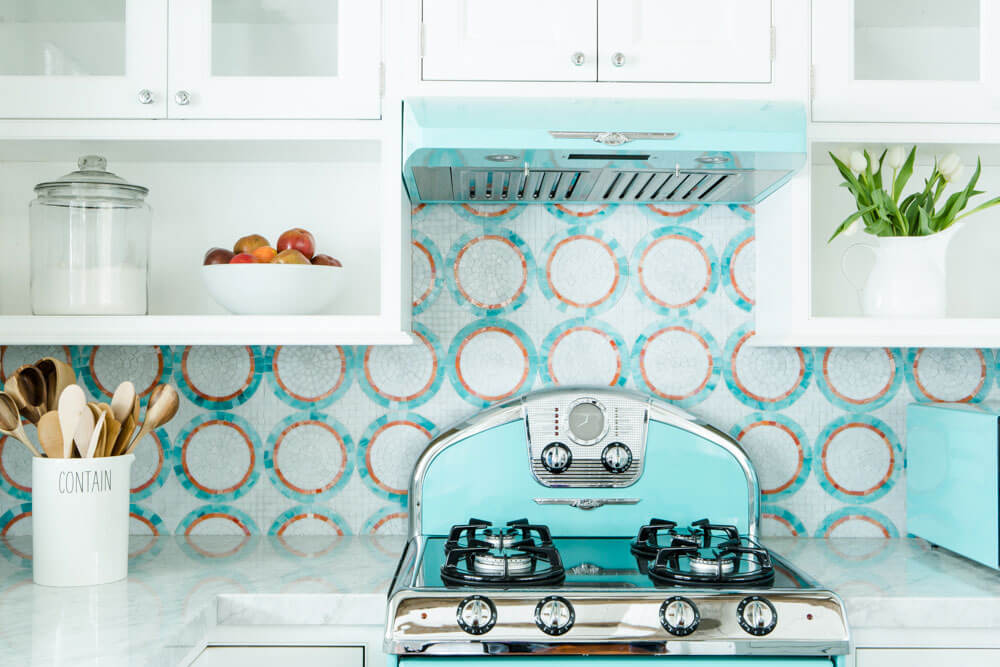 The colorful kitchen backsplash is SO amazing in Karr Bick Kitchen that we had to do a closeup!
Beach Bliss for You!
Delivered to you each Saturday morning.

Beach decor at it's best with sophisticated pendants hanging in this kitchen. Dreamy beach house photos here.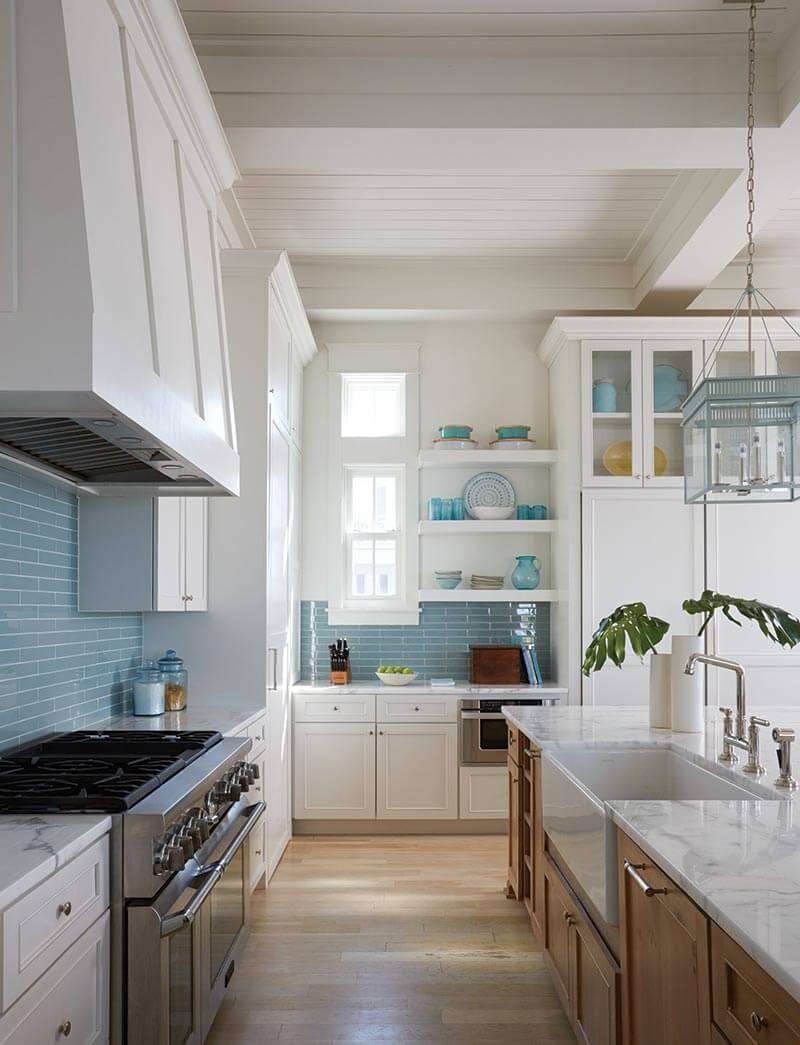 I can't take my eyes off of that blue tile backsplash! White kitchen cabinets and marble countertops compliment it, don't you think? See the whole house for more coastal decor ideas.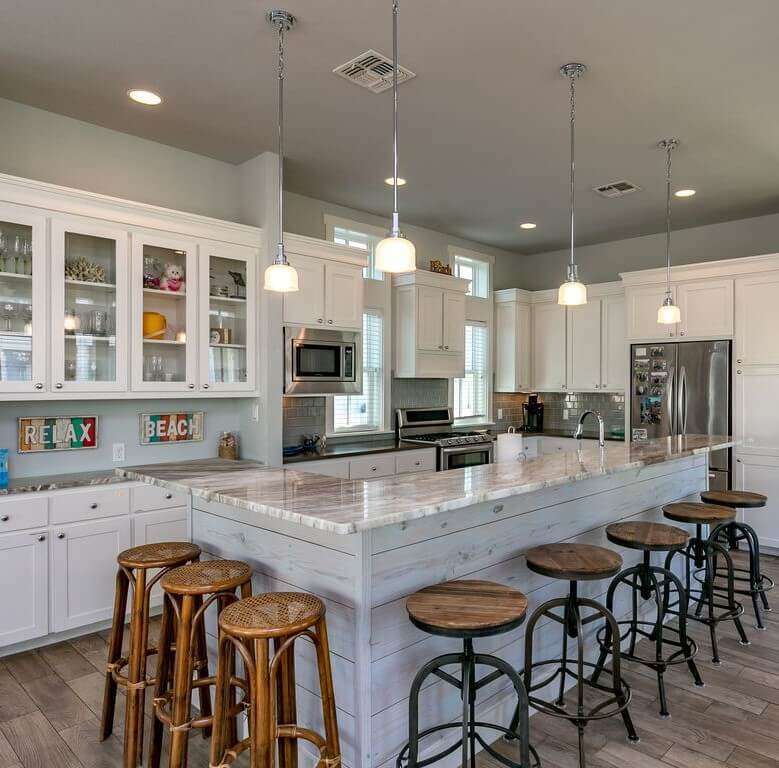 Relaxing and spacious beach themed kitchen. We've done vertical wood planks surrounding our bars, but never the horizontal. More beach decor eye candy when you view this whole house here.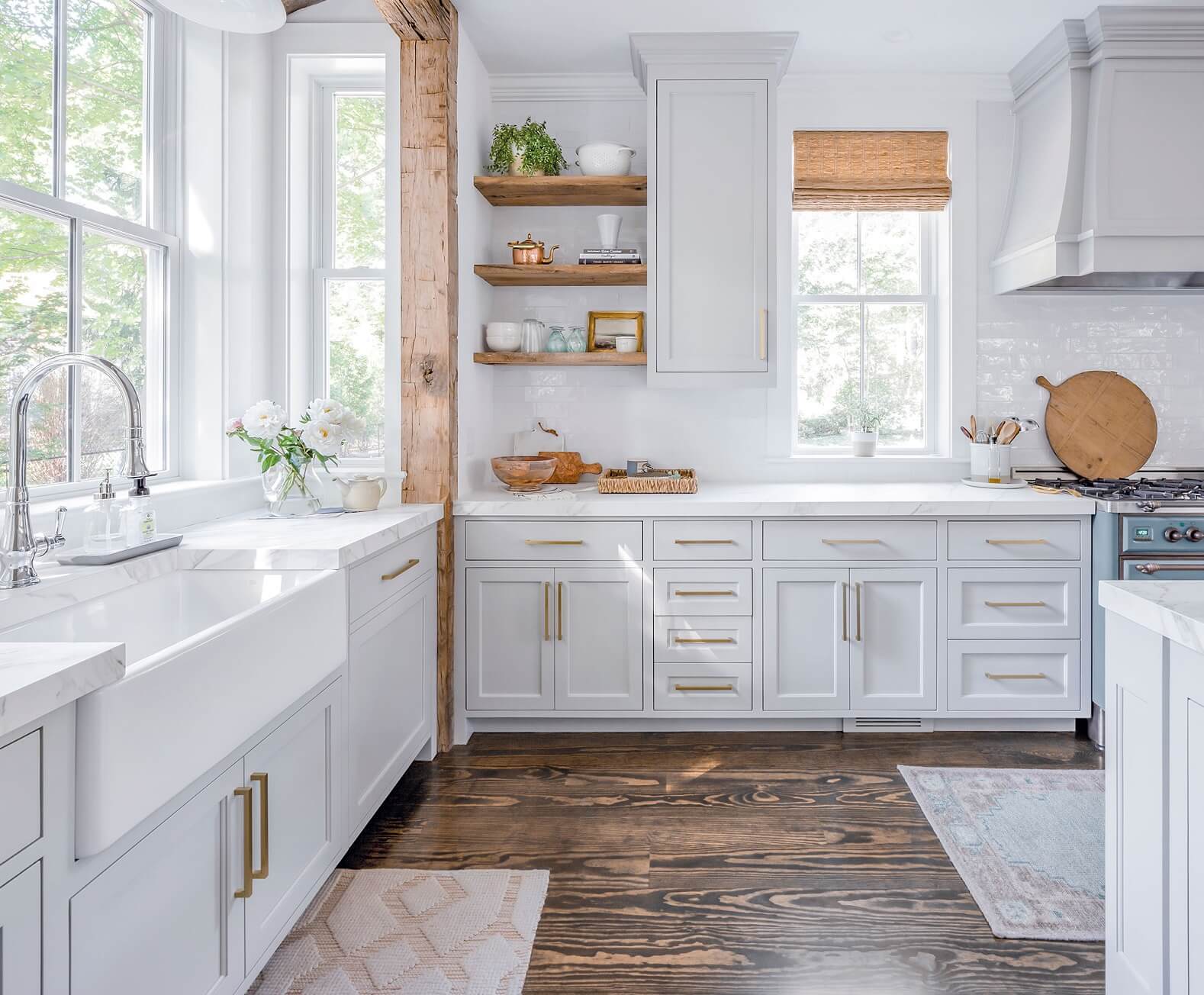 Hands down this has to be one of my fave white kitchens. I love the white kitchen cabinets, the white glossy subway tile backsplash, the door pulls, the farm sink, the windows!! More photos at ThinkCuttingEdge.
1950s vibe, anyone? What a fun coastal kitchen. Check out the rest of this amazing beach house.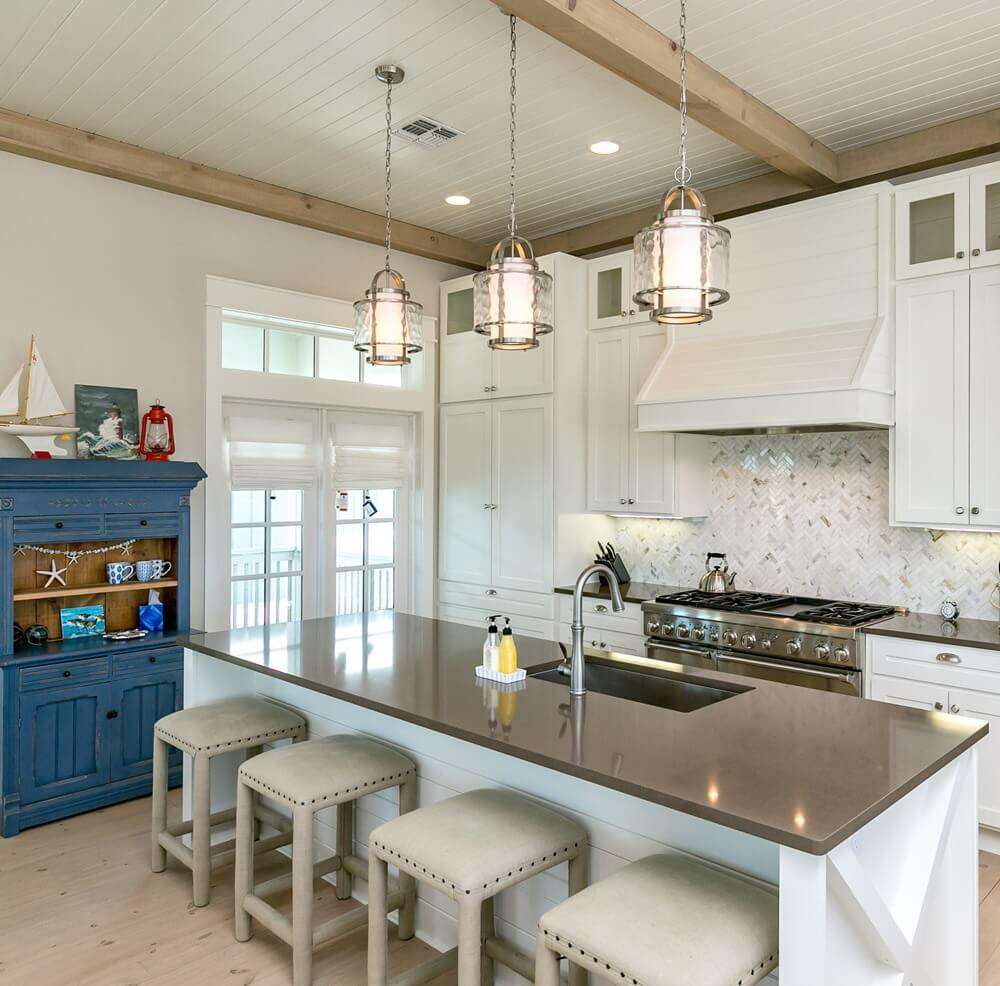 Sophistication with a touch of country takes beach themed decor to a whole new level. Yes, I'm looking at you, blue cabinet! Get more beach decorating ideas when you tour the entire house.

Loads of coastal decor ideas (aside from white kitchen!) at the full house tour.
Beach Bliss for You!
Delivered to you each Saturday morning.