Coastal Christmas Decor on Instagram
Post may contain affiliate links. Info here. SugarsBeach makes a teeny, weeny commission, at no cost to you, if you purchase.
What better place to find beach Christmas decor inspiration than on Instagram. Sure, Pinterest has loads of coastal Christmas ideas, but I love to hang out on IG where I can actually reach out and chat with the blogger.
Like if you want to know where she found those coastal Christmas throw pillows… or how about that coastal Christmas ornament set? Typically you'll get a response from people on Instagram. Heck, one time I was confused about something in a book I was reading. I looked up the author on IG and asked her about it. Within a few hours she'd replied with an explanation. It was awesome! Isn't it a fascinating time we live in to have that level of communication?
---
Never miss a thing when you have Sugars Bliss (Newsletter) delivered to you each Saturday morning!
---
How have I never noticed @BreezyDesigns Sure, she has coastal Christmas ideas on her IG and blog, but you'll want to explore all she has to offer because this girl has interior design talent, let me tell you. Her mom was an interior designer. Plus it certainly doesn't hurt that both she and her hubby are both gorgeous.
Somehow she manages to blend sophistication with down to earth. Coastal with farmhouse decor.
Alexa over at @cookies.with.love says she's a "Hobby Cookier and lover of buttercream cakes & sprinkles" … but I beg to differ. Her cookies are unique and absolutely delightful. You can only see her on Instagram because I don't see that she has a website. I think she should get a site, and teach people how to make her amazing cookies!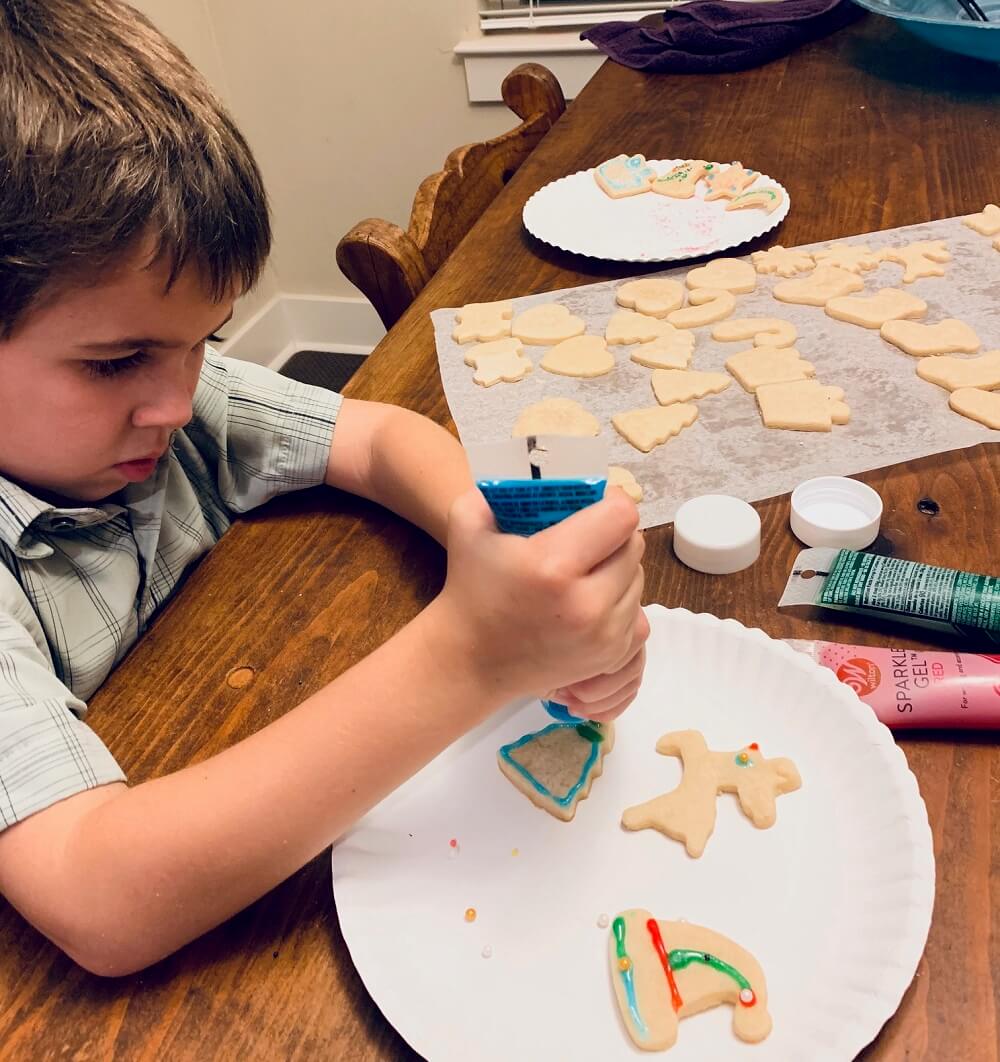 As a sidenote on the cookie making front: My little grandson and I made Christmas cookies together for the first time. They were a disaster. Well, the cookies were good but we bought the colored icing in a tube. I thought you put that on, added sprinkles, and then it would harden like the gorgeous cookies you see online. Not so. That darn "icing" stayed gooy and it made big mess. I figured out all our mistakes (I hope!) and we're trying our cookie-making project again tonight. Wish us luck!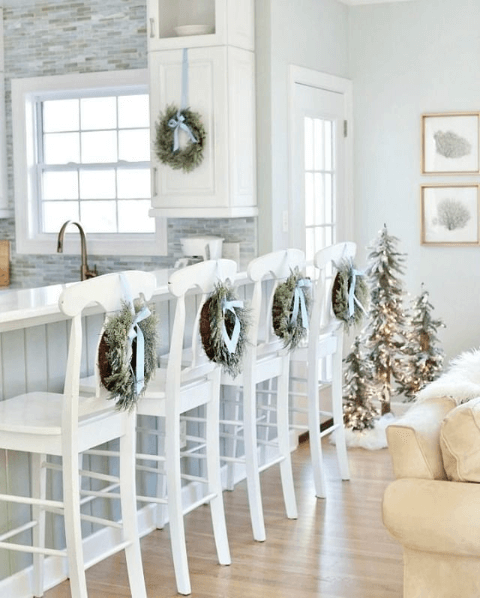 Kim Wilson over at @sandandsisal has started adding beach Christmas decor on this part of her kitchen. What do you think? It's simple and festive at the same time. Those Christmas wreaths attached to the backs of the bar stools are an unusual touch. Notice the three little Christmas trees on the floor to the far right.
If you're looking for ideas for Christmas tree decorating themes, this photo from Annette's IG @hamptonsislandstyle will give you an abundance of beach holiday cheer. I actually love the neutral and blue colors going on in this living area. The natural light that comes in from outside highlights the beauty of the Christmas tree and the color coordination that's set up here. Those aren't exactly coastal Christmas throw pillows, but I like them.
The colors are lovely. Blue, gold and white. Beach Christmas decorations all around Kim's @SandandSisal coastal living room. I believe there's also a touch of silver in the decor for a joyful beach-y Christmas season. Looks like the white stockings have fur at the top. The mantle has reindeer and candles and greenery. Maybe warm beach Christmas lights.
I have to include this IG post of Melissa at @rivieraoutdoordecor to our collection of  Instagram beach Christmas pictures because it's just the perfect inspiration for us with coastal hearts! That view can't be beat. Who needs snow with a view like that? Christmas tree.. the ocean and a fun teal surfboard!
The coastal Christmas ornament set here is just fabulous. Starfish, sea shells, different kinds of beach treasures, and more beach-y pieces from this coastal-inspired Christmas tree captured from @nicolettes_for_the_home. Definitely not Christmas tree decorating ideas with colored lights… but what an elegant beach themed Christmas tree.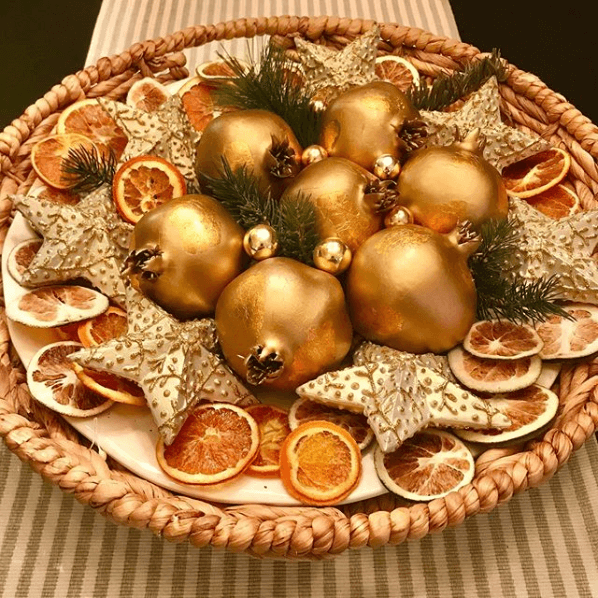 If you're looking for coastal Christmas decor  ideas, this golden centerpiece from Carol over at @pathway2home will make your beach loving spirit really happy. Gold pomegranates and dried orange slices added to this mix. Love the golden starfish, too!
@gracecottagehhi has this cute little festive kitchen in South Carolina. I love the red 'Merry Christmas' writing on wall there. Love the white windows with those wreaths and red-white curtains. Great inspiration coming from this room. You should visit here IG cause after I added this photo to the post, she put up her Christmas living room.
The perfect way to wrap up these Instagram beach Christmas photos, is to bring you Walter the golden. I'm guessing he's a Golden Retriever, not a Goldendoodle because I don't notice curly hair. Shows how much I don't know about dogs. Haha
For you dog lovers, or if you could simply use a smile, hop over and visit @_walterthegolden Oh, and Walter lives in Australia, Central Coast.