Charming Balboa Island Beach House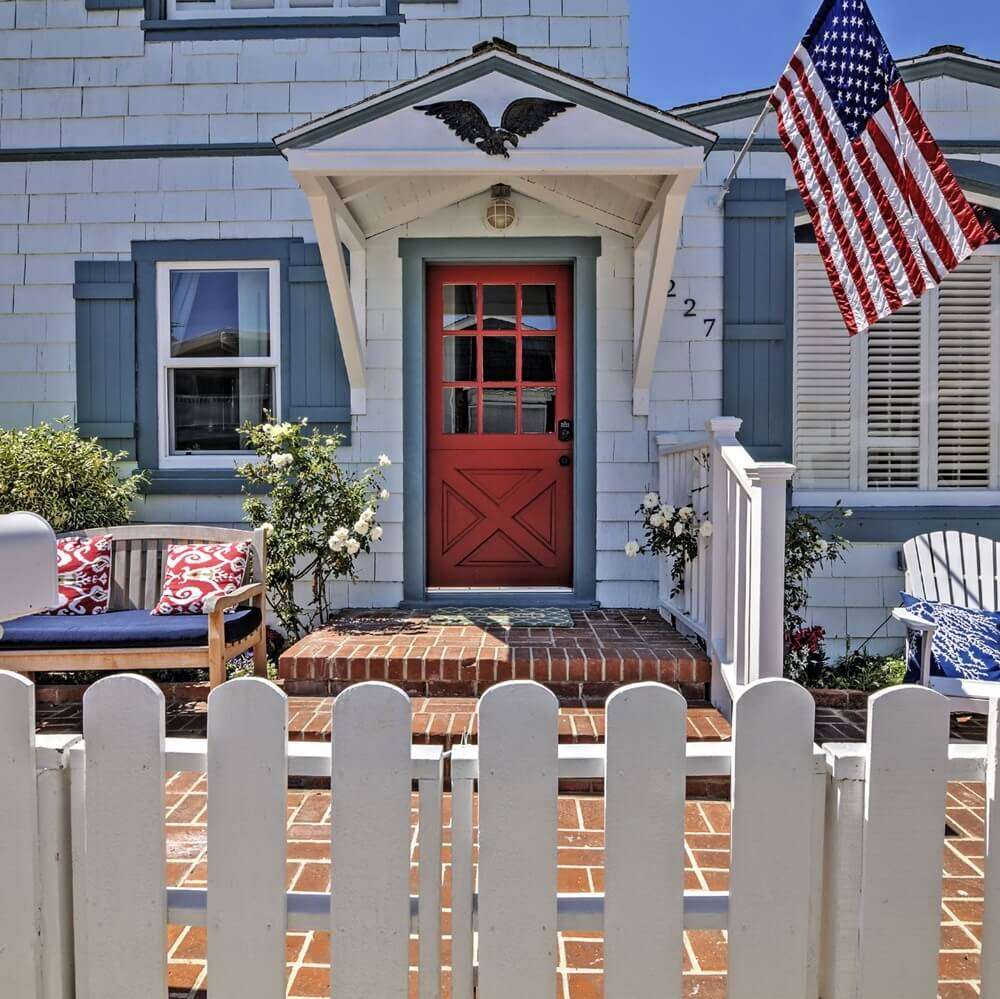 Balboa Island is an harborside community located in Newport Beach, California. This lovely Balboa Island beach house rental is just a few short blocks from the bay and a quick ferry ride to the beautiful beaches of Newport Beach! Nearby cafes, fine dining, golf and world class shopping.
Photo & Rental Info @turnkeyvacationrentals | Post contains
affiliate links
.

I am lovin' the vibe this beach house gives out. Just all positive and of course, 'beachy'! It's like one of those beach houses you can see in a movie.

Welcome to this charmer's family room. Cable TV, fireplace, comfortable seating, paned windows, hardwood floors – all wonderful assets!
A wooden ship wheel decor like the one in the living room above. This one has a solid brass center hub. Totally handcrafted and perfect for your nautical-themed beach house.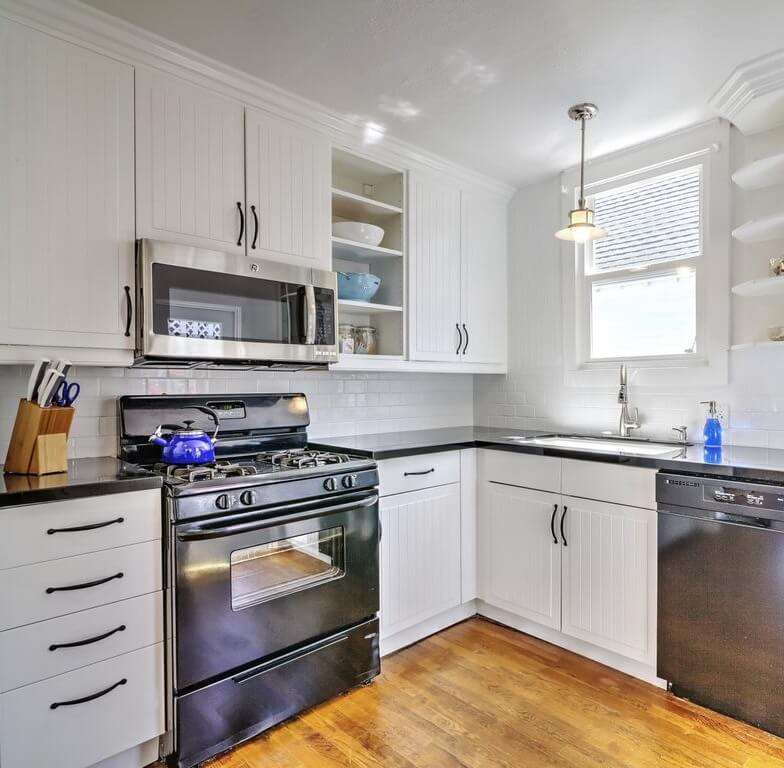 Here's a fully remodeled kitchen for the chef of the house. Love the simplicity of the paint for everything. And of course, let's not ignore the granite countertops that seal the deal in this room.
Never miss a Beach House Tour!
Delivered to you each Saturday morning.

Seating for four in this dining area. Love the white and blue colored throw pillows here.
Did you like that simple but stylish white dining table? I found one on Amazon! It's trendy and very sturdy.

Here's the king size bed in the master bedroom. Blue and white are the main colors here and I like it. It definitely matches the house's exterior shades.
Throw pillows with trimmed edges — this trend is lit! Certainly adds coastal vibes to your beach bedroom or living room. This one has a comfortable and vintage-y feel, too.
More Lovely Beach House Rentals

I would just like to highlight the artist edition bathroom sink right there. I loooooove it!
Definitely love these vanity storage jars. Organization made easy with these fantastic jars. They are neat-looking and space saving. What a deal!

Did someone say Ralph Lauren bedding? Yes, that's right for the downstairs bedroom!
Since the bed is the focal point of a bedroom, it could be a good thing to add something that stands out above the headboard. One idea is to add a mirror on that area (like the bedroom above). I found a similar rectangular mirror that could be used for that purpose — or you could also use it as a bathroom mirror. 🙂

Here's the downstairs bathroom with walk-in shower and pedestal sink. What do you think about this bathroom floor?
Here's a similar bathroom lighting fixture. It's shape is traditional but the whole thing looks contemporary. The matte material adds a classy tone.

Without a doubt, this is my favorite area. Call me romantic. Yes.
Never miss a Beach House Tour!
Delivered to you each Saturday morning.

Love this spot, too. For the ones who love to enjoy the sun outside!
LOVE it?? PIN IT!