Casual White Beach Dresses
Who doesn't love flattering white summer dresses? We put together a collection of casual white beach dresses that we consider the best for your next beach vacation. Or maybe you simply want to look fabulous in a white casual dress AND be super comfortable too!
If you'd rather go straight to Amazon and see white summer dresses for yourself, simply CLICK HERE. (affiliate link)
Flattering White Beach Dresses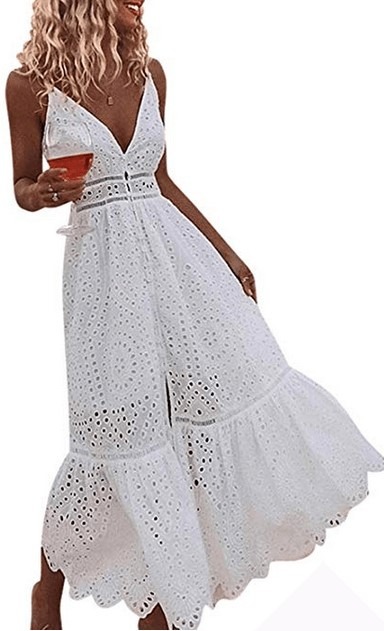 This amazing white summer dress long is 100% Cotton so you stay breezy cool in the heat of the summer. Perfect beachwear for women.
Soft and comfortable wear with adjustable spaghetti strap, backless and v neck design. It has a stretchy back waist with a "barely see" zipper in the back. Sexy in an understated way with pearls down the front and a flirty flare skirt. See DRESS on Amazon.
---
Maybe you prefer sleeves and more coverup for your favorite casual beach dress? This beach dress comes in a multitude of colors. I mean, we're talkin' teal, rose, black, dark blue and more.
It's a lightweight, stretchy fabric with round neck and even handy pockets that you can certainly use at the beach. If you like a little more cover, you'll appreciate the flowy dress and the sleeves. OH! …and every size imaginable to flatter every figure. DRESS at Amazon.
---
This flattering white summer dress comes in a light and breezy chiffon fabric. It's great to find a dress that comes in ALL sizes like this one. It comes in a small all the way to xxx-large, and because of the style, you're gonna look like a million bucks.
You can also chose a different color as it's available in teal, red, black and more. The white might be a little see-thru so you'll want nude undergarments. I love off the shoulder dresses when they're done right. Just makes you practically feel the soft sea breezes. See on AMAZON.
---
Never miss a Beach Outfit!
Delivered to you Saturday mornings, along with dreamy Beach Home Tours & other assorted goodies.

---
How about a Bohemian long white summer dress? Love the embroidered lace sleeves and cut outs of same lace in the skirt. Convenient drawstring waist and a long to midi length depending on your height.
It's easy care hand wash with cold water, which to me is code for machine wash delicate cold water (haha.) To be 100% safe, go with manufactures recommendation; I'm just sharing what I do. Perfect for a walk on the beach or your next summer party. Find on AMAZON.
---
Short, casual white beach dress. This could be one of our more flattering white summer dresses for sure, with the peek-a-boo top and flared skirt. It comes in every color on the planet practically, including three shade of yellow (yeah, no kidding) and differnt prints along with assortment of gingham print colors. Sizes are small to x-large. Tons of 5-star reviews so you can read what buyers share about fitting.
FYI, the middle knot and buttons down the front are purely decorative. They don't untie or unbutton. The back is elastic and pretty stretchy so it's easy to get on and off which is exactly what you need at the beach. Dress on AMAZON.
---
Sexy white dress for beach or summer vacation party. Dress it down with flat sandals and casual earrings. It's hard to see with the white dress, but there is a gorgeous detailing of a ruffle across the front. I don't know how to describe it, but if you click on one of the reds when you're on AMAZON, you can easily see it. Aside from tons of colors, it comes in sizes small to 3X.
Off-the-shoulder, half sleeves and a sweet ruffle detail + comfortable to wear. Beachwear for women with all the details
---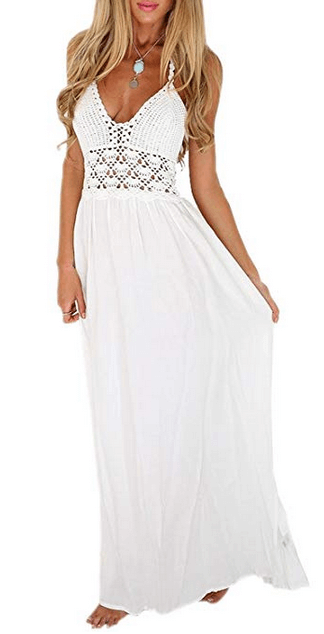 This might be my favorite casual beach dress of them all. Comes in X-Small to X-Large, and has a few other colors. The other colors are truly gorgeous…. a soft peach and two more heavenly shades. It has a bohemian look to it with lace waist and crochet detailing.
When you go to AMAZON to see the dress, look on left where the additional photos are and check out the video. It gives lots of looks on different body types.