Budget Vacation Home Idea (Budget series #1)
Budget Vacation Home Idea: What if you don't have millions of dollars for a beach front home? Or even a million for a "walk to the beach" home? And yet, you're like me, and you yearn for a place near or on the water.
Today, we explore a fun option. Have you ever considered an RV for lakeside or beach living? Or maybe I should say, for vacationing. Sounds like fun to me. But who wants a boring, ordinary RV. No, no. Let's go for something a little more creative. Ohlala. Let's check out this beautifully renovated Mountaineer.
Photo Credit/info at RenovatedRVsForSale.com | Post contains
affiliate links
.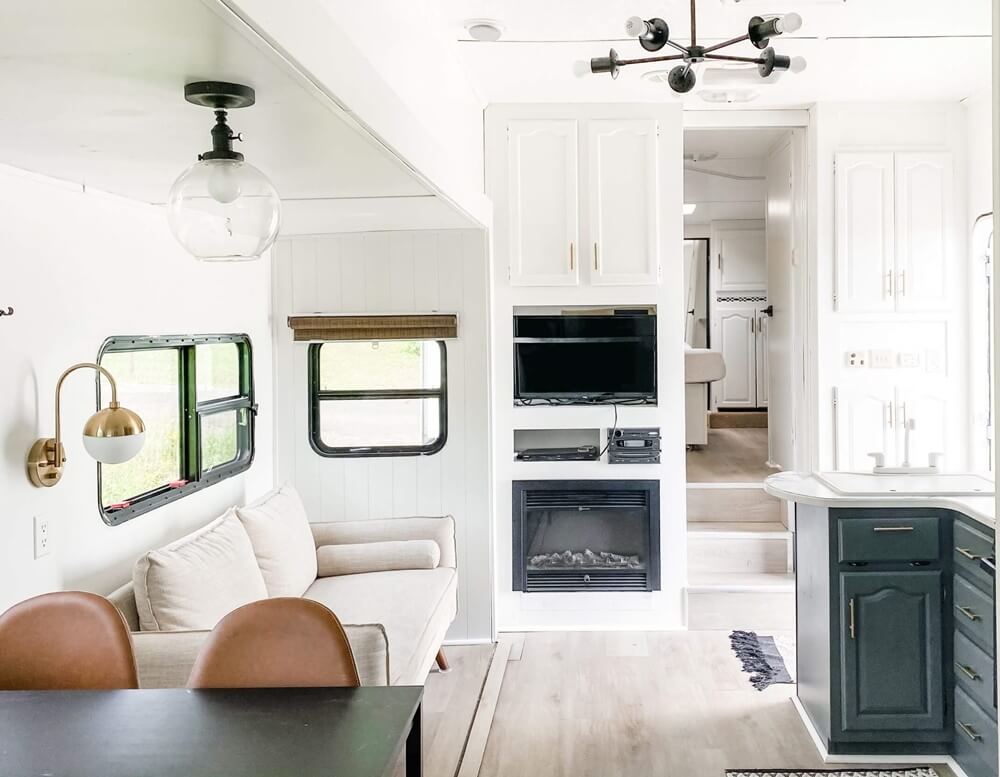 OK, you had me at hello, step into my living room. Do you love it, or what? Sure, obviously it's a trailer, but I wouldn't mind this being my vacation home… at least for awhile. And the beauty of it, is you can move to different towns depending on your mood. I like the fresh, crisp look.

Close up view of the living space. What a fun, modern love seat. Inviting fireplace for romantic evenings. And if you're into TV, they have you covered.


Sure, it's a tiny kitchen.. but looks functional. White tiles backsplash give it a modern look. Dark gray / blue paint for the cabinets is super popular in Texas right now. To me, that looks like the perfect size fridge. I would replace the microwave with a toaster oven. 🙂

Here's a shot of the dining area and a part of the kitchen. White paint all around — it actually makes the whole room appear bigger than it is. Dining set on the right seats four (4). I love the floors.

A queen sized bed. Huge mirrors on the side. Pull down shades on the other side. White walls all around. The only thing I'd have to figure out if this were mine, is a bedside table or even shelf. looks like a good size closet.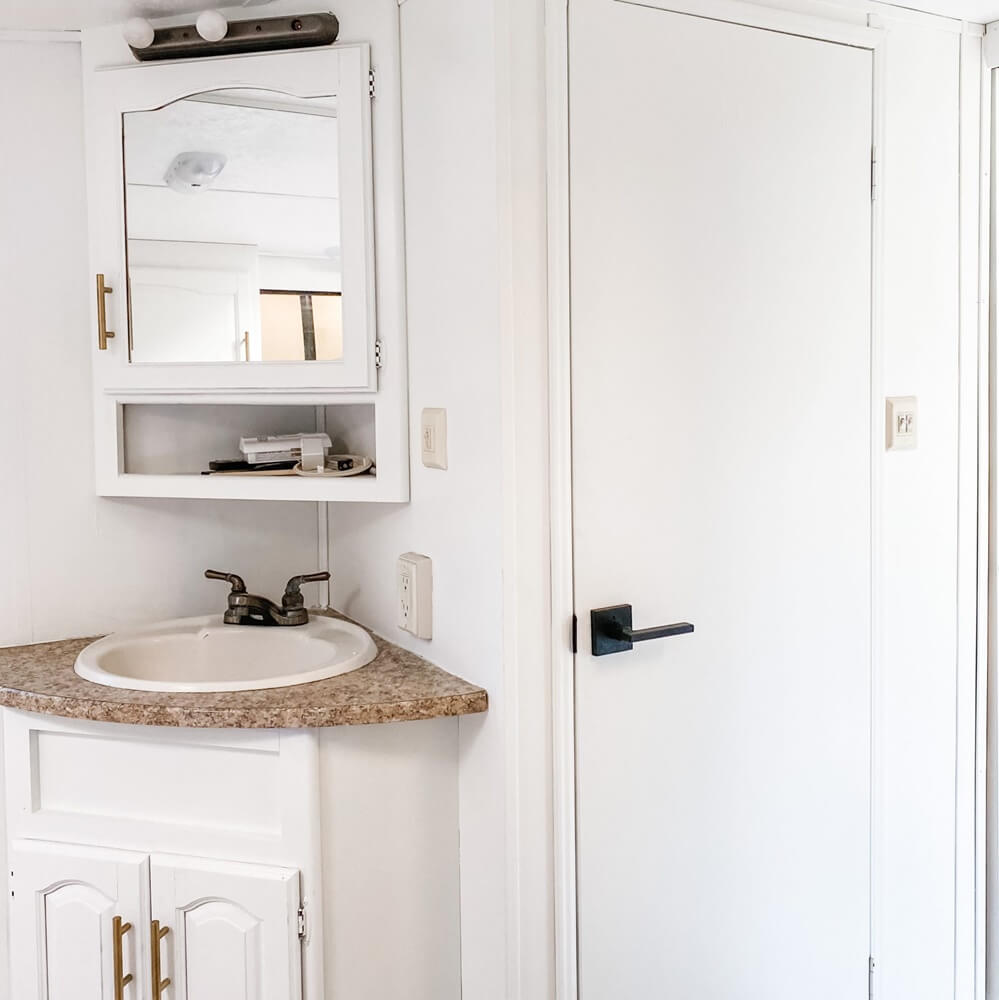 I like everything here except the sink. I would replace the sink. Well, and the faucet too. But I like the white, and I'm fine with the vanity top. Like the hardware they put on the doors.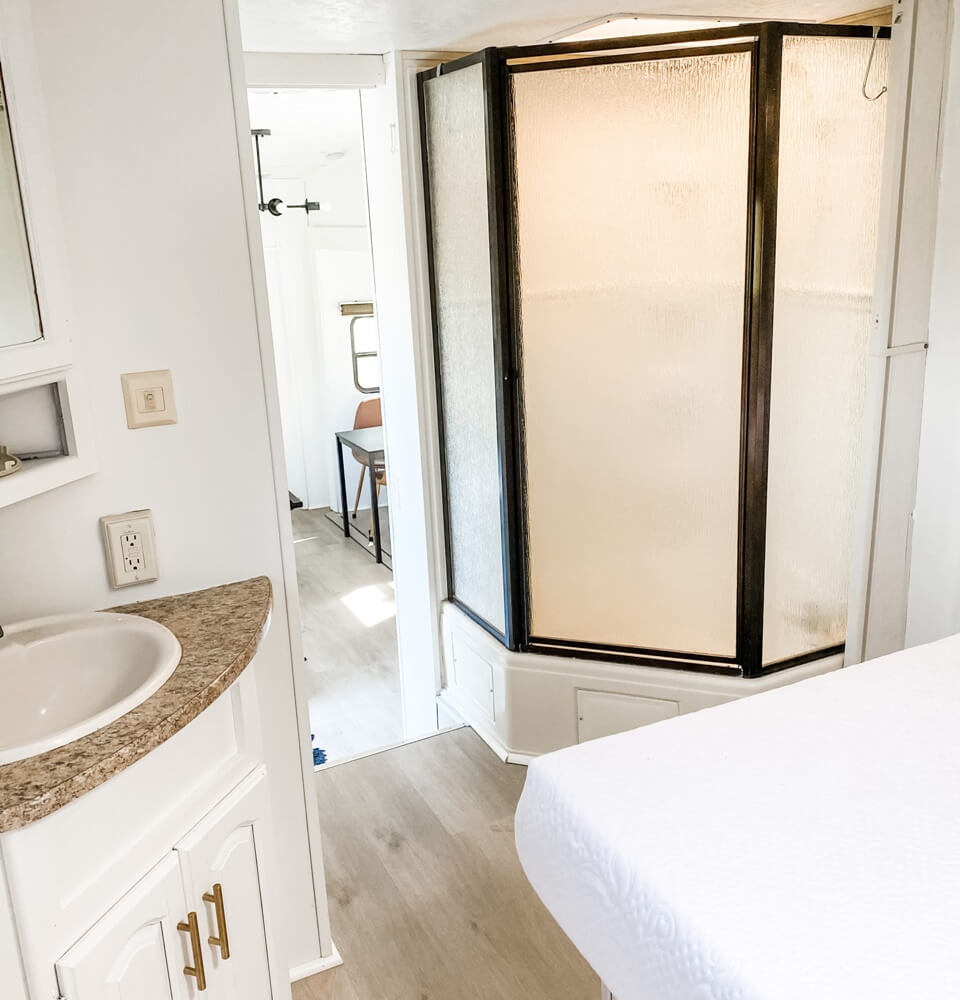 Never miss a Beach House Tour!
Delivered to you each Saturday morning.

Here's the bunk room that's compact and convenient for small children. Enough headroom, too. Simple gray-ish cabinet on the side. Roller shades in this area, too.