Blue Crab Cottage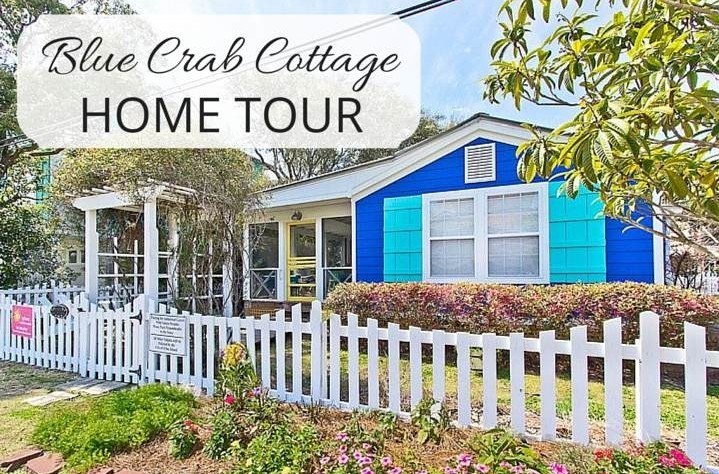 Tybee Island Beach Cottage the Blue Crab Cottage: Charming 1940's cottage on Tybee Island recently underwent renovations and updates to furnishings. Bright and cheerful rental with three bedrooms and two baths.
Now let's jump right in and check out this beach home tour!

What I like about this living room is how they added beach decor without over doing it. There's a beach theme pillow… oh wait! There are two beachy pillows. One on the chair and one on the sofa that I missed. The rug is great but it's not beach per se. Very tasteful.

I'm crazy about the dining room! I like how the inside of the exterior door is painted turquoise, and then the dining room table a fun lime green. Against the crisp white and natural wood, it's a perfect balance. What a clever idea to put candles inside lantern holders.

White, white kitchen which is one of my fave looks. I would put a pop of color in there somewhere. Perhaps bar stool cushions or a painting. Or even an accessory or two on the kitchen counter. Actually, if you squint, you can see a lovely lime green tea kettle on the stove.

Notice the hardwood floors throughout. Coupled with the white and then bursts of color make this beach bedroom serene.  Do you see the wood walls as opposed to sheetrock? Nice!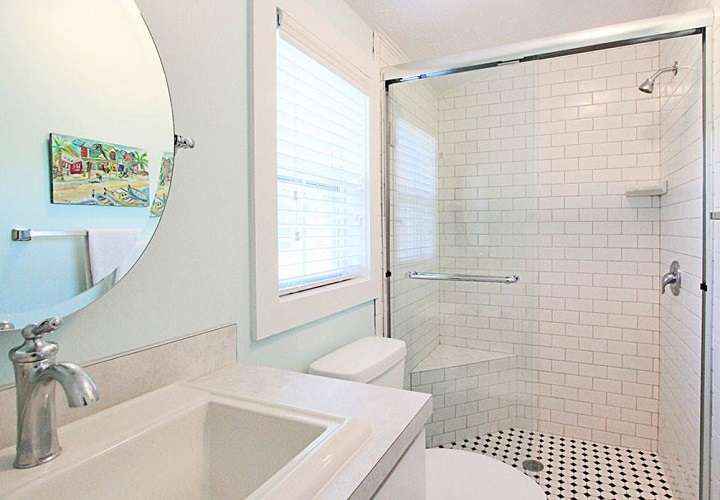 White subway tile for the bathroom with a black and white patterned tile in the shower. It would be kinda cool if they extended the same tile into the bathroom itself.  I guess we'll have to visit to find out. 🙂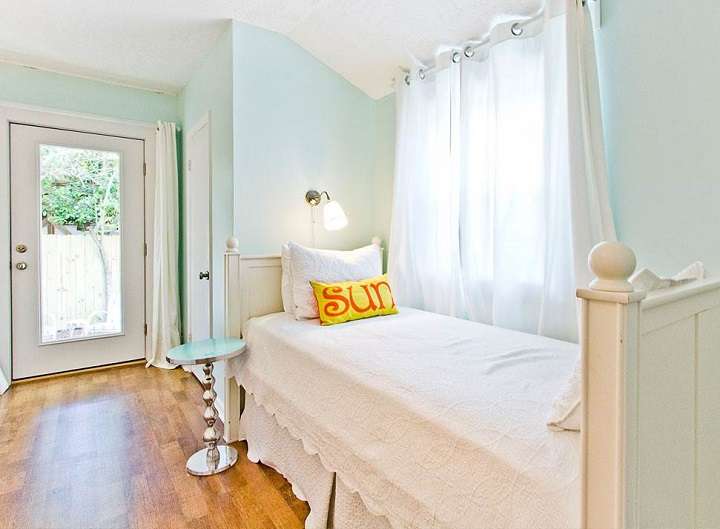 Sweet little twin bed tucked away. Again I want you to notice how they did not overdo it with the beach decor. One simple yellow pillow saying "Sun" and that's it. I like the thoughtful little side table added next to the bed.

Here they went all out with the color. Outside you've got the hot sun to balance out the vibrant colors. Plus look how comfy this porch looks. Notice the yellow door? I'm pretty sure that door leads to the dining room where they painted the inside turquoise.

I saved one of the best parts for last. You get your own private pool. How fun is that? A rarity, that's for sure.
There ya go! Hope you enjoyed the very first Beach Home Tour with many more to come.
Share the Love. PIN! PIN!