Beach Themed Bedrooms
Post contains affiliate links info. SugarsBeach makes a teeny, weeny commission, at no cost to you, if you purchase.
Beach Themed Bedrooms Ideas:  Bedroom beach theme from our amazing beach house tours, as well as beach bedroom decor inspiration with an assortment of beach themed bedding that's available for purchase thru Wayfair or Amazon. We've done all the work, so you can easily browse at your leisure.
We update monthly, so sign up for our BEACH BLISS Magazine.
---
Don't miss out as NEW bedrooms are added! Plus awesome coastal decorating ideas delivered to you each Saturday morning!
---

This gorgeous beach theme bedroom is brought to you via a Newport Beach Home tour. Get all the deets there, including who did the interior design. Alright, I'll just tell ya ( GraceBlu.com) Do you see the ceiling wall paper? Who thinks of that?! What fun.

Annnnd here's another one from GraceBlu. It isn't often we see a grey and white bedroom theme in a coastal home. They jazzed it up with a bold shot of yellow you see in the white and yellow drapes. When you see the Newport Beach home tour, you'll noticed how they carried that out into a yellow claw foot tub!
A lovely red and green theme for this reversible comforter. It features coral reek prints to bring you tropical feels in your bedroom. Super decorative and totally comfortable.
Beach themed bedroom: This vintage floral throw looks great on this comfy bed. Turquoise lamps on the vintage-looking nightstands. Unique artwork on the white wall above the bed. More coastal decor ideas from this beach house tour.
Here is a soft grey/blue and white beach bedding set.  They tossed sea urchins… white starfish, seashells and coral onto the serene background. You even get decorative square pillow with large coral. Awesome!
Traditional California beach decor (and architecture when you peek at the house.) Bold colors…and the sea right outside the bedroom windows. Cozy wood burning fireplace for those crisp Pacific ocean nights. Lovely Oriental Medallion rug in reds and blues.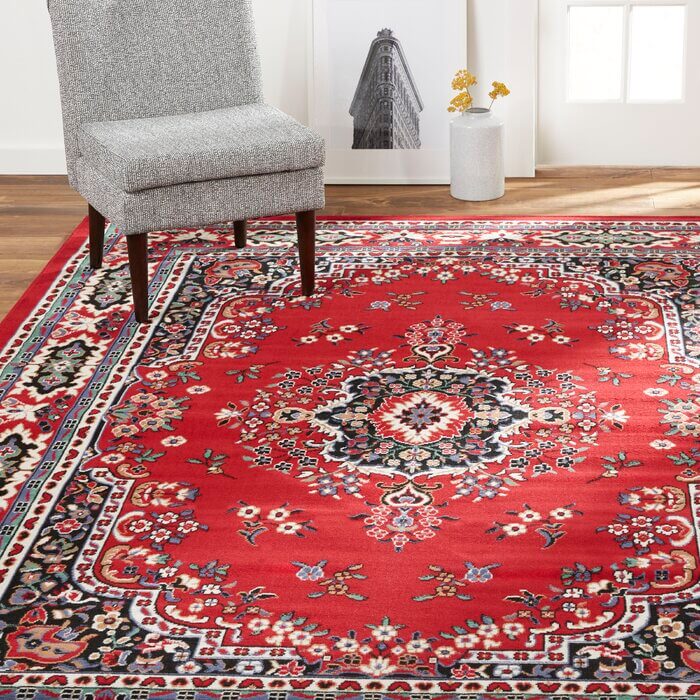 Speaking of Oriental area rugs, this one's similar to the bedroom rug found in the California Beach house above. This one can be placed in your dining room, living room, or bedroom. Traditional but not boring, right?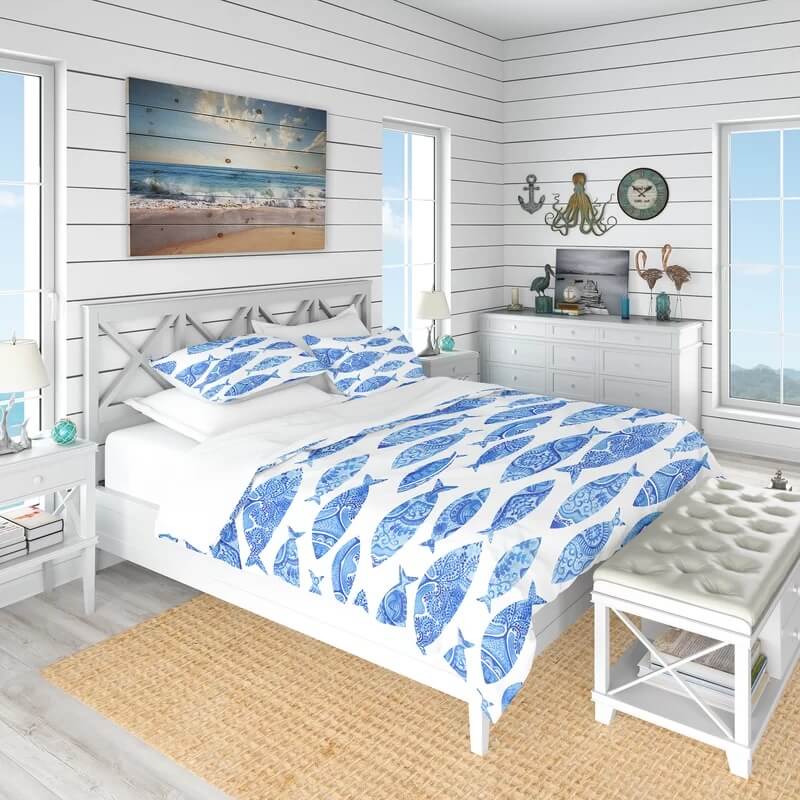 This coastal-inspired bedding sends out that beach-y vibes to this beach bedroom. Rich blue fish-shaped prints on the bedding and pillows. Perfect against white backdrop. Lovin' the seaside-inspired wall art above the headboard.
Sunburst style mirror above the wooden headboard. Rustic, yet refined feel with this beach bedrooms decor. Wooden bed frame Green wooden bench at the foot of the bed. Interesting wall art on the right. You can rent this awesome Destin beach house. Very subdued beach theme bedroom, don't you think?
How about this beach themed decor for bedroom? Calm colors all around including the starfish printed coastal quilt. The sea life inspired throw pillows are festive addition. Like the starfish embroidered pillow. For other sea creatures like seahorses, crabs, turtles, etc (all the ones on this bed) you'll find these other throw pillows here. They come in different colors too.
Jungle-like effect from this master bedroom. The pink palm wallpaper from Hygge & West looks awesome here. But it could get overwhelming fast. I'd prefer this wild beachy wallpaper more for a guest room than master. Ro Sham Beaux pink bedside table lamps and white grand chandelier add to the lovely touch. More beach house decor ideas from this tour.
Elegant understated look for this bedding set. With the material this quilt has, you'll have the warm and cozy coastal vibe. Goes to show beach themed bedrooms don't have to scream "beach" but can go for more understated look. Check out quilt set here.
---
Beach Bliss for You!
Delivered to you each Saturday morning.

---
I seriously think this is one of my all time fave beach themed bedrooms! You can get the full beach house tour here. FYI, this little bungalow is in Lake Worth Beach and is available as a beach rental.
Weathered wood look on the bed frame and headboard. Rustic night stands. They are perfect for the beach-y vibe we all want to achieve with our beach bedrooms. The seashells artwork is simple but great nautical beach theme. More coastal decor tips at beach house here.
Definitely a nautical theme bedroom with the traditional navy blue and white. I would like to see a pop of yellow (like these yellow/navy anchor pillows)
Check out the snazzy yellow pillows below that are perfect for any beach bedroom theme.
Lovin' the relaxed feels this bedroom has because of the abundance of glass windows. Let the sunshine and the sea breeze in. The view outside is just fantastic, isn't it? The bedroom showcases the dark wooden floors, a variety of blue colors, and vintage-like iron bed frame and curtain rods. More coastal decorating ideas at the beach house tour.
You can get a lot of beach bedroom decorating ideas here. Just take a look at the teal trellis wallpaper that somehow makes the room a little bit brighter. The four-posted bed that's giving everyone that rustic vibes. Matching bedside tables. Take a look at the house tour here.
---
Beach Bliss for You!
Delivered to you each Saturday morning.

---
Luxury, elegant beach decor. Love the intricate work on the bed frames. Carpet color matches the whole room so the whole place looks sooooo clean and proper. What a nice take on a beach house bedroom. If you like a timeless look, this might be for you. Get more beach decor ideas from the full beach house tour.
Pretty in teal beach house bedroom with the turquoise-themed bedset, wall paint, and window side bench. It's interesting how the dark green velvet headboard seems to work with the whole set. The 'beachy' bedside lamps are also things to note here. See more interesting beach  details at the full house tour.
If you're into tropical pillows like you see in this coastal theme bedroom, have a look at these:
Who said that you cannot add a Mediterranean-themed bedroom in your beach house? No one. Notice how the headboard somehow pairs well with the ceiling's shape. Bedside lamps with the gold band around clear glass. Very cool. More coastal decorating theme from the full beach house tour.
Calm shades of blue, gray and white for this cozy bedroom in Santa Rosa. Cozy seating area with two bedroom chairs and an ottoman to share! My favorite thing here aside from the color combination would be the grand chandelier that's just making the whole room sophisticated. Find out more from the full house tour >>
Calming tones for this beach bedroom in an Isle of Palms beach house. Love the what looks like fully upholstered bed and headboard. Cool artwork of an old car with surfboards, above the headboard, too. Get more coastal interior design ideas at the house tour.
Everything is perfect here but if I have to choose my most favorite thing in this coastal master bedroom, it would be the delightful blue & white fish scale pillows. Crisp, bright beach theme. The curtains with blue wavy print goes beautifully with this modern bedroom. To me this is classic and stylish.
More beach bedroom decor ideas inspiration from this beach house rental tour.
Serene, sophisticated beach bedroom. Blue and white patterned ottoman. Lovely white chaise lounge for easy reading beside the window. I just love the light blue shade of that bedside lamp. Traditional and stylish at the same time. Draw further beach decor inspiration when you see the entire beach house.
What's an ideal coastal design style bedroom? Bold and fearless. Classic meets modern decor. Hardwood floors with neutral striped rug.  Top it off with the white bedspread and fun pops of color with colorful pillows and a polka dot throw blanket.  The little pom poms on the blankets' edge is a nice touch. See this beach cottage house tour.
Wayfair aff link opens new tab> Tommy Bahama quilt is fully reversible, create 2 entirely different looks. Use on your bed as an additional layer or alone as a bed covering. 1530+ 5-star reviews! Nice beach theme for bedrooms.
This coastal style bedroom is both classy and comfy. It brings smile by just looking at it. Those plain and simple bedside lamps fit this beach bedroom perfectly. Wooden bench with  upholstered cushion is ideal to throw extra blankets or pillows. Complete beach home tour.
Red, white and blue for a fun bedrooms beach theme. Walk thru entire house here. I like how they added just a touch of red to the decor so it doesn't look too contrived.
Look below for a similar blue and white hexagon bedspread on Amazon!
Shades of purple, blue, and white for this lovely bedroom and if you're looking for a beach bedroom inspiration and color theme, this could be it. Bohemian headboard and a complimentary (yet contrasting) lightweight bedspread. More beach bedroom decorating ideas at the full House Tour.
---
Beach Bliss for You!
Delivered to you each Saturday morning.

---
Seashell bedding: Cheerful peach and white coastal bedding (aff link opens new tab) features a fun sea-life motif with shells and starfish. The white and coral hue reverses to a solid peachy/coral.
I am in-love with those floral coverlet! For this lovely bedroom setting, the old wooden bench is quintessential. And that bedside lamp with that white-painted wooden body. They definitely complete the coastal vibe we all want to achieve for our beach houses. Colorful beach house tour.
Starfish Bedding: Bring the ocean into your home with a soft white and blue starfish themed comforter set. (Wayfair aff link) Beach theme bedding for a master bedroom that brings the seaside to you.
White shiplap walls with a white four-poster bed… and a white coverlet. But just when you think it might get boring, they bring in a bright and sassy blue and white striped rug, along with lovely patterned blue and grey pillows. Check out this family-centered beach house.
Coastal themed bedroom decorating to the max. "Let's be happy," the room says with it's cheerful sades of blue and white for this cozy bed. The wicker light fixture pendant looks interesting here. I wonder how it looks like in the evening. Blue painted ceiling with white accents. Take a look at this beach house tour.
---
Beach Bliss for You!
Delivered to you each Saturday morning.

---
Coastal beach theme bedroom with a canopy bed. Gives a light, breezy affect. Light wood floors covered by a large sisal area rug. (Amazon link opens new tab) Plush loveseat at the end of the bed has a practical slip cover for easy upkeep. Of course I always love wood beams in the ceiling. More bedroom decor inspiration at the house tour.

Serene is the word that comes to mind with this tan and cream coastal bedding set. (Wayfair aff link opens in new tab) Bring a bit of seaside into your home with this coastal living decor bedding collection.
Looking for a breezy, bright, and comfy beach house bedroom for coastal inspiration? Look no further! Decorative paddles/oars are so in at the moment for beach cottages. The one in this bedroom looks good simply because it's rustic, beach-y and of course, it has the shade of white paint that goes with the whole bedroom theme. More beach decor ideas from this lovely and gracious beach house. Oh! And how about the red flowers?
Coastal interior design ideas all around. Were you ready for those? The starfish prints on the cottage-y bedspread is inspiring.  The layered for dimensional effect design of that starfish beach wall art is exquisite! Visit this beach house tour for more beach themed decor ideas.
I just love the vibrant colors appearing here and there. No fancy chandelier for this master suite simply because it is not needed. Decorative and sophisticated chandeliers are great and all… but sometimes, a simple bulb that works could just be the perfect one for your bedroom. Check out the entire beach house.
---
Beach Bliss for You!
Delivered to you each Saturday morning.

---

Seashell Bedding: Looking for cool coastal bedding sets? Bring a bit of coastal charm and patterned appeal to your master suite or guest room with this coastal bedding in a bag, featuring sea fans, starfish, and shells in neutral and blue colors.
More beach theme bedroom decorating ideas Hemp area rugs are ideal for beach bedrooms, too, because of their durability and simplicity. Looks like the one in this bedroom. I wonder if that cozy comforter has a reversible design. Well-lighted and lovely room all in all. Get more beach decor ideas at this family beach vacation home!
They had me at the seashell decor above the headboard, really. This canopy bed doesn't have a stylish curtain; it's simple yet elegant. With that vintage style loveseat and the soft shades for the chairs and rugs, this beach themed room is one to note. See the whole beach house tour .
If you're ready for cottage life, this coastal living decor is surely one to emulate. Just take a look at the light colors and gorgeous decor in this beach house bedroom. Those clear bottle lamps are genius, really.  Beach House Tour HERE!
Beach themed bed in a bag: Retreat to the soothing oasis of the Reef Point quilt seashell bedding ensemble. This casual coastal bedding set is lightweight and reversible for two entirely different looks. Notice the simple white nightstand, along with white headboard.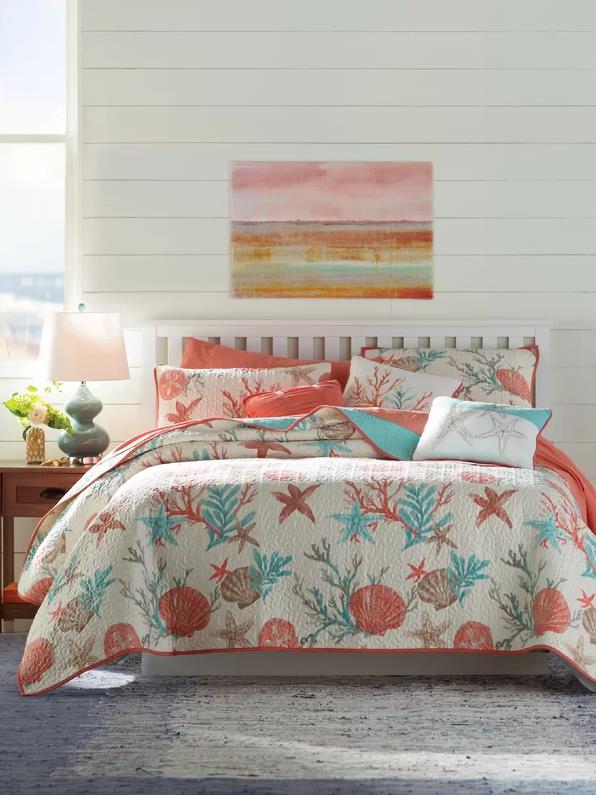 Coastal bedding in a bag: Printed on 210 thread count cotton, the rich coral and teal colors of this coastal coverlet (from AMZ) play into the starfish and coral motifs for a textured look adding color to your space. Shiplap walls with a simple (and serene) coastal wall art displayed above the bed.
Here's a master bedroom with that lovely corner for reading and just relaxing, or for coffee bonding, or for more reading. The decorative crystal drop chandelier in the corner is just fabulous! This room would look magical at night time with lights turned down low. Traditional window valances here. Catch more beach bedroom decor ideas in this cottage tour.
Cozy master bedroom found in this beach house located in Florida. See the two empty frames above the headboard? What a great idea to really showcase the art between them. Lovin' the classic sisal are rug here. Sisal rugs (AMZ aff link opens new tab) are eco-friendly since it came from a cactus plant, easy to clean, and OMGosh look awesome in any room… inside or out.
---
Beach Bliss for You!
Delivered to you each Saturday morning.

---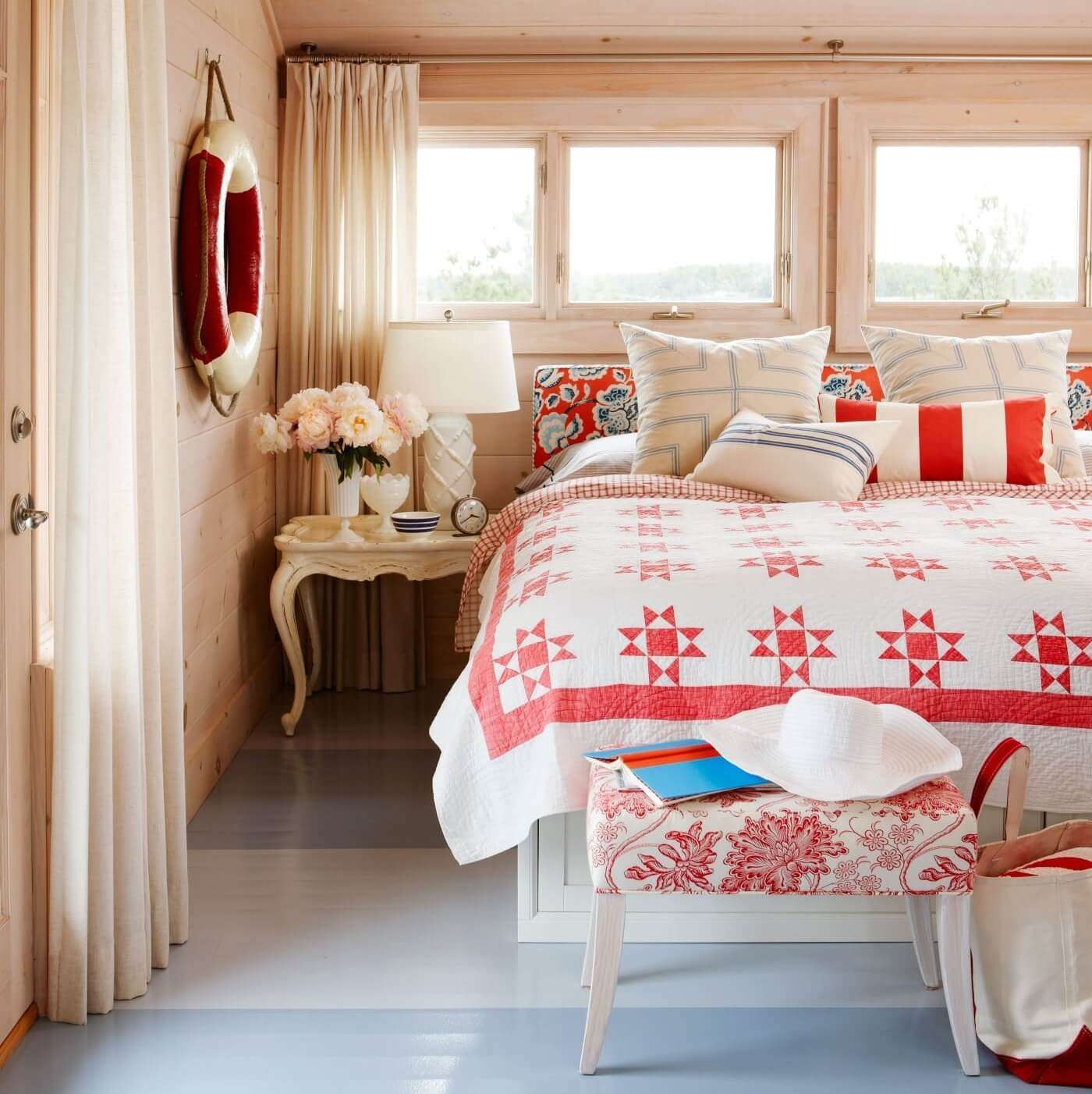 This summer island master bedroom (link takes you to home tour) is just perfect! See the red and white theme for the beach-y bedspread? Awe-inspiring! Partnered with the vintage white side table and lamp, beach bedroom ideas coastal style all around! How about the light bluish grey and white striped painted floors?
Coastal beach themed bedrooms: The Harbor House Sanibel coverlet set is perfect is you want something that looks fabulous at the coast, BUT is not overly "beachy." Nice light blue area rug over the hardwood floors and simple beach themed bedroom furniture complete the look. The matching blue lamps are a little too precise for me but I'd use one of them and add a different lamp style for more interest.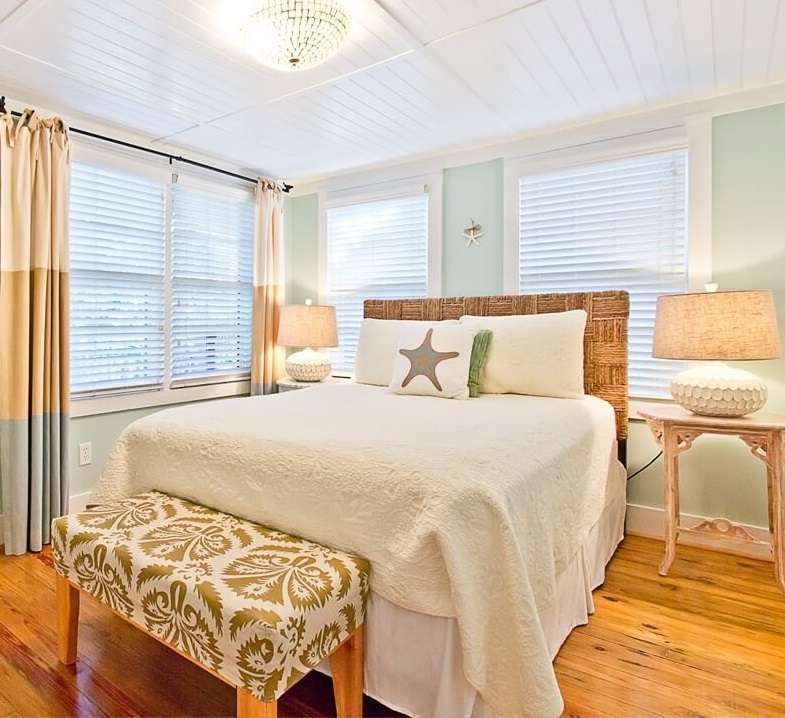 It's funny but have you noticed quite a few of these beach house bedrooms have barely a whisper of the beach? Like this one for example. You get the starfish pillow and the little starfish on the wall above the rattan bed. Love that bed, btw. But other than those two spots, this bedroom could be anywhere. 🙂 Looks like the owner did a bit of flea market scavenging with the side table to the right of the bead.  Peek inside the house tour!
Beach look bedroom with coastal bedding in a bag. What's fun about this one is you go all out Beach!!" with the blue wave/stripes. Or you can flip is over for a soft grey when you want to tone it down. Either way you dress your bed, you'll have the calming feel of the ocean in your space. I like the side table so I did some searching on Amazon. Here is a honey brown table or stool, and then here is one that's closer in shape to the one in the photo above.Save
Well, it looks like that's a wrap. I hope you enjoy poring over all the great images and decorating ideas! There's a beach bedroom decoration idea for every taste… rustic, luxury, modern, sophisticated. Some of the rooms are definitely "beachy" while others just have a subtle coastal touch.
REMEMBER: We update monthly so be sure and sign up for our BEACH BLISS Magazine.
---
Don't miss out as NEW bedrooms are added! Plus awesome coastal decorating ideas delivered to you each Saturday morning!
---