Beach Shirts Womens
Post contains affiliate links info. SugarsBeach makes a teeny, weeny commission, at no cost to you, if you purchase.
Beach Shirts Women's: Trendy beach tees and even the occasional funny beach shirt. You can find lots of beach themed t shirts in our SHOP!
In Texas we practically have summer all year long so we're good with these women's beach t shirts anytime of the year. I mean… we can be in shorts and flip flops in December. These beach tees are also nice to pick up for gifts for your beach loving family and friends. Plus we've added long sleeve shirts for cooler weather.
---
Never miss as new shirts are added (plus other awesome beachwear, beach decor, beachy roundups) delivered each Saturday morning!
---

Flattering summer blouse for all figures. Come in lots of prints and colors..and every size! You can pair it up with jeans (shorts or otherwise) or white slacks to dress it up a bit. Goes from daytime to a casual beach get-together.
---
Beach shirts for women tee for the mermaid in you! SALTY HAIR SHIRT available in different style tshirts. And free printable wall art, and other products.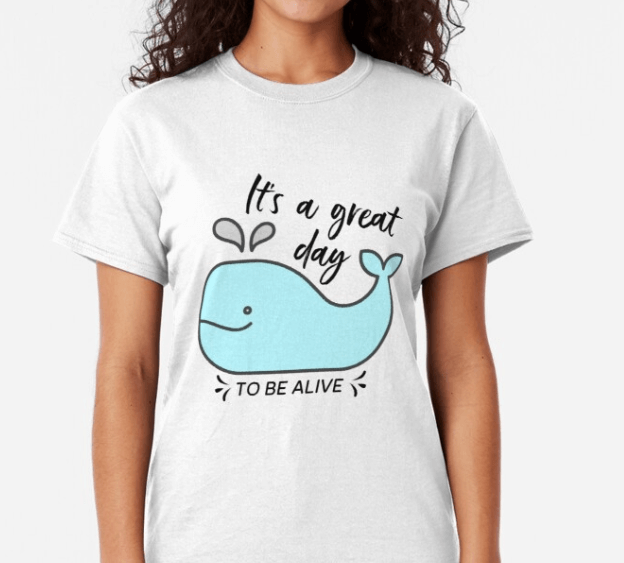 Fun shirts for beach to lift your mood. Get this WHALE TEE in a variety of t-shirt style. Also, as my gift to you, I created instant download for wall art here.
---

Black and white striped shirt: As lovely as the front of this black and white blouse is, wait until you see the back! Unusual design that is both classy and comfy. Pair it with white jeans and you're ready to go. I found THE perfect white jean to go with it. BTW, these white jeans come in slim and plus sizes. And over 3000, almost full 5-star reviews.
---

Hello Sunshine Beach Tshirt: May I just say, you'll tend to be in a happier frame of mind no matter where or when you wear this Happy Sunshine shirt?! Typically I don't wear yellow, but this woman's shirt got my attention with the uplifting message. Then I realized, this would look fab with dark bluejeans or even white jeans. Done. 🙂
---
FUNNY BEACH SHIRT: Beach Body tee that says "Beach Body – my body at the beach." We created this beach tee in two styles. The traditional women's tshirt (less expensive) and then the newer, longer tee that dips in the front and back, and has rolled sleeves. I like the longer one cause I tend to wear skinny pants and I think that looks better. But I wanted to offer the traditional style too!
---
SHORT BEACH QUOTES TEE: Salty and Happy t-shirt says it all, don't you think? Gimme some salt, and I'm happy! Flowy, roomy shirt is super comfortable to wear over shorts, or even over your bathing suit. Women's beach shirt also has roomy scooped neck.
---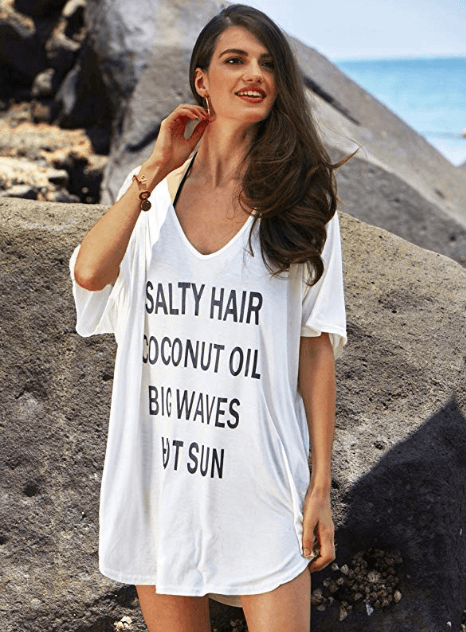 BEACH TSHIRT: Long beach shirt for women for over shorts or jeans, OR can be used as a cute swimming suit coverup! It's loose and comfy. One size fits all, alltho I will say from the reviews, if you typically wear a large or extra large tee, it won't be as loose as the model depicts. Still, with 500ish reviews (shirt on Amazon) it gets high marks. Some women even like to wear this beach tee as a sleeping shirt.
---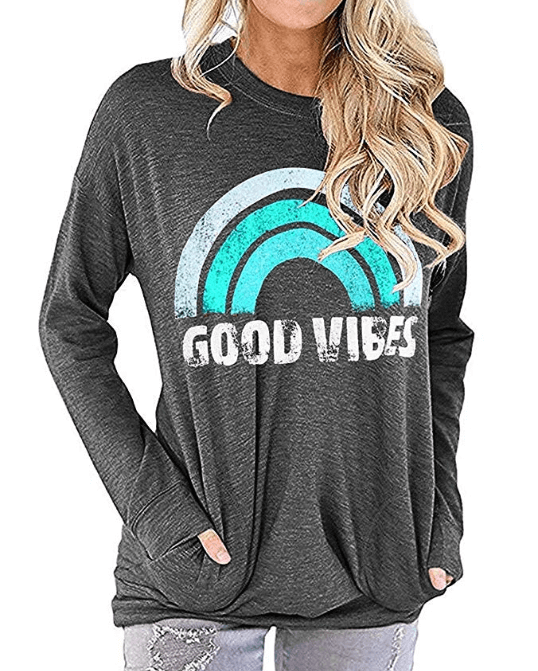 As I'm thinking about December at the beach, I picked up a couple of comfy pullover shirts for the cooler weather. This "Cool Vibes" pullover (with pockets) will look great with jeans for early morning walks on the beach.
---

Sherpa fleeced oversized pullover is just the thing to wear when you get that chilly beach weather. I love to go to the beach in the winter, but I like to have something I can throw over when the wind kicks up or the temp drops a bit..
PIN Women's Beach Tshirts!