Anna Maria Island Rental

Anna Maria Island Rental: What a lovely Florida vacation rental. Escape to the island life in this divine beach house. Four bedrooms and beautifully appointed. Private pool and conveniently located on the bay with the beach approx 3 blocks away.
This is a sponsored post & post contains
affiliate links
.
Florida Rental By Owners – FLARBO.com offers this incredible vacation rental for your next Florida getaway. FLARBO specializes in direct booking with the host, guaranteeing the lowest rate available on holiday rentals in Florida. Get the Whole Home for a Whole Lot Less! Stop dreaming and start searching today.

Well-lighted extravagant beach living room in this fabulous beach house. Nautical colors all around including the throws and area rug. Bucket of shells decor on the side table is a really beach-y touch. Lots of seating for your beach house vacation.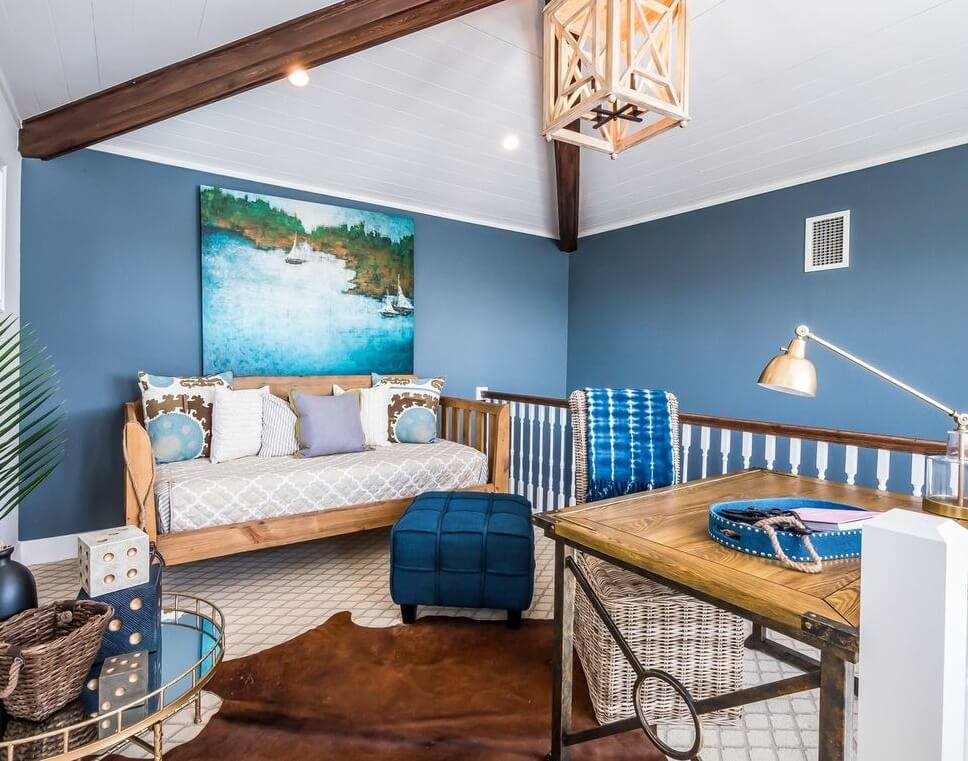 Deep blue painted walls around the upstairs living area. Beach style sofa with upholstered cushion foam. A reading nook on the side. Shades of blue all around. Love the artwork on the wall behind the sofa.

Here's the kitchen and dining areas with superb decors. Quartz countertops, solid wood for cabinets, complete stainless steel appliances, high-end light fixtures, and coastal wall arts can be found in the kitchen. Modern lighting, upholstered end chairs, and rustic wooden table on the dining area. Plenty of room for everyone.
Never miss a Beach House Tour!
Delivered to you each Saturday morning.

Goes to show, sometimes all you need are the bare essentials for a kitchen. Small farmhouse sink. Microwave and plenty of natural light. Notice the deep blue cabinet on the left.. Lovely coastal wall painting on the right side.

This beach rental has 4 bedrooms and here is one of them. Upscale details all around starting with the gray canopy bed. Love the couches and gray ottoman as a center table. Huge windows and doors going to this bedroom's private balcony.

Here's another bedroom from the beach house featuring quality linens and bedding on that gray painted metal bedframe. Wooden floors, white painted walls, coastal-inspired wall decors bring out the warm and cozy feeling you want to get during a vacation.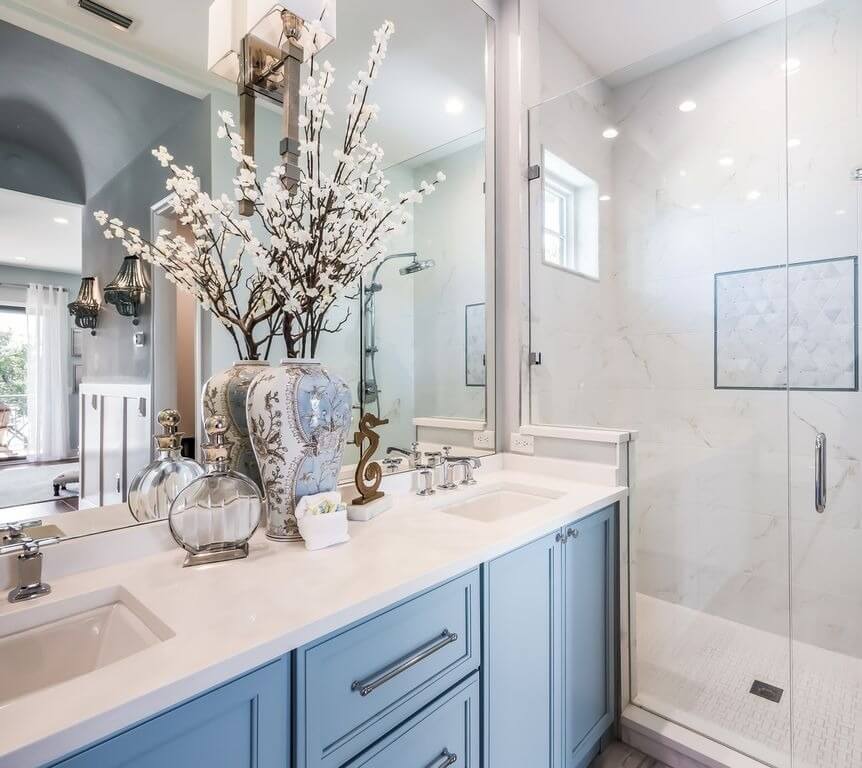 Relaxing tones in this coastal bathroom. Soft blue tones for the cabinets under the twin bathroom sinks. Huge vanity mirror and coastal decors in between the sinks.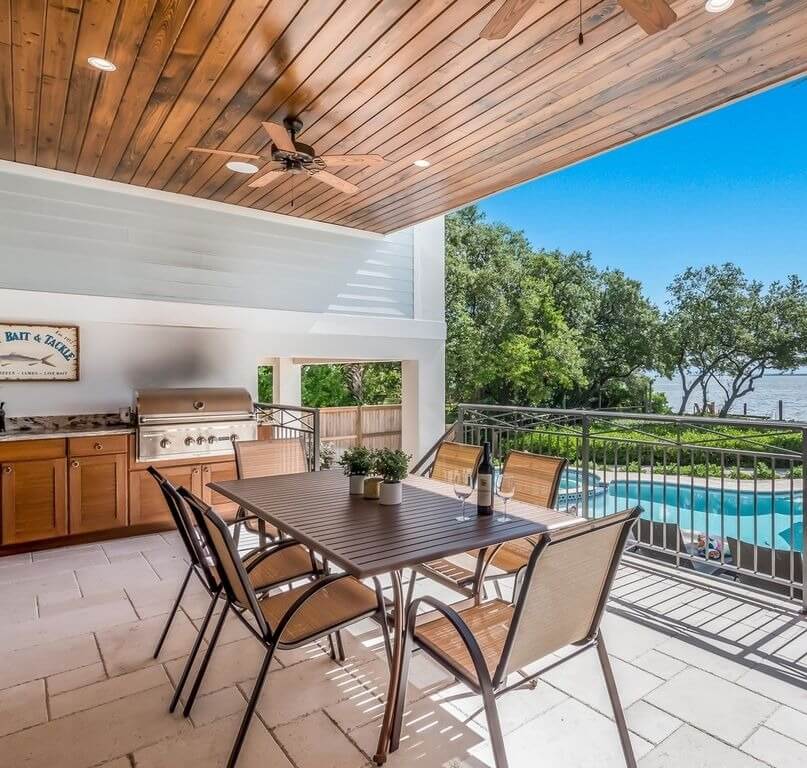 Dining with that beautiful bay views. Built-in gas grill and kitchen area in this deck area. What a great entertaining area.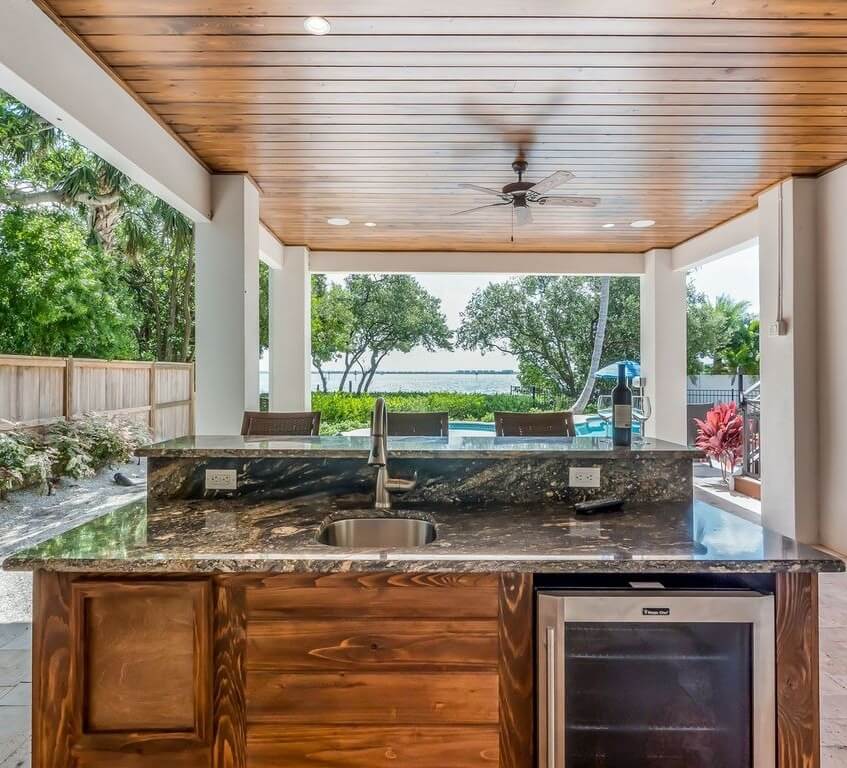 Here's one of the covered decks with this mini kitchen and bar installed. This makes cooking (and grilling) really interesting because of the beach views.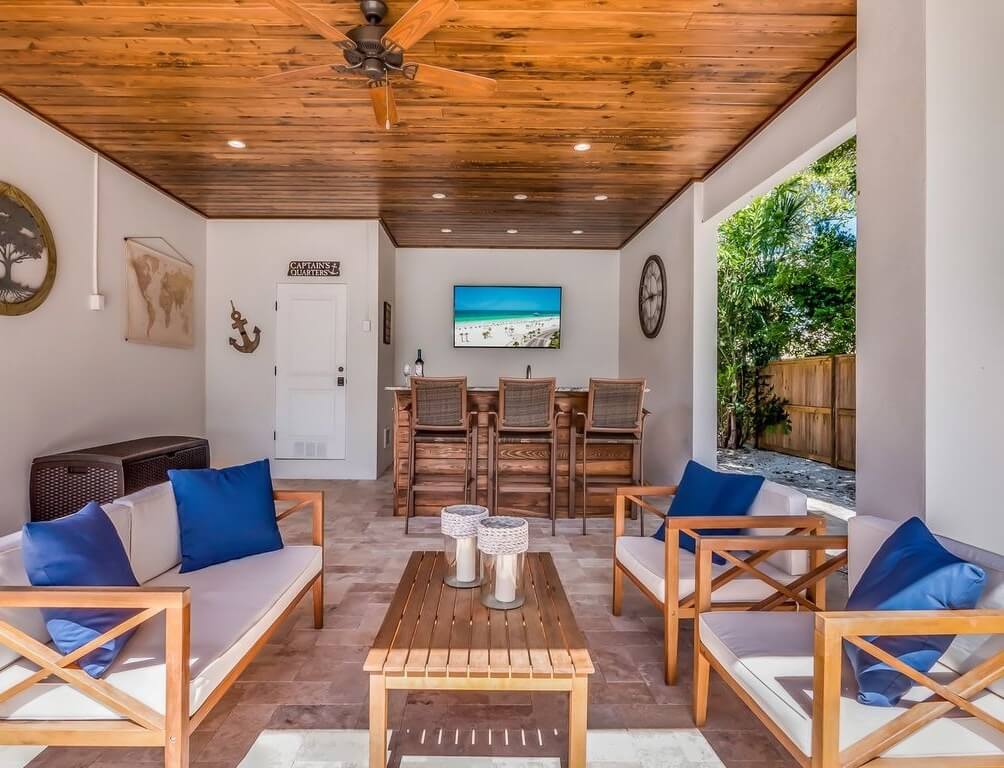 Here's another shot of the outdoor deck above. Wooden seating with cushions fit for outdoors. Rectangular center table. Ample space for some beach living magic.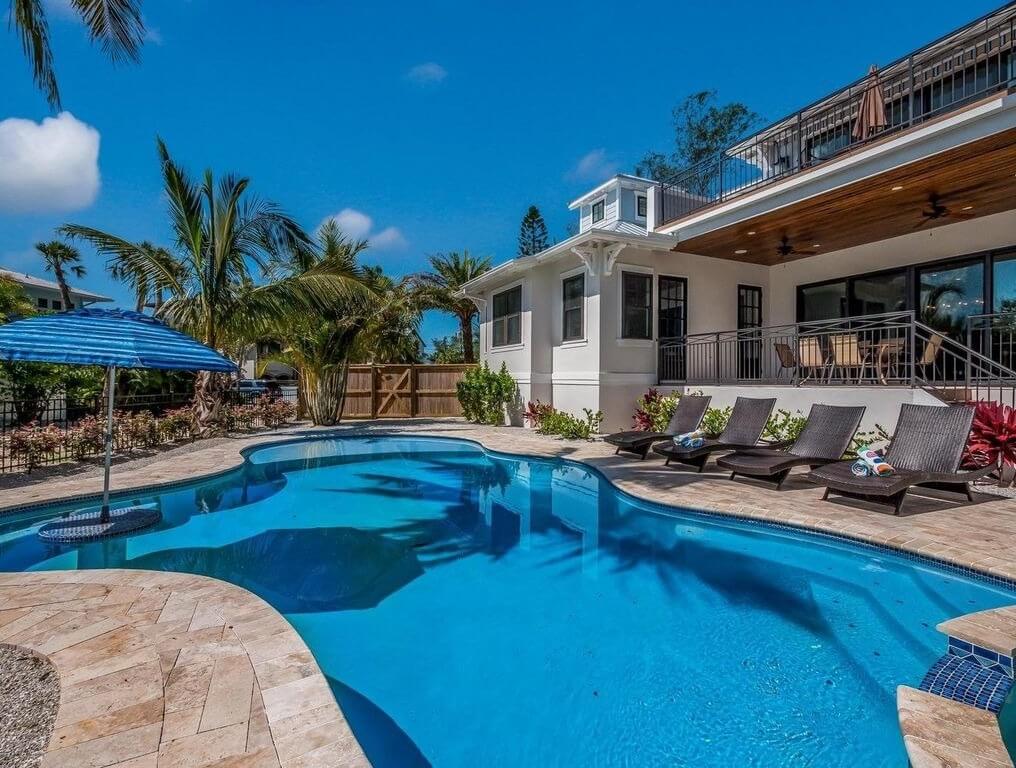 Here's the oversized heated swimming pool with that swim up table for drinks and more. Beach style chairs for relaxation and just getting some sun time.

Anna Maria Island vacation rentals are hard to come by as lovely as this. Imagine yourself kicked back on the dock with Adirondack chairs and beach umbrella. A tranquil place to catch up on your beach reading, or just to enjoy the view.
LOVE it? PIN IT!
Thank you for pinning! You help spread the word about SugarsBeach & these beach home owners. xo, Darlene