Anna Maria Island Beach House Decor

Want to see Anna Maria Island beach house decor? Check out this colorful beach house rental called Limefish. Pssst, it's even a heavenly beach front rental! Lot's of beach decorating ideas.

How is this for beach decor? Colorful lounge room for everyone! The throw pillows are definitely my favorite here. Warm and inviting? Yes.
Show that bubbly personality of yours via these popular throw pillow cases with inspirational quotes on them. 'live laugh love' should definitely make you feel inspired.

The blue and white thing going on in this room inspires me. Beach vibe, anyone? Shoutout to those shiny kitchen counters!
These orange-colored bar stools should send out 'party' vibes for your beach home. These types of stools are stackable so you know they're space saving. Very durable and the legs have those glides that won't damage your flooring.

Here's the dining area with that purple rug. I love, love those colorful exciting and vibrant chairs. They make you smile. Admit it.
Never miss a Beach House Tour!
Delivered to you each Saturday morning.

The master bedroom has this pink and turquoise combo going on. Don't you just love it? Original artwork here, too.
Here's a similar bedroom drum chandelier. With it's modern style, for sure, it will suit most bedroom theme. I also love the lattice outer metal design.

Here's the lively shower room with a recycled glass countertop, blue-green accents all around, and a really interesting shower curtain.
If you're looking for dots wall decals then you'll like what I found on Amazon. This easy to install polka dot decals should be your next ultimate DIY project.
More Lovely Beach House Tours

This room just can't be tamed, isn't it? It's wild! Pink, purple, orange, white and more? Sure, why not!
Adding cozy fur (faux) throw pillows to your beach home can be because of two things – for decoration and for added comfort. It's a set of two throw pillow covers when you purchase on Amazon.

I really like the recycled glass countertop in this bathroom. My favorite aspect here is the blue-green and white wall paint. Ocean inspired, yes?

So, if you don't feel like looking at the ocean anymore, here's a private pool. Yup. Complete beach and pool life.
Very inviting Adirondack chair with cup holder. This one's a nice addition to your porch. A classic design that was created to provide comfort when outdoors.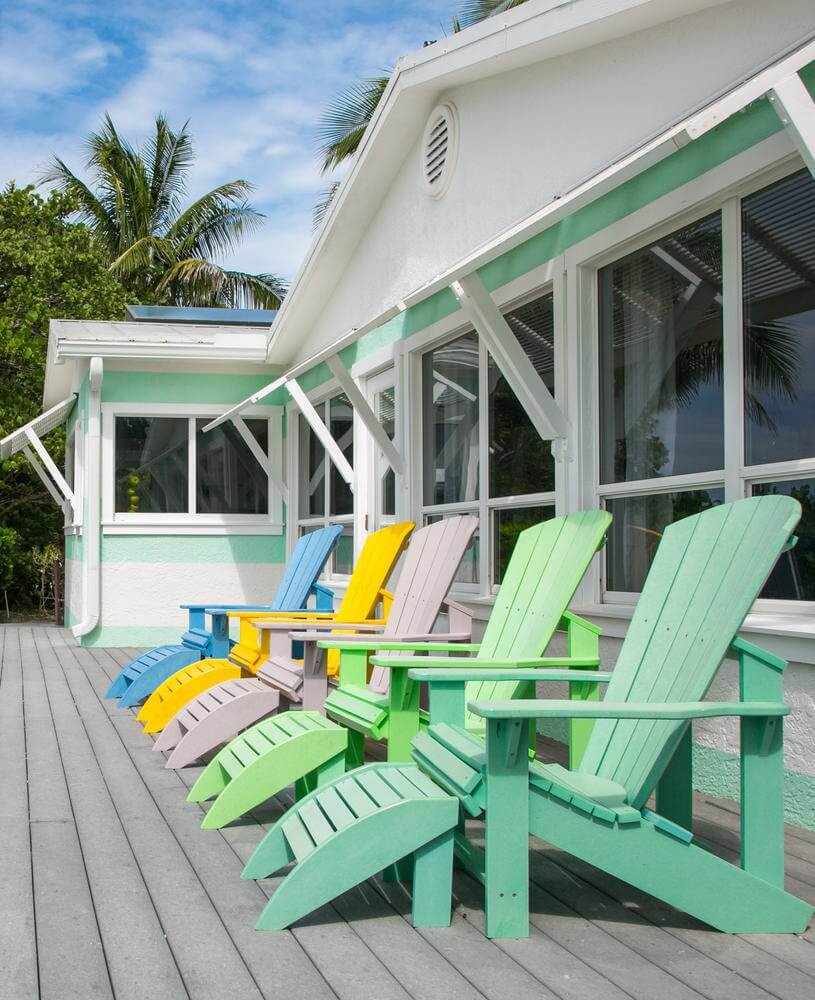 I want to show these chairs located at the front deck. I mean, these brilliant Adirondack chairs are just a quick glimpse of what's inside. I think I'd stay here most of the time and watch sunset and maybe sunrise. And just be totally in love with life. Beach life has that effect, you know!
LOVE it?? PIN IT!