Anna Maria Island Beach House Decor

Want to see Anna Maria Island beach house decor? Check out this colorful beach house rental called Limefish. Pssst, it's even a heavenly beach front rental! Lot's of beach decorating ideas.

How is this for beach decor? Colorful lounge room for everyone! The throw pillows are definitely my favorite here. Warm and inviting? Yes.

The blue and white thing going on in this room inspires me. Beach vibe, anyone? Shoutout to those shiny kitchen counters!

Here's the dining area with that purple rug. I love, love those colorful exciting and vibrant chairs. They make you smile. Admit it.
Never miss a Beach House Tour!
Delivered to you each Saturday morning.

The master bedroom has this pink and turquoise combo going on. Don't you just love it? Original artwork here, too.

Here's the lively shower room with a recycled glass countertop, blue-green accents all around, and a really interesting shower curtain.
More Lovely Beach House Tours

This room just can't be tamed, isn't it? It's wild! Pink, purple, orange, white and more? Sure, why not!

I really like the recycled glass countertop in this bathroom. My favorite aspect here is the blue-green and white wall paint. Ocean inspired, yes?

So, if you don't feel like looking at the ocean anymore, here's a private pool. Yup. Complete beach and pool life.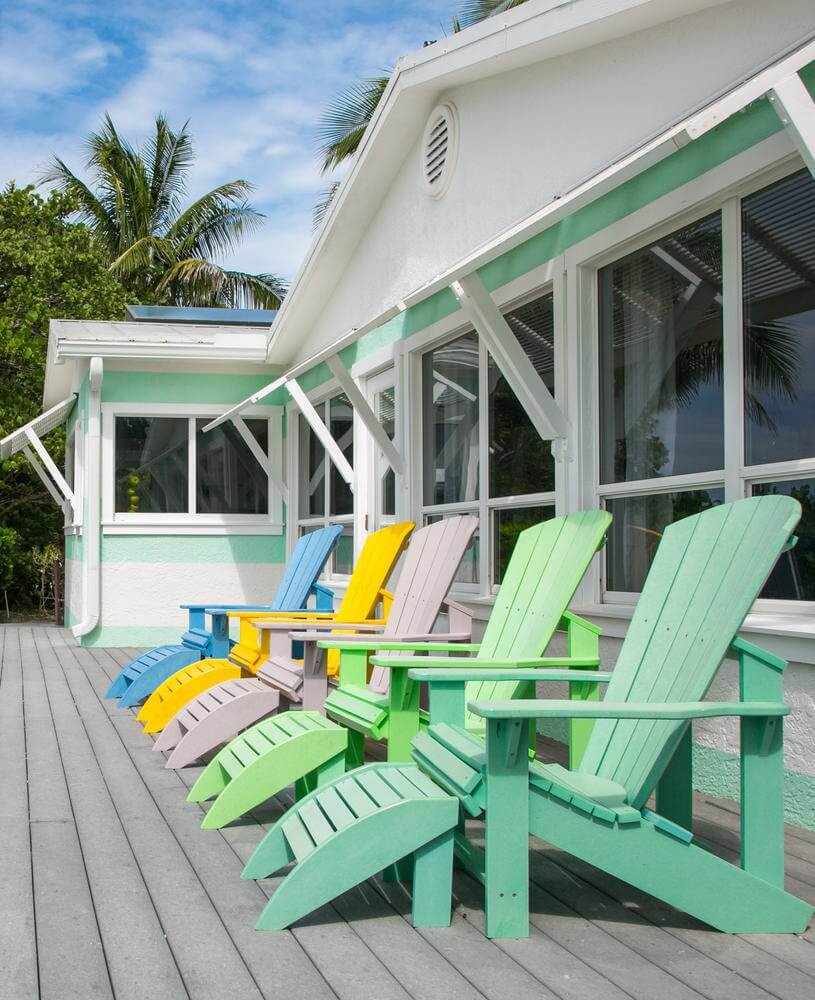 I want to show these chairs located at the front deck. I mean, these brilliant Adirondack chairs are just a quick glimpse of what's inside. I think I'd stay here most of the time and watch sunset and maybe sunrise. And just be totally in love with life. Beach life has that effect, you know!
LOVE it?? PIN IT!